I love making big batches of food to eat throughout the week for lunch and/or dinner and this delicious soup is perfect for just that. Who else loves food prepping? Personally, I think it is a great solution to avoid having to cook each and every day, especially if you don't have the time for that.
This soup is very tasty and quite filling –in a good way! – as well. Plus,  if you buy your groceries in bulk or at a market it is cheap too! The thing that makes this soup so great is the thyme and lots of fresh, ripe tomatoes. For some reason the thyme especially adds so much depth to the flavor of the soup. It is the perfect herb for warm dishes that need that specific "Italian" flavor.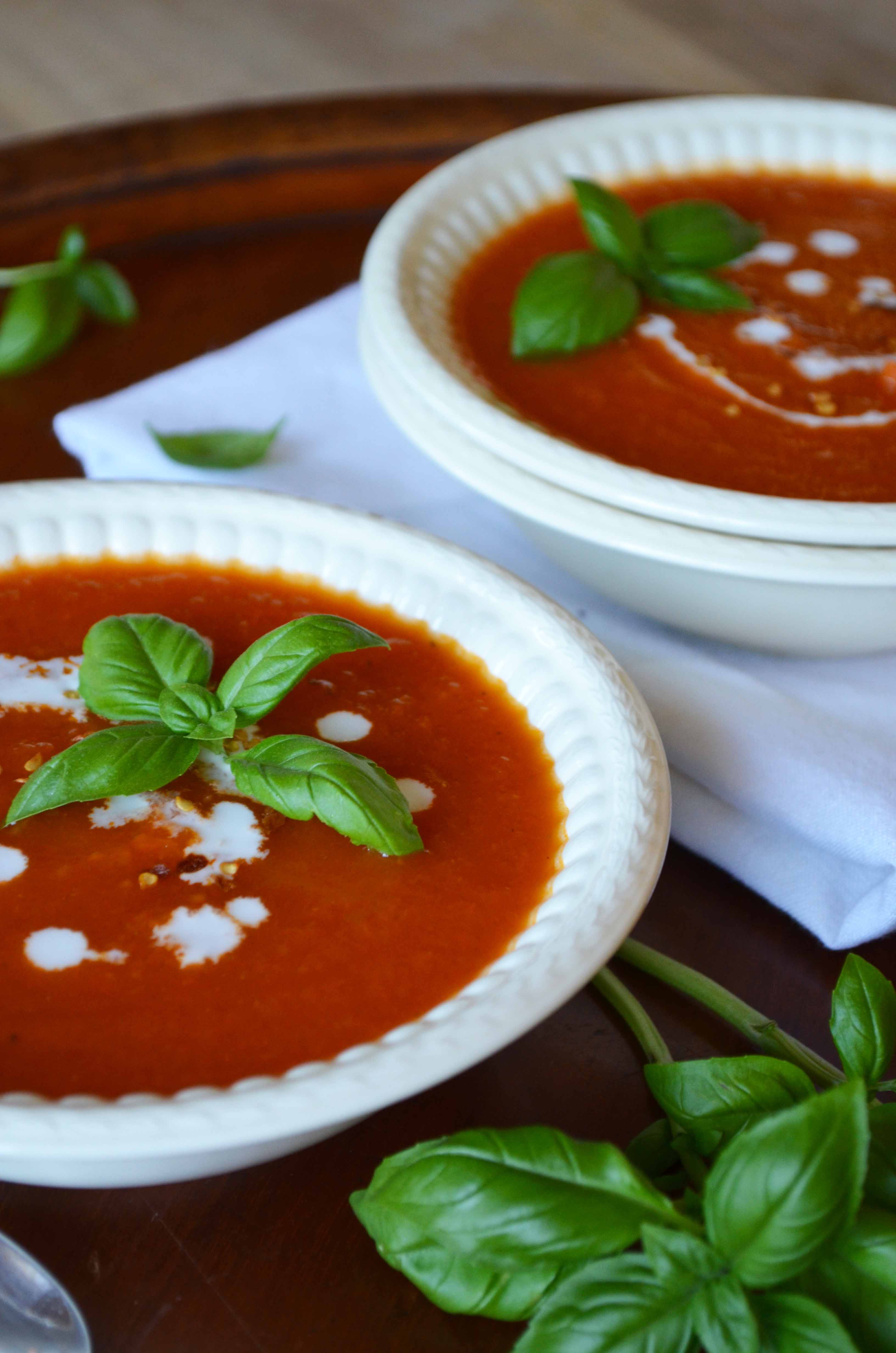 If you're making a big batch of this soup, you can easily store it in your fridge for a couple days or in your freezer for later usage. For most people, just one serving of this soup will be enough as lunch, but for dinner I would suggest adding some bread or a salad.
Simple tomato soup
Prep time: 10 mins
Cook time: 15 mins
Total time: 25 mins
Yield: 4 servings
Ingredients
olive oil
70 gram tomato puree
1 red onion, finely diced
2 cloves garlic, finely diced
1 big carrot, chopped
750 gram good quality, ripe tomatoes (about 8 to 10), quartered
0,75 L vegetable broth
3 tablespoons dried thyme
fresh basil leaves (optional)
chilli flakes (optional)
coconut cream (optional)
Instructions
1. Add 1 to 2 tablespoon of olive oil to a heated soup pan and fry the tomato puree, onion, garlic and carrot until the onion seems glassy.
2. Add the quartered tomatoes, vegetable broth and thyme and let simmer for 10 to 15 minutes.
3. When the tomatoes begin to fall apart, use a hand blender to make a smooth soup.
4. Serve with some fresh basil leaves, chilli flakes and some coconut cream.