If you are like me, and are blessed with enormous numbers of zucchinis every summer, this is a great recipe to have in your repertoire to use up that huge summer yield. Zucchinis are a perfect example of summer vegetables, with a harvest peak in July. As they tend to grow very vast, you'll probably harvest them all around the same time, meaning that you will have a lot of zucchinis at the same time. From experience I've learned that they don't really tend to freeze well, it is best to use them as soon as possible, and freeze the final product, such as this wonderful soup.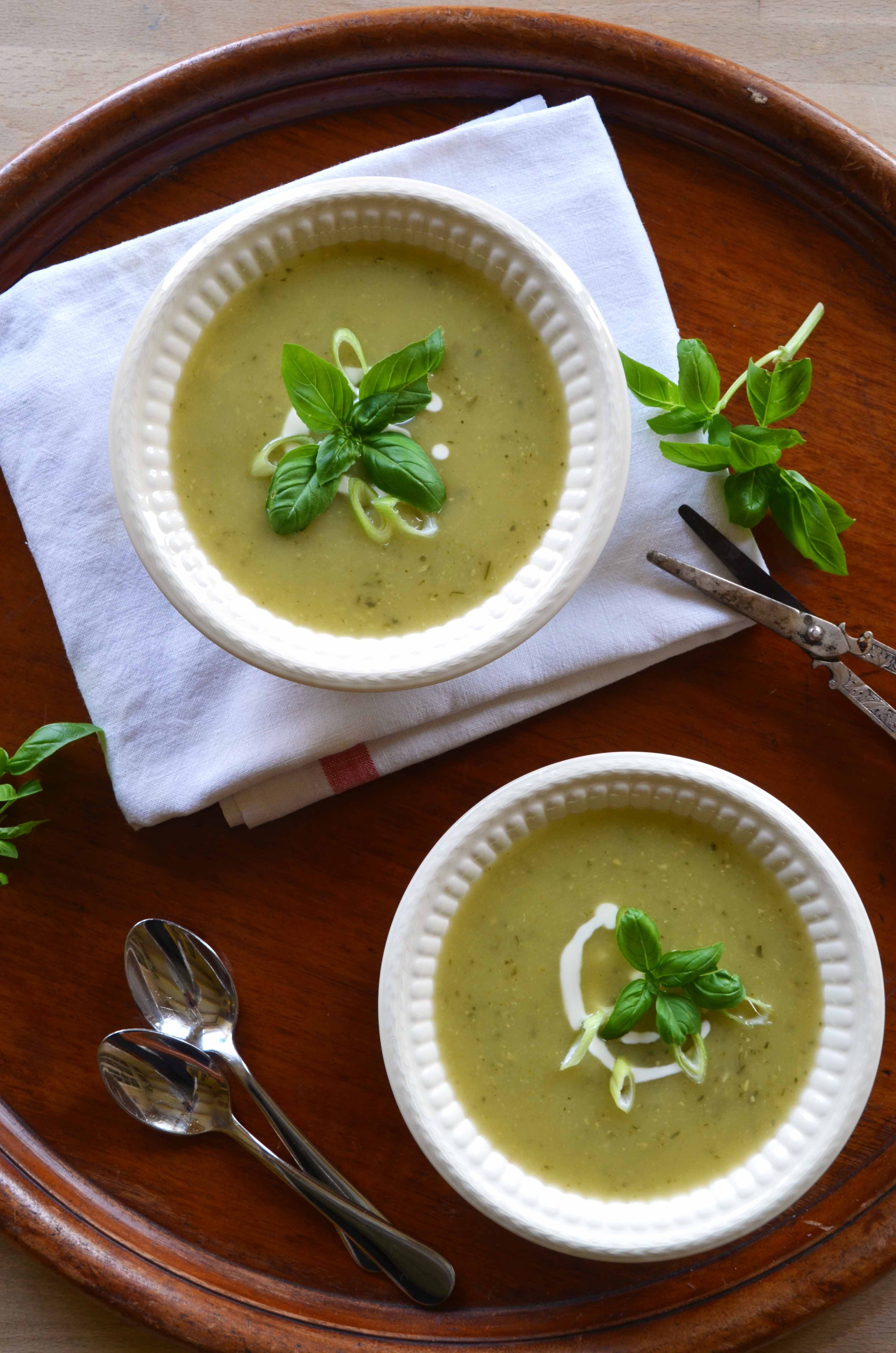 Zucchinis are wonderful veggies with a subtle flavor and wonderful texture, yet I used to hate them when I was a child! It is still not my favorite veggie, but I've definitely learned to appreciate their taste and texture, and this delicious and simple soup will convince any zucchini-hater! Another great recipe that uses zucchinis is this zucchini noodle salad which is perfect for a hot summer's day.
Simple zucchini soup
Prep time: 5 mins
Cook time: 20 mins
Total time: 25 mins
Yield: 6 bowls
Ingredients
1 tablespoon olive oil
1 onion, roughly chopped
2 cloves garlic, minced
1,25 kg zucchini, roughly chopped
1 L strong vegetable stock
salt and pepper to taste
optional: soy cream, basil, spring onion and lemon zest
Instructions
1. In a large pan, heat up the olive oil. When the oil is hot, throw in the onion and garlic and fry until the onion becomes colorless.
2. Add the zucchini and vegetable stock and let simmer for about 15 minutes.
3. Transfer the soup to a blender, and blend until you like the consistency. I prefer mine with some small chunks, but of course you can blend it until it is super creamy!
4. Add salt and pepper to taste.
5. Serve with some soy cream, basil and spring onion.
Nutritional information (per serving)
81 kcals
2.9 g fat
13 g carbs
of which 4 g fibre and 6.4 g sugar
4.2 g protein