If you've been following me on Instagram since before my blog hiatus, you probably know that I love shakshuka. It is a really simple and easy breakfast/lunch/dinner meal, and it ticks all the boxes for what makes a meal healthy in my opinion: lots of veggies, plenty of fiber, and a good source of protein too. However, it isn't a very pretty dish. It is in fact so ugly, that I avoided posting my recipe on the blog for literally years. That changed when I saw the first few episodes of Ugly Delicious by Dave Chang (of Momofuku) on Netflix last week. In one of his episodes, Dave says "I just reached a point where I'm okay making really ugly food. […] I think it is a mixture of age and me coming into my own a little bit." That really resonated with me, and I would never claim to be on the same cooking level as him, but it did inspire me to finally post this delicious (but ugly) dish.
Basically shakshuka is a super simple dish that originated in North-Africa, that consists of eggs poached in a spicy tomato sauce with herbs and bell peppers. Nowadays it is more popular in the Middle-East, especially in Israel, than in North-Afrika. It is a relatively cheap, healthy, delicious and filling meal. To turn it into a proper dinner (or a large breakfast) you can add fresh bread and/or salad on the side.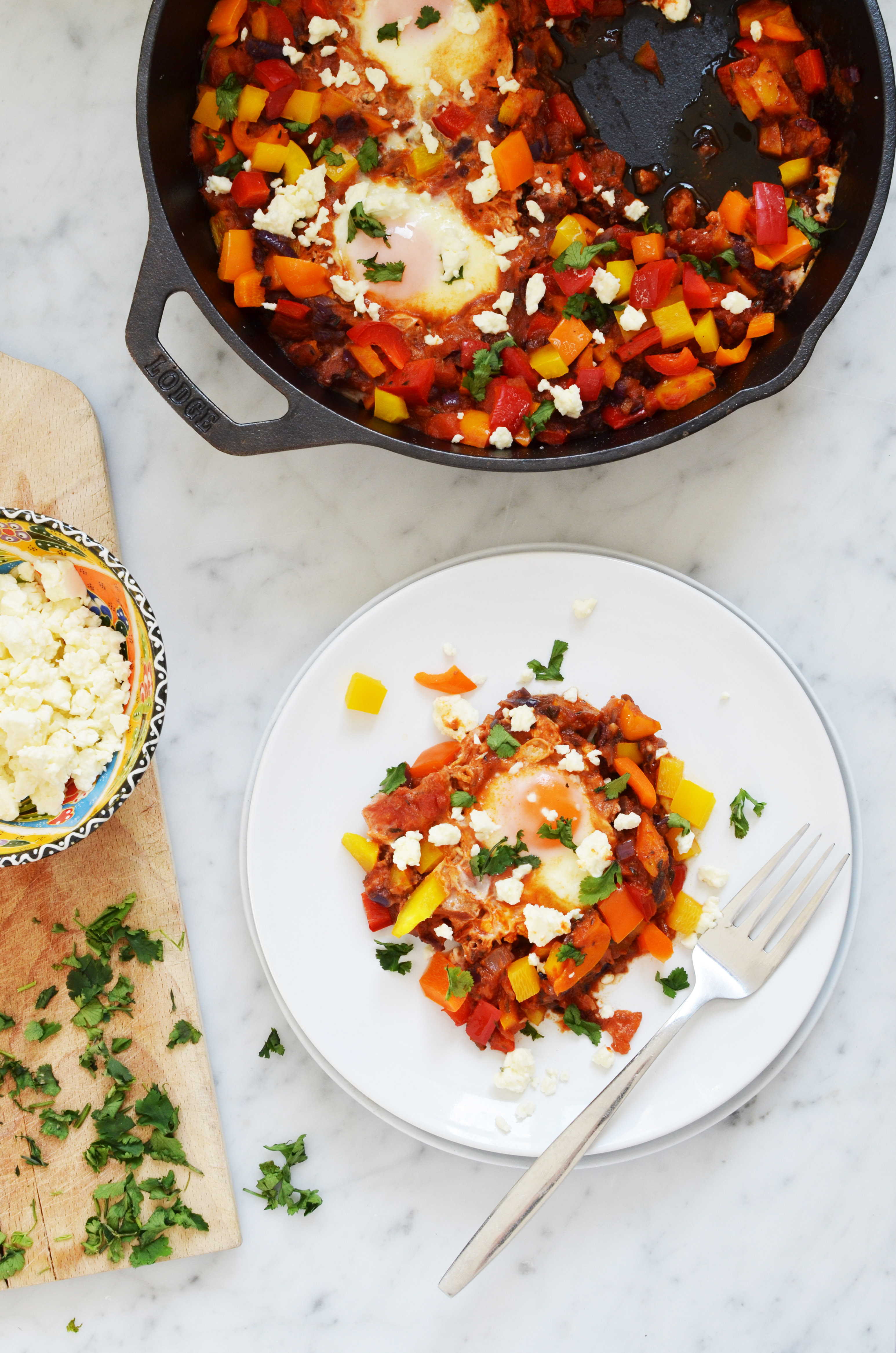 This recipe is the first in my new "ugly recipes" series. It is probably not the ugliest recipe you are going to see, so prepare for loads of curries and stews haha! Hope you guys don't mind the ugly food photo's every now and then. But as we now know, ugly food can be delicious too!
PS: I highly recommend watching the Ugly Delicious show on Netflix, it is super interesting to have a look at different kinds of foods and how they are made. Plus, it is also very inspiring if you're a foodie like me!

Middle-Eastern shakshuka with feta
Author:
That Healthy Kitchen
Prep time:
Cook time:
Total time:
Ingredients
1 tablespoon olive oil
2 onions, diced (about 100 gram)
2 cloves garlic, finely diced
2 teaspoons dried thyme
1 teaspoon ground cumin
1 teaspoon paprika powder
½ teaspoon cayenne powder
1 red bell pepper, diced
1 orange bell pepper, diced
1 yellow bell pepper, diced
1 can diced tomatoes (400 gram)
3 eggs
fresh cilantro to garnish
Instructions
Put the olive oil in a large skillet-type pan over medium to high heat.
Sauté the onion until translucent. Then, add the garlic and sauté for another minute or so. Be careful not to burn the garlic.
Add the dried spices and herbs, diced bell peppers and diced tomatoes. Turn down the heat to low/medium and let the sauce simmer for a few minutes.
Turn down the heat to low and make three wells in the sauce. Break one egg into each well and cover the pan with a large lid.
Let the eggs poach until they have reached your preferred done-ness. I like my eggs with a fairly cooked yolk, so for me this took about 10 minutes. It may take more or less time depending on your preferences.
Garnish with loads of fresh cilantro and serve! Enjoy while warm, but leftovers keep well in the fridge too.
Nutrition Information
Serving size:
⅓ of the recipe
Calories:
293 kcal
Fat:
16.9 g
Saturated fat:
6.6 g
Unsaturated fat:
7.3 g
Trans fat:
0 g
Carbohydrates:
18.2 g
Sugar:
12.1 g
Fiber:
5.1 g
Protein:
16 g