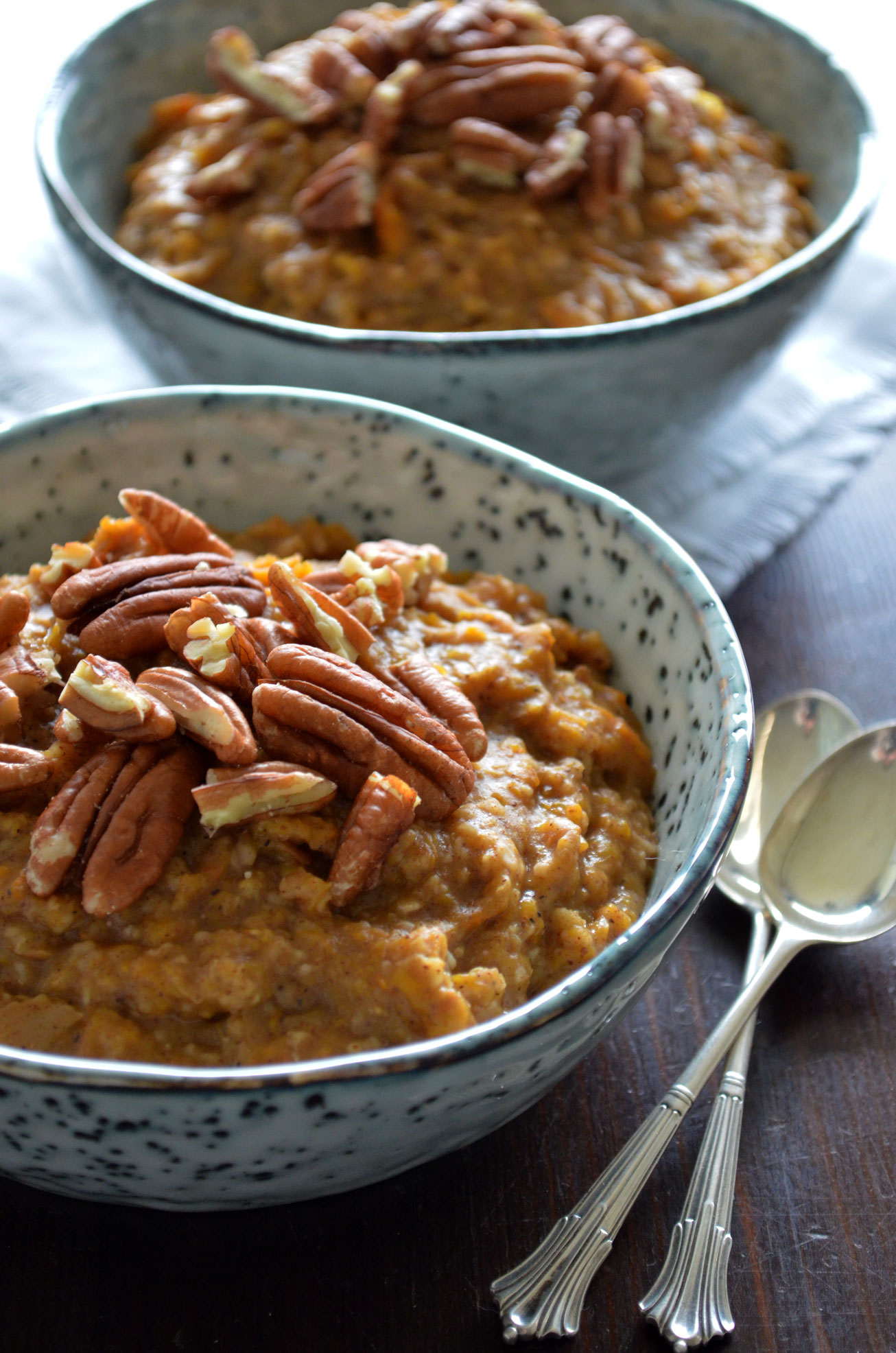 Oatmeal is one of the healthiest breakfasts you can eat. Oats are full of fibers and are high in protein, which will make you feel full until lunch time, but oats are also bursting with micronutrients like thiamin, manganese, phosphorus and magnesium.
For me, oatmeal is what I eat for breakfast almost every day, especially now that it is getting colder outside and I want something warm to start my day with. Normally I would opt for this Apple Pie Oatmeal, which is also perfect for this time of year, but to spice things up a little I've been making this Pumpkin Pie Oatmeal often for the last couple of weeks. It is perfectly spiced with hints of vanilla, cinnamon, ginger and nutmeg, and it is really smooth and creamy from the pumpkin puree. The pecans on the other hand add a nice contrast to the creaminess of the oats. On top of that all, the oatmeal is sweetened with date paste (or date caramel), which are actually pretty high in potassium and copper.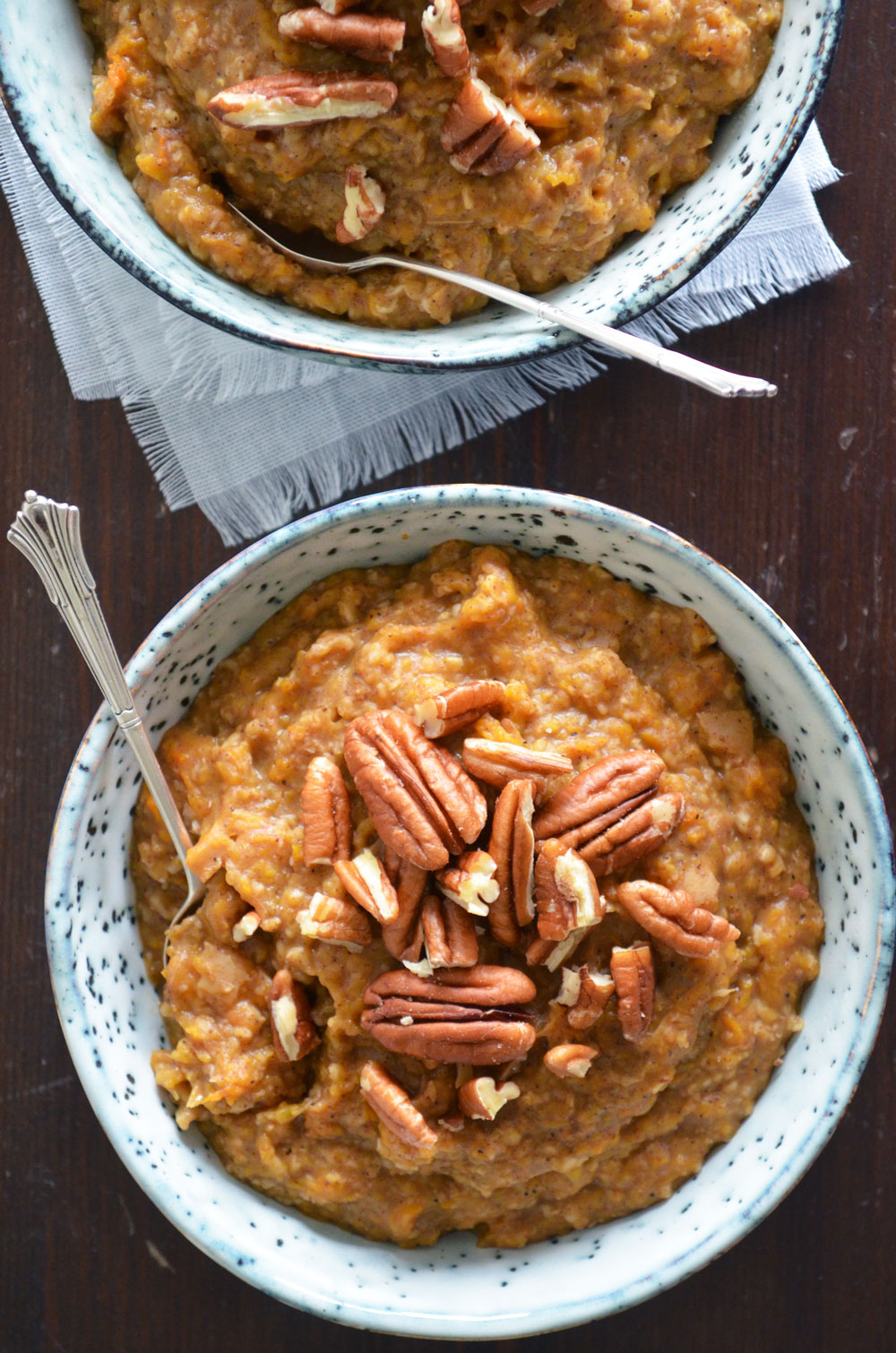 Although making oatmeal takes a bit more time than having breakfast with e.g. a bowl of granola and some yoghurt on the side, it will also give you a moment to relax. If you are able to measure all the ingredients out the night before, cooking the oatmeal will only take you about 8 minutes in total, so that isn't even that long either.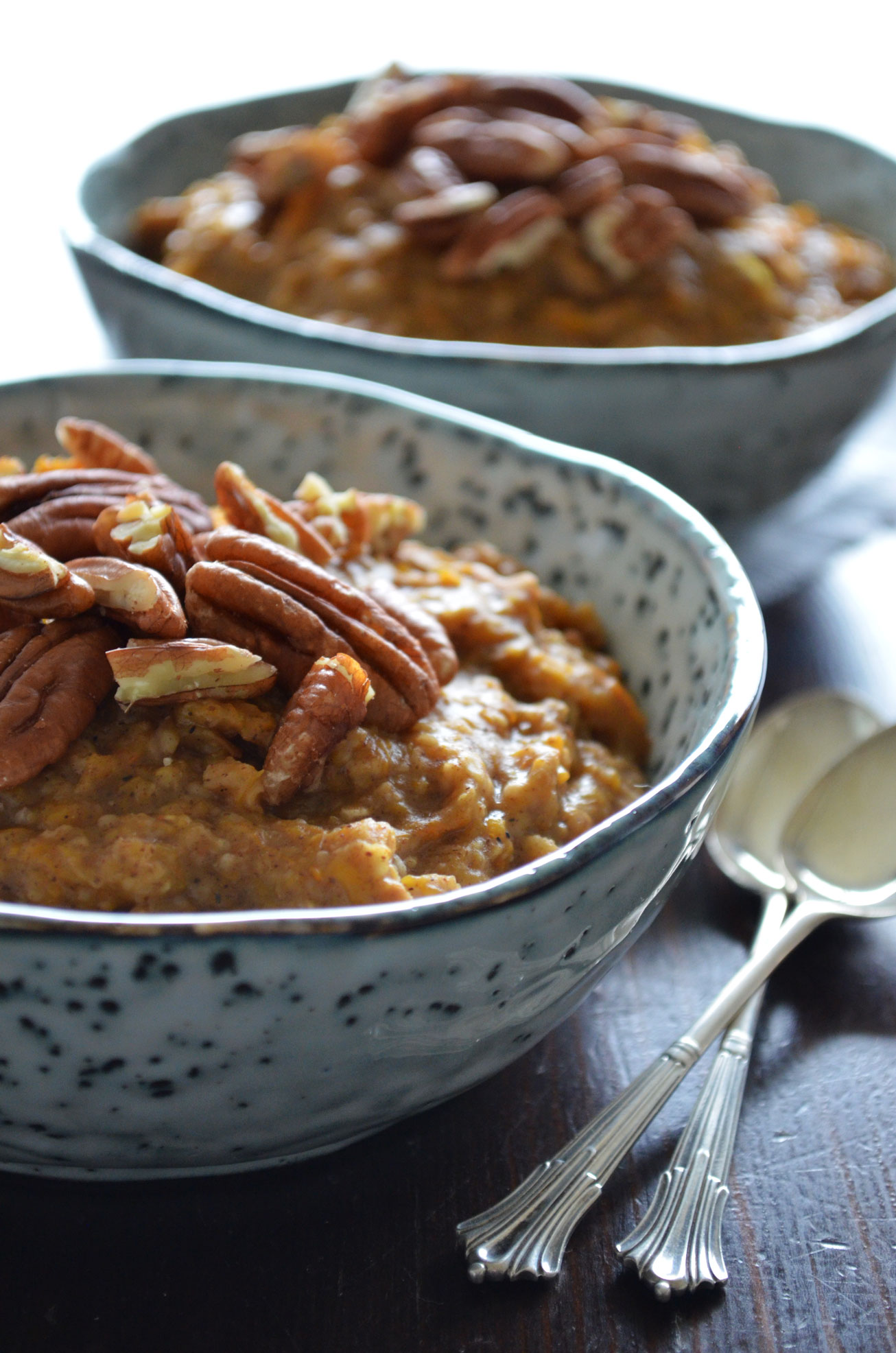 If you live somewhere where pumpkin puree isn't readily available, like here in the Netherlands, I would suggest just making your own. It is true that it takes a little more effort, but if you make a whole batch at once and freeze the rest (or use it in e.g. these pumpkin pancakes, or these pumpkin brownies) it really isn't that much work at all.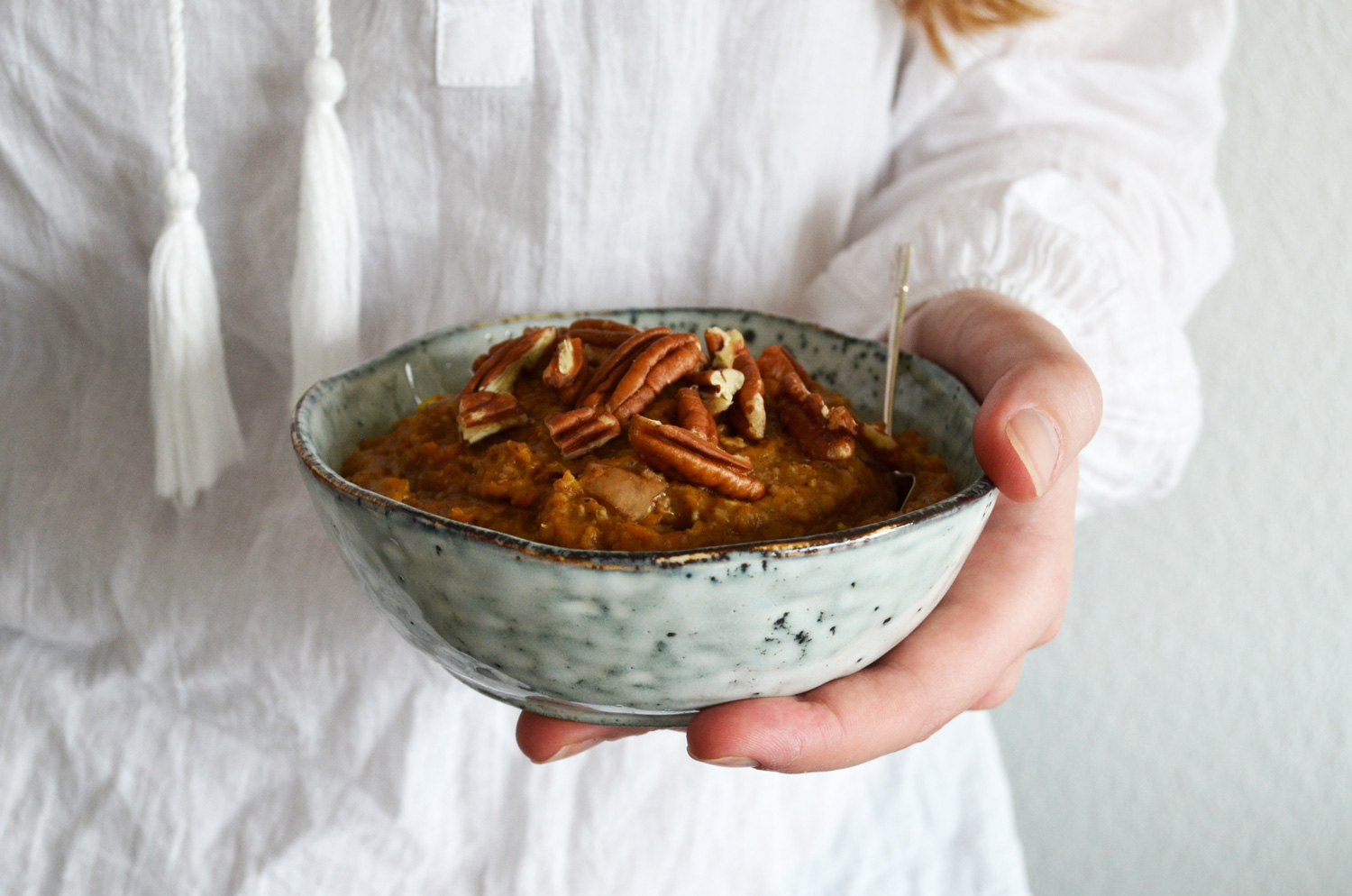 I made my own pumpkin puree as well, which is really simple. Just wash, peel and cube your pumpkin, put it on a baking tray (without oil) and roast for 45 to an hour on 180 degrees Celcius until the pumpkin is tender. Then, transfer the pumpkin to a blender and food processor and blend until a smooth puree has formed. If you're having some trouble blending the pumpkin, you could add a little water, one tablespoon at a time, to create a smoother consistency.
Pumpkin Pie Oatmeal
Prep time: 5 mins (60 mins if you make your own pumpkin puree)
Cook time: 8 mins
Total time: 13 mins
Yield: 2 servings
Ingredients
1/2 cup (50 gram) oats
1 cup (240 ml) water
1/4 cups (30 gram) pecans
1/2 cup (100 gram) pumpkin puree
1/4 cup (110 gram) date paste
1/2 teaspoon vanilla extract
1/2 teaspoon ground cinnamon
1/4 teaspoon ground nutmeg
1/4 teaspoon ground ginger
Instructions
1. Combine the oats and water in a sauce pan and let simmer until desired consistency is reached.
2. In the mean time, dry roast the pecans in a pan over high heat until the nuts give off a fragrant smell. Put them in a small bowl to prevent them from burning in the still hot pan. Set aside.
3. Turn off the heat of the oats and stir in the pumpkin puree, date paste, vanilla extract, cinnamon, nutmeg and ginger.
4. Serve immediately and garnish with the roasted pecans on top.
Nutritional information per serving
380 kcals
12.6 gram fat
of which 1.5 gram saturated fat
65.3 gram carbohydrates
of which 9.9 gram fiber and 38 gram sugar
7.5 gram protein