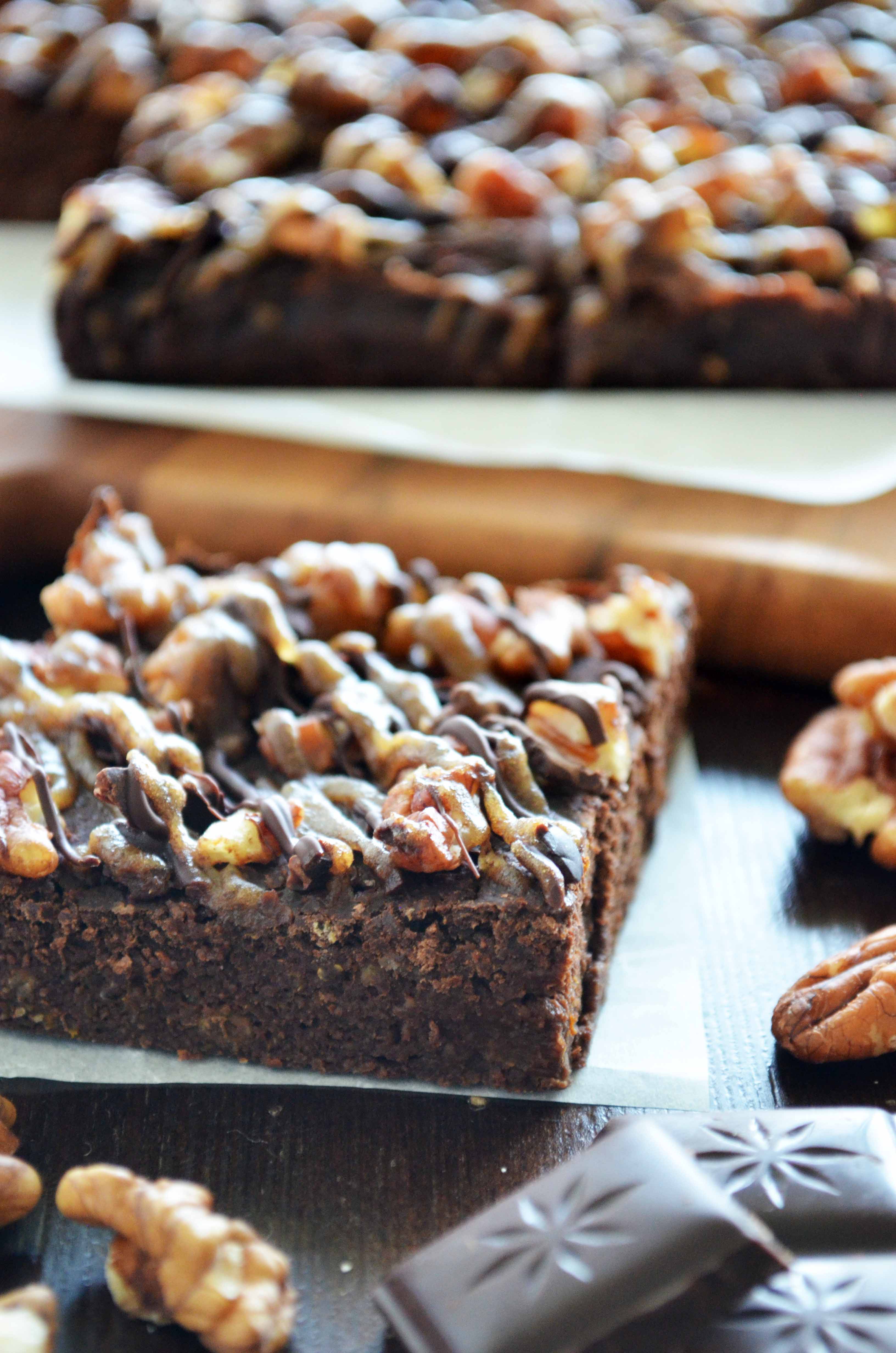 Guys, these brownies are amazing!
For me, they are the perfect combination of healthy (pumpkin, nuts, cacao, oatmeal) and guilty pleasure (pure chocolate, lots of sweet and sticky dates). As I've said before, I'm trying to up my veggie intake a little, and these Pumpkin Brownies with Nuts and a Chocolate and Date Caramel Drizzle are just perfect for that. Per slice, these contain the equivalent of almost 70 gram pumpkin, which is of course not all of your daily recommended intake of vegetables, but it is definitely a good start.
These brownies might be a bit more dense than the brownies you're used to, but don't let that discourage you from making them. Their taste is amazing and they are very filling too. Plus, they have an overwhelmingly delicious chocolate flavor 🍫🙌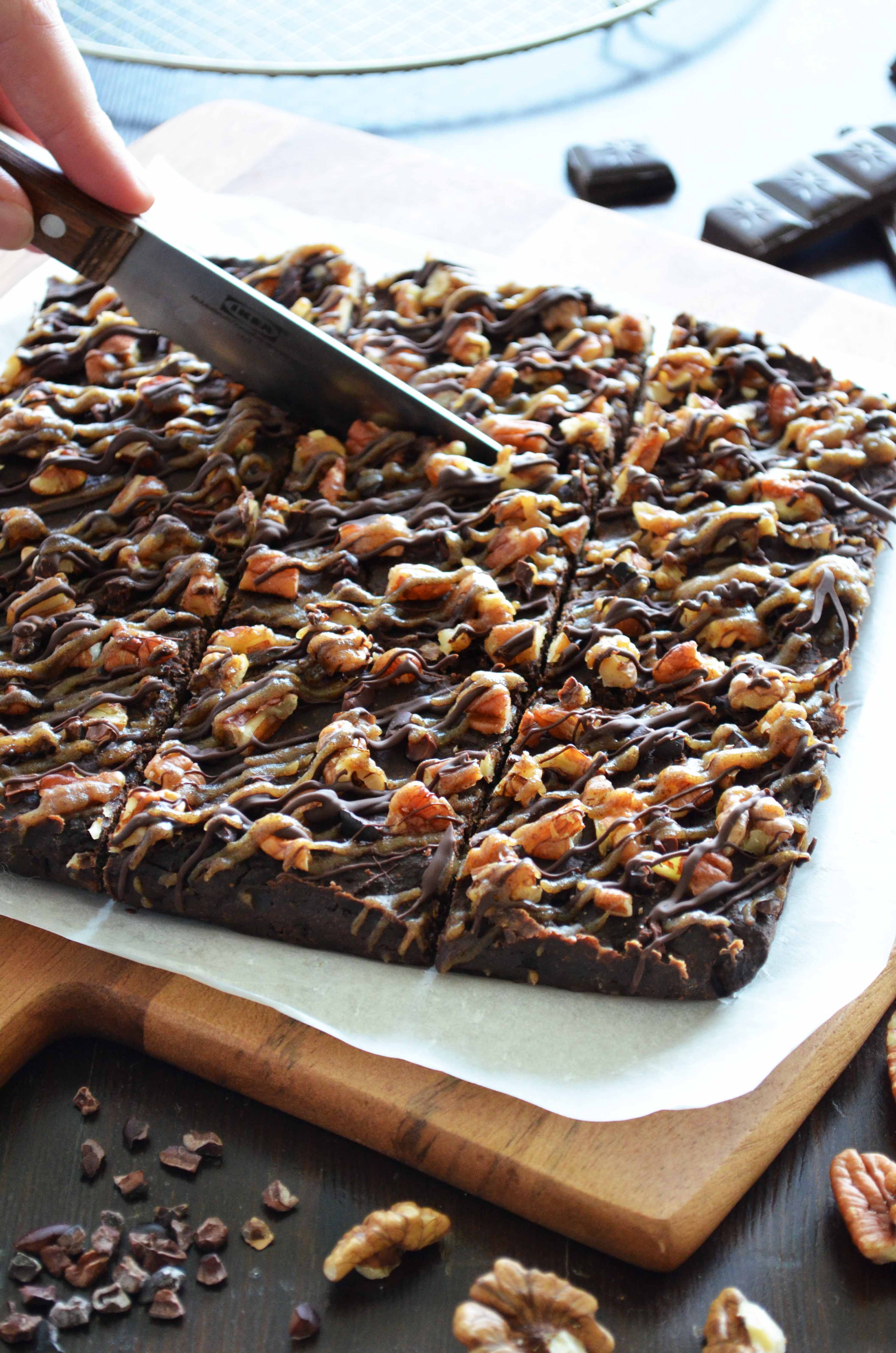 These pumpkin brownies are actually very simple and humble, but the amazing topping makes it look like a super fancy dessert or snack. For a little crunch, I added some pecans, walnuts and cacao nibs, but I bet hazelnuts would taste great in these too. The pumpkin flavor is not very strong, so if you're worried about that, I can reassure you that is not the case. The pumpkin just makes the brownie very soft, moist and dense, much like a classical brownie would be.
As a sweetener I used medjoul dates (which are the big, soft and sticky ones) and some maple syrup, but whether or not you'll need the maple syrup will depend on the sweetness of the pumpkin. In this case I decided to add some, as I was bringing these to a friends house, but personally I thought they were sweet enough without the maple syrup. Just make sure to taste the batter before baking it and then decide whether or not you'll want to add some maple syrup.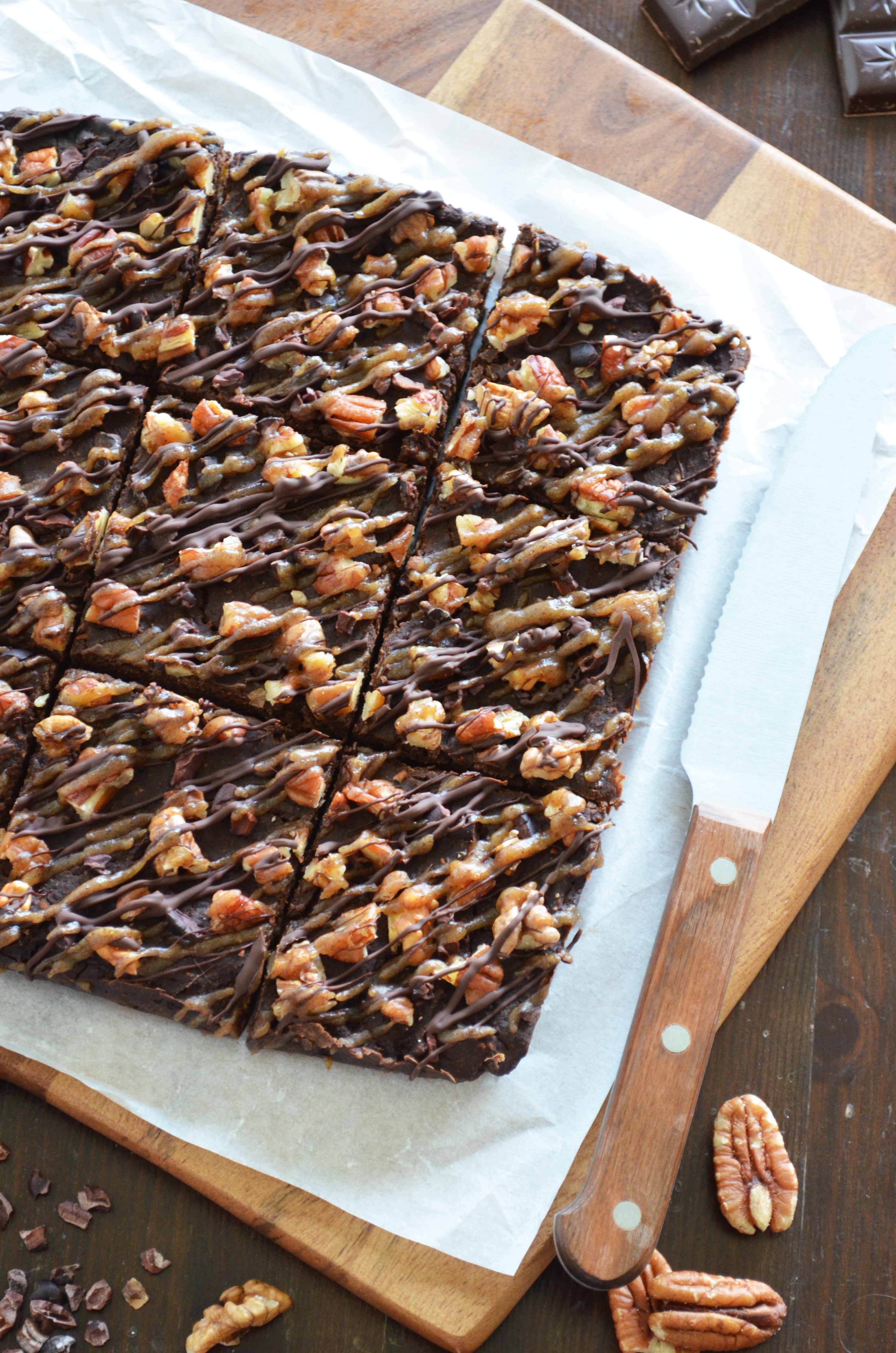 This is definitely an indulgent recipe, especially considering the kcals per slices. You can, of course, make the slices smaller, or replace some of the dates with stevia or xylitol.
PS If you don't have any pumpkins on hands, why not make my sweet potato brownies in stead?
Pumpkin Brownies with Nuts and a Chocolate and Caramel Drizzle
Prep time: 15 mins
Cook time: 40 mins
Total time: 55 mins
Yield: 1 brownie tin with 9 slices
Ingredients
3 to 4 cups (600 gram) pumpkin, diced
24 medjoul dates
1/2 cup (50 gram) cacao powder
1 3/4 cup (160 gram) oat flour
optional: maple syrup (taste the batter to decide whether or not it is necessary)
1/4 cup (30 gram) pecans, roughly chopped
1/4 cup (30 gram) walnuts, roughly chopped
2 tablespoons (15 gram) cacao nibs
30 gram high quality dark chocolate
Instructions
1. Preheat your oven to 180 degrees.
2. Steam the pumpkin for about 10 to 15 minutes or until soft. Time will depend on pumpkin variety and the size of the pumpkin pieces.
3. Meanwhile, pit 20 dates and put the pitted dates in a blender or foodprocessor. Discard the pits.
4. When the pumpkin is done, add that to the blender too, and blend.
5. In a separate bowl, sift the cacao powder and oat flour and add the pumpkin-date mixture. Mix well.
6. Taste the batter and decide whether or not you want to add some maple syrup or other sweetener.
7. Transfer the batter to a brownie tin lined with parchment paper. Spread out the mixture evenly.
8. Sprinkle the pecans, walnuts and cacao nibs over the brownie batter and slightly press them into the batter.
9. Bake the brownies for 30 minutes and let cool. The cooling down will help the brownie to firm up, as when warm the brownie might still be a bit crumbly.
10. While the brownie is cooling down, melt the chocolate au bain marie and transfer to a small icing bag. Drizzle over the brownies.
11. Pit the 4 leftover dates and blend them in a small blender with 1 to 2 tablespoons of water. You'll need a really small blender or food processor for this, as the volume is so little, yet if you want you can also use some more dates and store the rest of the date caramel for later. When the date caramel has reached the desired consistency, transfer it to a small icing bag and drizzle over the brownies. The caramel will not set, however you could use coconut oil in stead of water to make the caramel a little firmer.
Nutritional information per slice
418 kcals
8.2 gram fat
of which 2.3 gram saturated fat
106.6 gram carbohydrates
12.8 gram fiber
62.1 gram sugar
7.9 gram protein