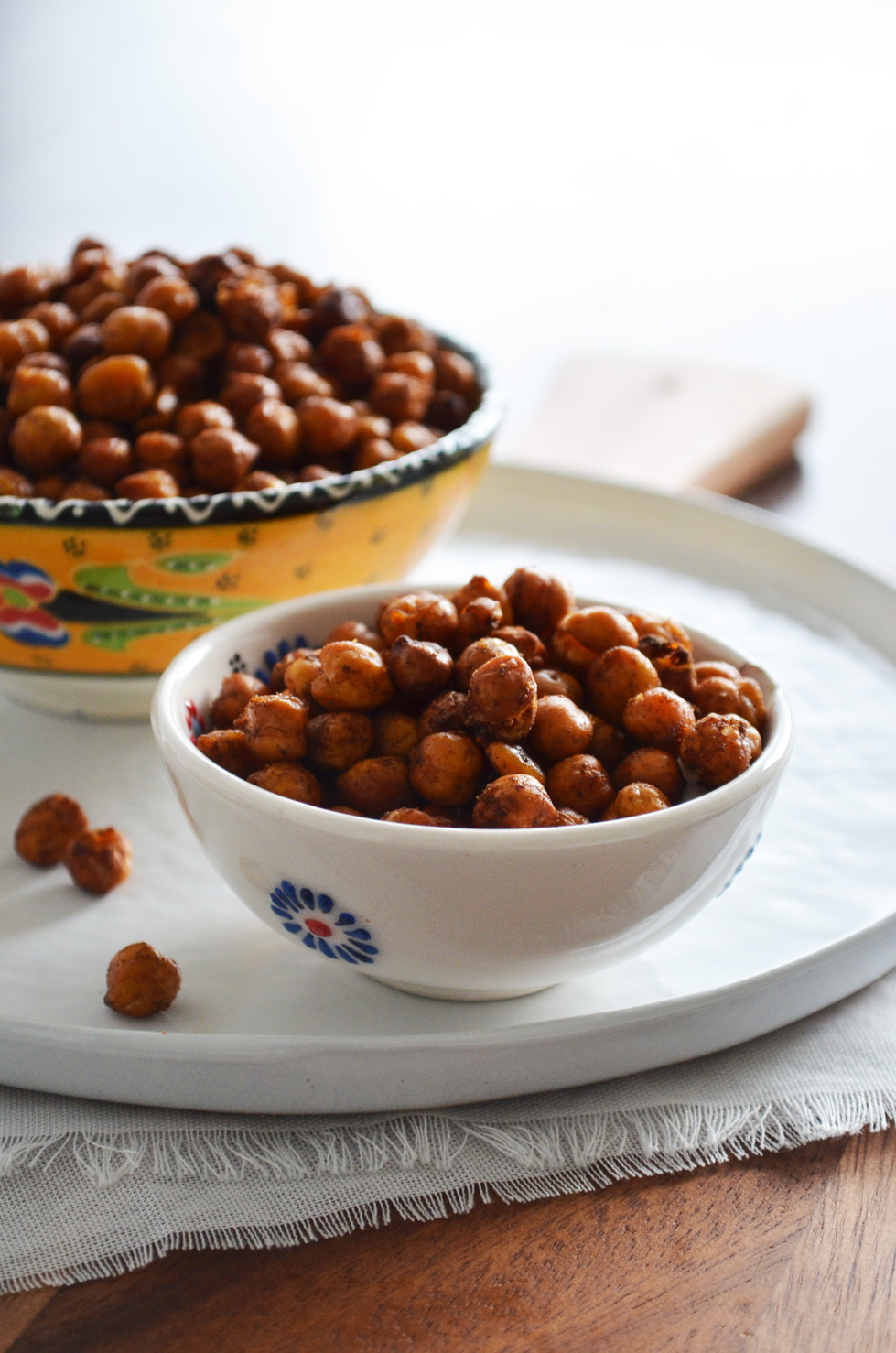 A little while ago I tasted my first ever roasted chickpeas… And wow, I was mind blown by the taste and texture! Normally, I find that the texture of cooked chickpeas (also known as garbanzo beans) can soon become a bit crumbly/mealy on the inside, which is something I absolutely hate (and with me most people I think). But with those roasted chickpeas that was not the case at all. They were actually super crispy and crunchy and very flavorful, and as a bonus they were even really filling too.
Of course, I had to recreate them at home, which was actually quite a challenge. I think it took me a good 5 batches or so to get the crispiness and the flavoring quite right, but now they are even better than the ones that I first had! The secret is to not use too much oil, and to preheat your oven as hot as possible. I have a really small and honestly not such a great oven, but it still manages to heat up to 220 degrees C, so even if your oven isn't the most fancy model, this recipe should even work for you.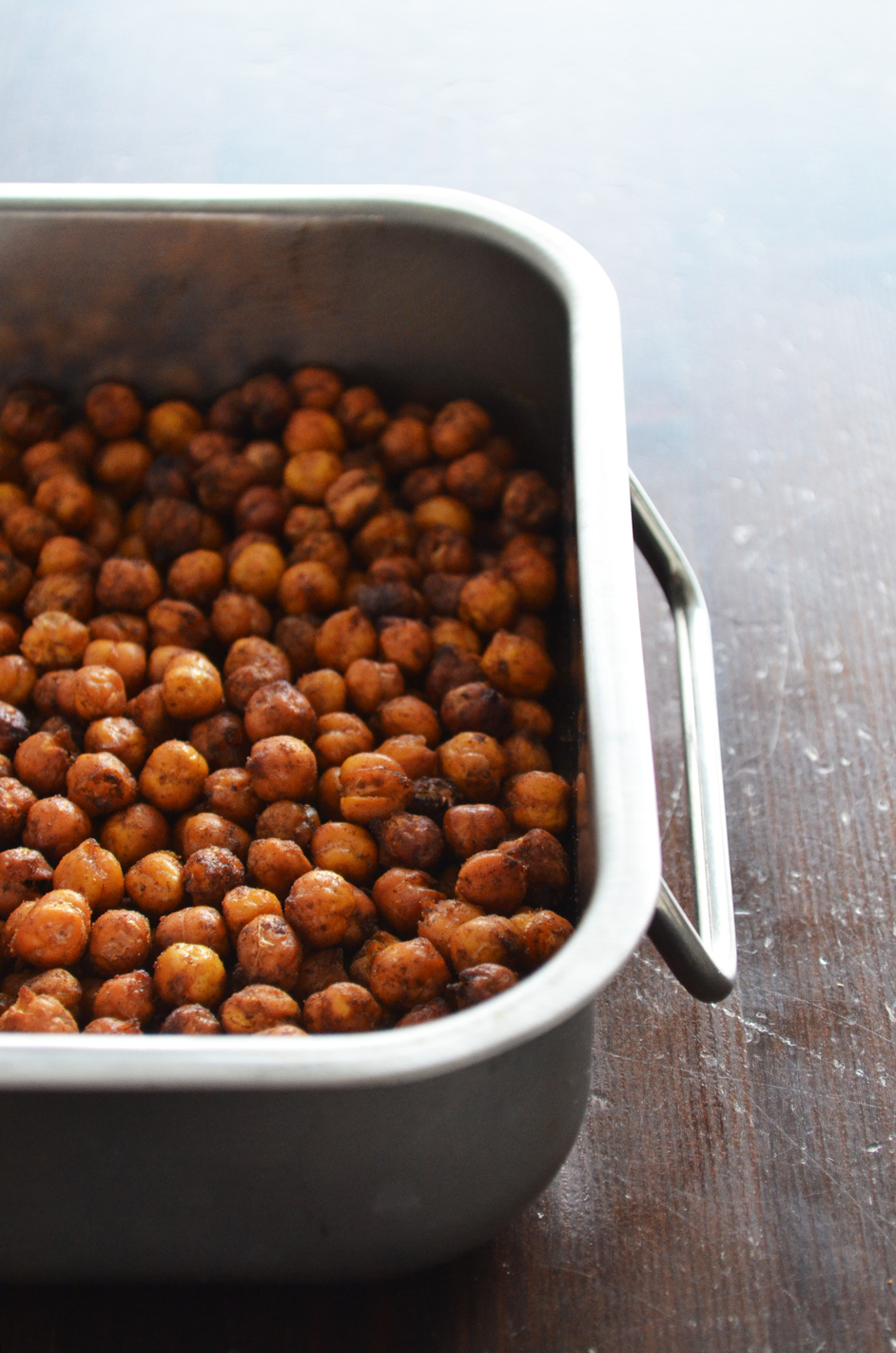 I flavored these very simply with only a few ingredients: salt, pepper, garlic powder and smoked paprika, which is AMAZING by the way! I just 'discovered' pimentón, also known as smoked paprika powder, and I am just totally in love. Before I had it, I though I could just substitute it with normal paprika powder, but I honestly couldn't have been more wrong. Pimentón has a really distinct flavor, and personally it also reminds me somewhat of that smokey flavor that bacon often has, so if you miss bacon I can highly recommend you getting some smoked paprika powder and use it in some of your favorite dishes.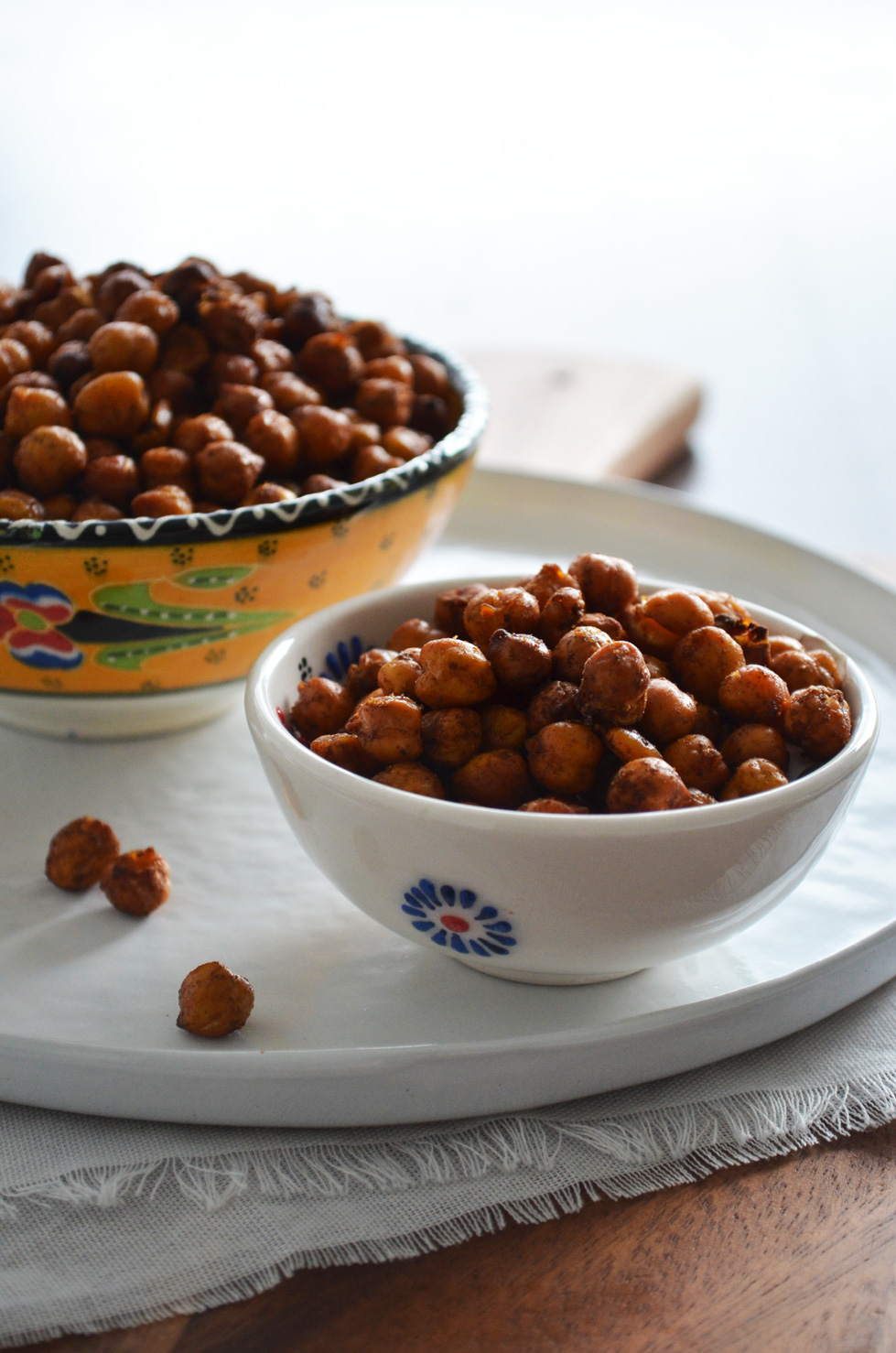 Smoked paprika can be a little hard to obtain, but most Arabic or Turkish shops sell it nowadays, and on internet it is also readily available. If you want to make this recipe without pimentón that is of course also possible, but the taste will definitely be as mind blowing unfortunately (I've tried it!!). Another really nice flavor combination is cheese onion. For this, just leave out the smoked paprika powder and instead add 1/2 teaspoon ground nutritional yeast and 1/4 teaspoon onion powder.
Smokey Roasted Chickpeas
Prep time: 5 mins
Cook time: 30 mins
Total time: 35 mins
Yield: 3 servings
Ingredients
2 cups (500 gram) cooked chickpeas
2 teaspoons olive oil
1/4 teaspoon fine grained salt
1/4 teaspoon ground black pepper
1/4 teaspoon smoked paprika
1/4 teaspoon garlic powder
Instructions
1. Before making this, take your chickpeas and dry them as good as you can with some paper towels. Then, put them in a big bowl and let them dry out on the counter overnight or for a few hours. Having dry chickpeas before you put them in the oven really is the trick to getting them crunchy, so do not skip this step!!
2. After you've let your chickpeas dry out for a couple of hours at least, preheat your oven to 220 degrees Celcius.
3. In a big bowl, mix the chickpeas with the olive oil, salt, pepper, smoked paprika and garlic powder until the chickpeas are all evenly coated.
4. Transfer the chickpeas to a large baking tray. Make sure that they are not on top of each other, but are layered in a single layer. For the best results you should also leave a little room between the chickpeas. I roasted my chickpeas in 2 sessions because I have a really small oven, but if you have a larger one you can of course roast them all at once.
5. Roast them for 30 mins, tossing them well after 15 minutes. They will keep their crunch for about 1 to 2 days, and after that they get a little less crispy. You can however re-bake them to get that crunch back, but in my experience they will not last that long haha.
Nutritional information per serving
187 kcals
4.4 gram fat
29.3 gram carbohydrates
of which 11 gram fiber and 8 gram sugar
12,5 gram protein