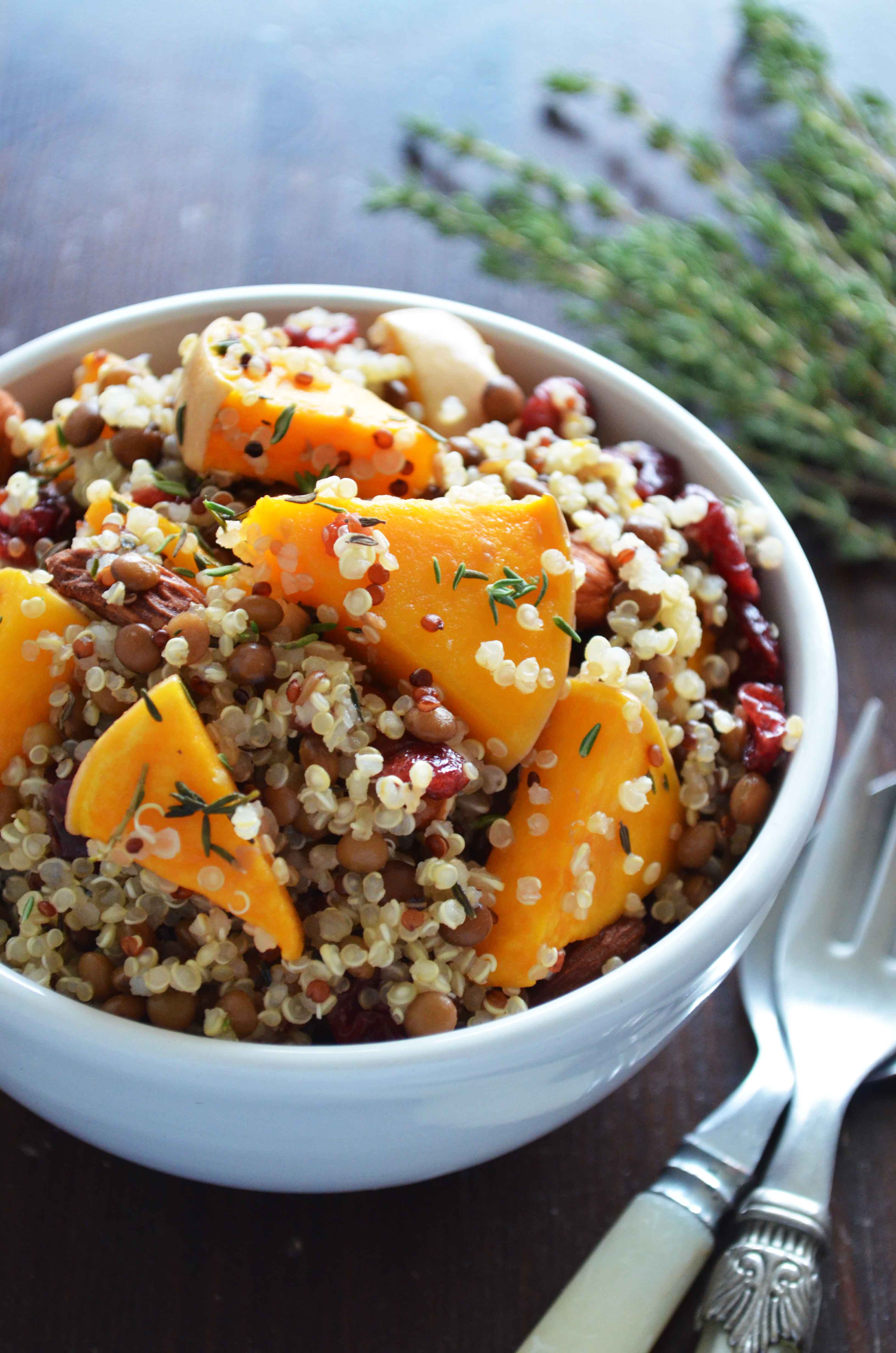 Ahh guys, this salad is DA BOMB!
And yes, I'm totally using that 2006 word, because yeah I'm retro like that 💁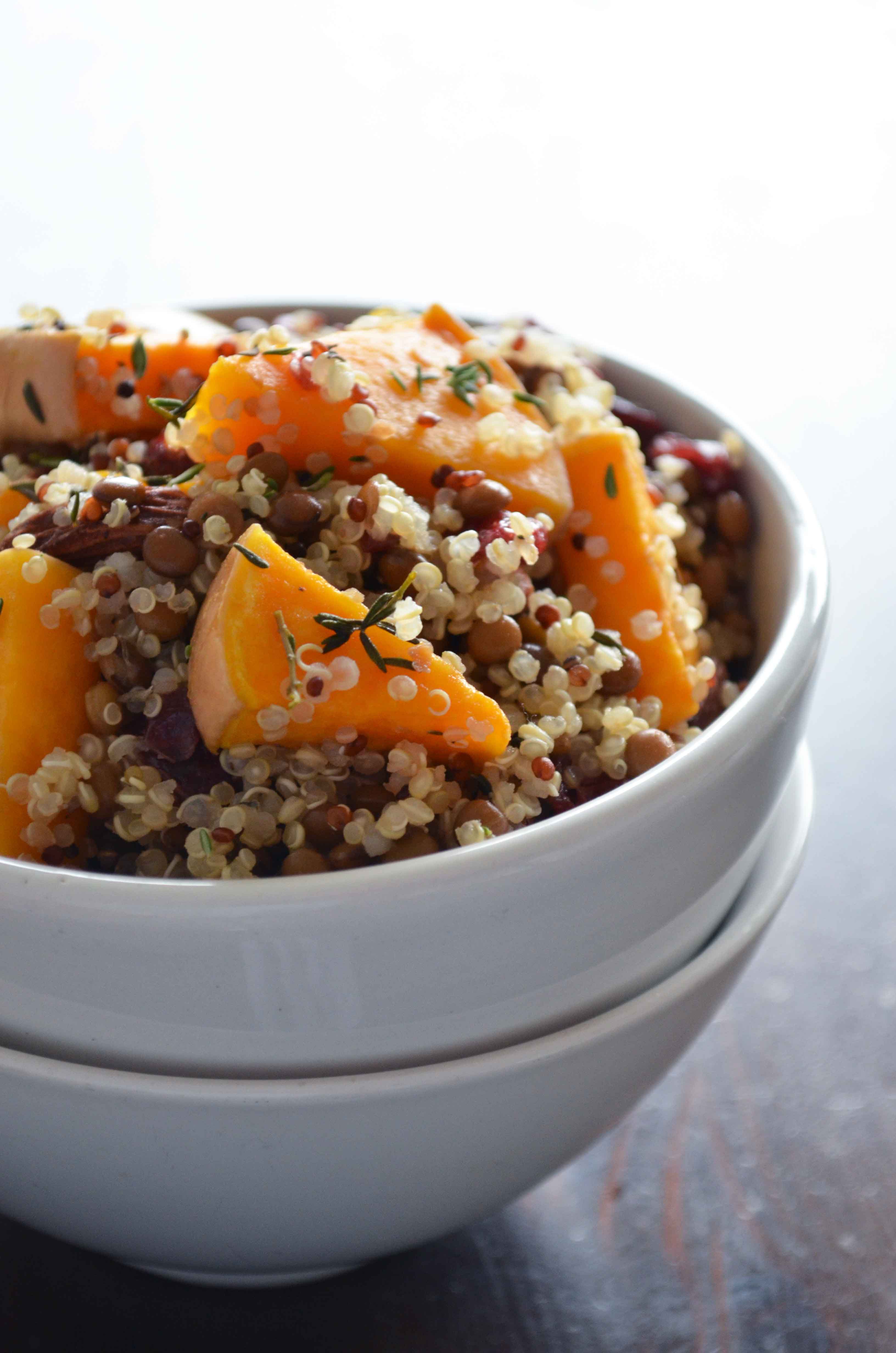 This salad has it all: roasted butternut squash, crunchy almonds, sweet dried cranberries, some herbs and a tangy orange vinaigrette. All together also known as the *perfect* fall food. Because yes, it is perfect: it is healthy, delicious, nutritious, filling, warming, quick, easy and simple to make.
What takes the most time is roasting the butternut squash, but on the other hand the oven will do all the work for you, and you'll just have to be patient — which is hard, I know haha. In the mean time you just have to cook the quinoa and mix the dressing ingredients together, which is also really doable.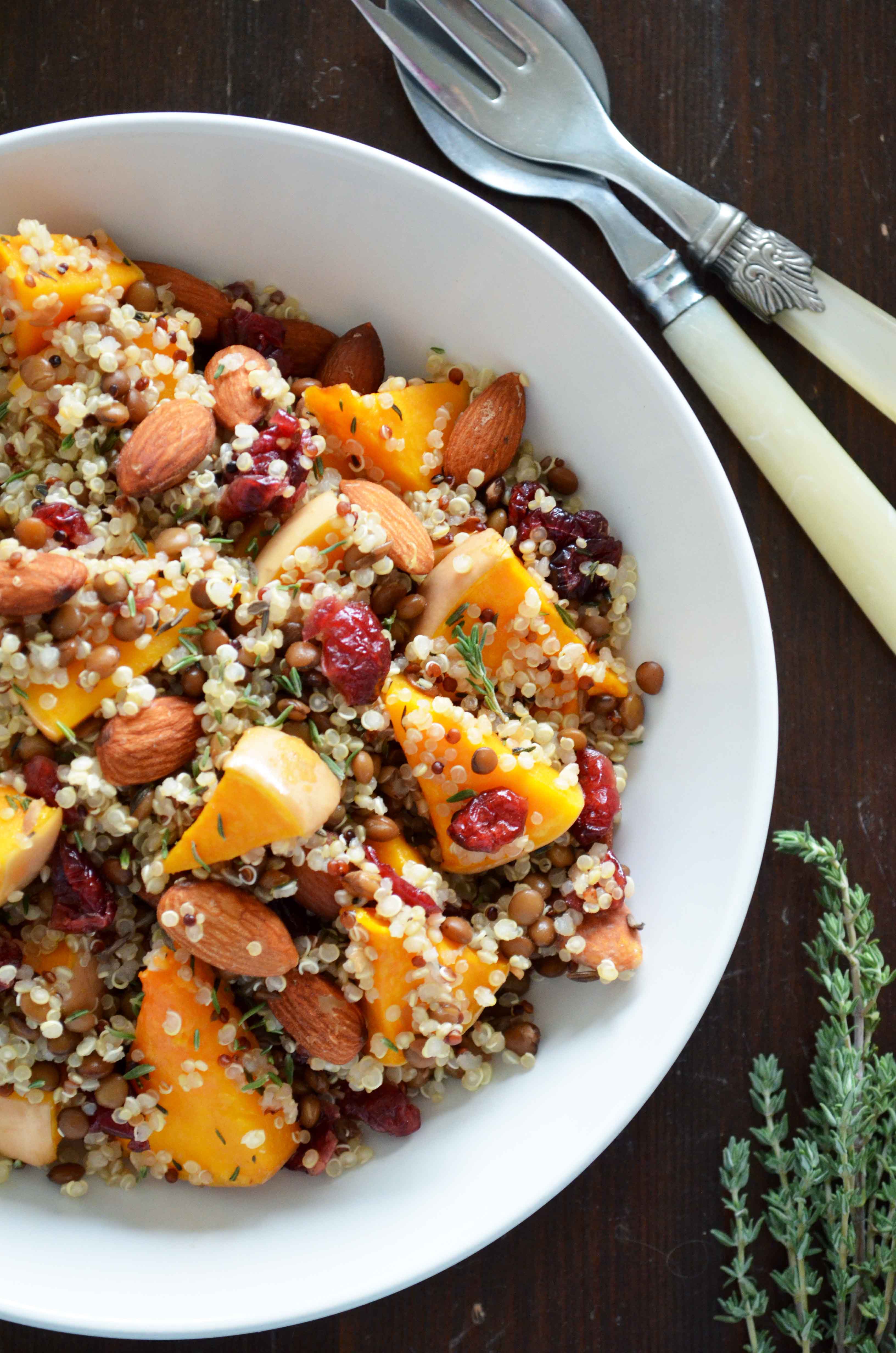 Then, once the thyme roasted butternut squash is done, you can just toss is in with the rest of the ingredients, et voila! Ready to serve!
I can imagine this would be an amazing side dish or vegetarian/vegan main dish for Thanksgiving thanks to the delicious seasonal ingredients. To make it even more seasonal, you could swap the almonds for pecans.
Winter Quinoa Salad
Prep time: 15 mins
Cook time: 45 mins
Total time: 1 hour
Yield: 2 large servings
Ingredients
1/2 a butternut squash
5 sprigs fresh thyme, leaves only, or use some dried thyme
1 teaspoon olive oil
1/2 cup (90 gram) quinoa
1/2 cup (65 gram) almonds
2/3 cup (130 gram) cooked lentils
1/2 cup (60 gram) dried cranberries
For the vinaigrette:
1 tablespoon mustard
2 tablespoons balsamic vinegar
2 teaspoons maple syrup
juice of half an orange (1/4 cup or 60 ml)
freshly cracked black pepper
optional: zest of half an orange
Instructions
1. Preheat your oven to 220 degrees Celcius.
2. Cube your butternut squash and put in a oven-safe baking dish. Toss with the thyme and olive oil. Bake in the oven for approximately 45 minutes or until fork tender.
2. Meanwhile, rinse the quinoa and cook according to the instructions on your package, normally 5 to 15 minutes.
3. Dry roast the almonds in a skillet. First, let the skillet get hot and then put in the almonds. Stir continuously until the almonds smell fragrantly and are maybe slightly darker, but not burned! Transfer to a separate bowl immediately after they're done to prevent them from burning.
4. In a jar, combine the mustard, balsamic vinegar, maple syrup, orange juice, black pepper and the zest of the orange. Put on the lid and shake well until the ingredients are well incorporated.
5. Toss the roasted butternut squash, quinoa, almonds, lentils and cranberries in a salad bowl and drizzle the orange vinaigrette over it. Serve the salad hot, lukewarm or cold. It also holds really well in the fridge, and I actually almost like it better the next day, as the flavors have really developed then. When not serving directly, keep the almonds separate to prevent them from going soggy.
Nutritional information per large serving
623 kcal
23.4 gram fat
of which 2 gram saturated fat
88.7 gram carbohydrates
of which 19.4 gram fiber and 16.7 gram sugar
22.9 gram protein