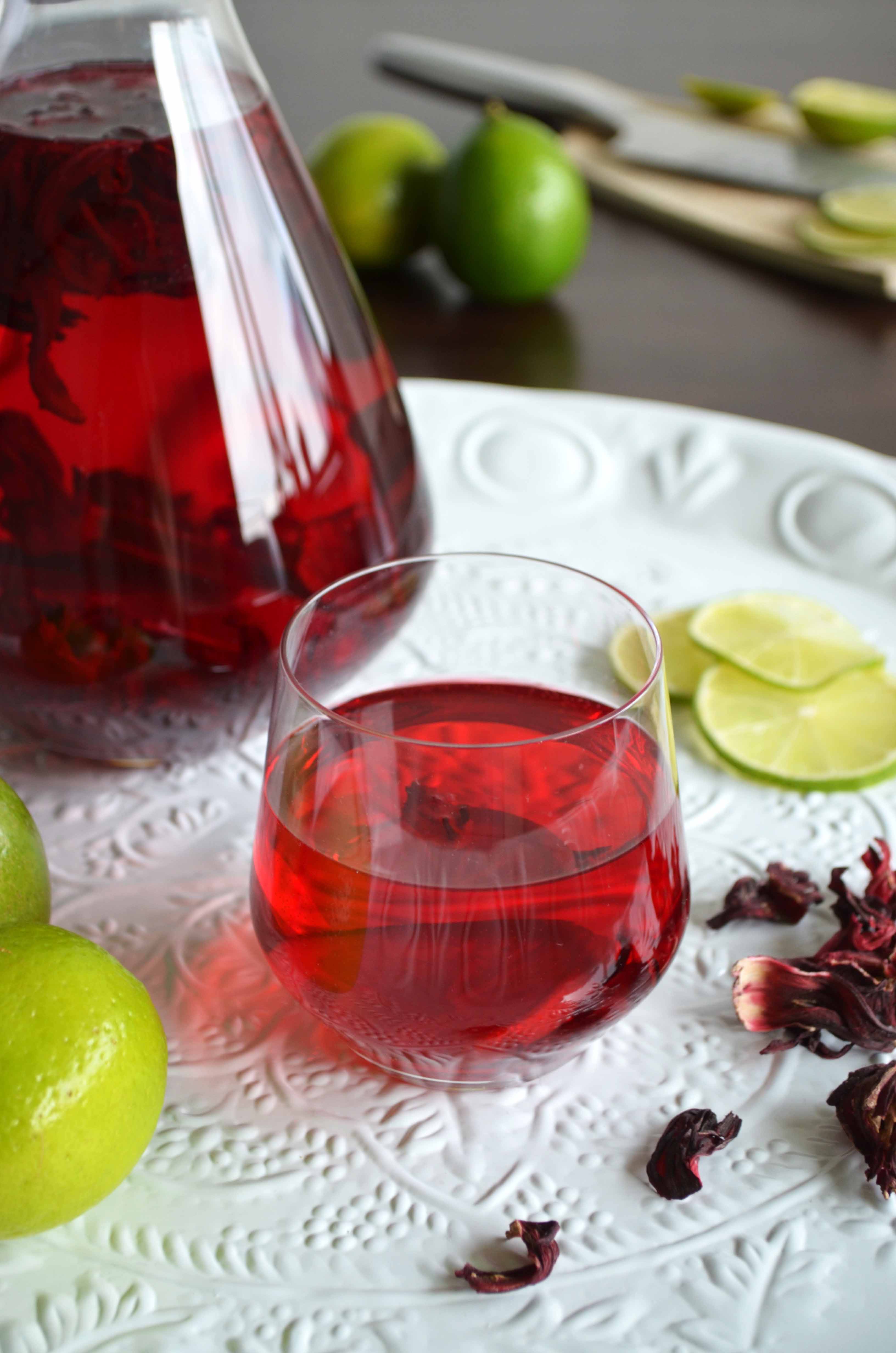 Drinking enough water on a day can be quite a challenge for me, because – let's be honest about it – drinking water can be a bit boring. Often I spice up my water with some lemon or lime juice, or infuse it overnight with some fresh mint. There was also a time when I was really into drinking cold brewed green tea. Often I drank more than a liter of it per day! Although I try to limit my caffeine intake now, I still really enjoy a nice glass of unsweetened cold brewed tea.
When you cold brew tea, the result is much smoother with less of an edge from tannins, than if you would brew the tea with hot water. If you are normally not so fond of green tea, trying a cold brew once really makes a huge difference. The same goes for this pretty pink Cold Brewed Jamaican Hibiscus Iced Tea. Although herbal teas tend to have less bitterness than normal teas in general, hibiscus tea can sometimes turn out a little bitter too. Cold brewing it definitely gets rid of that completely.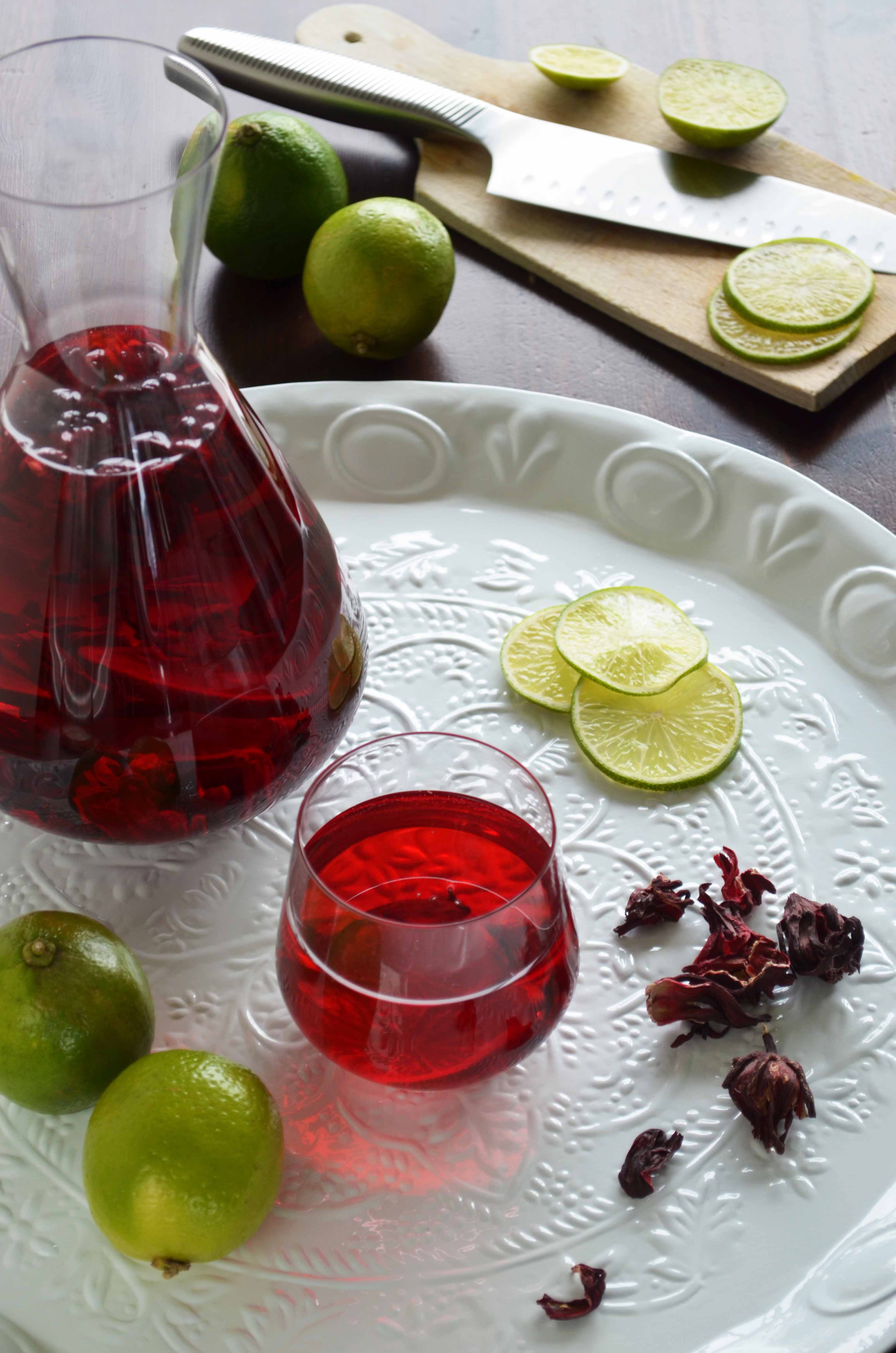 For this iced tea, I let some hibiscus flowers and a cinnamon stick steep overnight, and added some fresh lime juice and a little sweetener in the morning. It does not taste at all like your regular iced tea, but more like a fruity and flowery lemonade. It is so little work and the result is amazing, so if you're a bit bored of drinking water all day long, why not spice it up a little?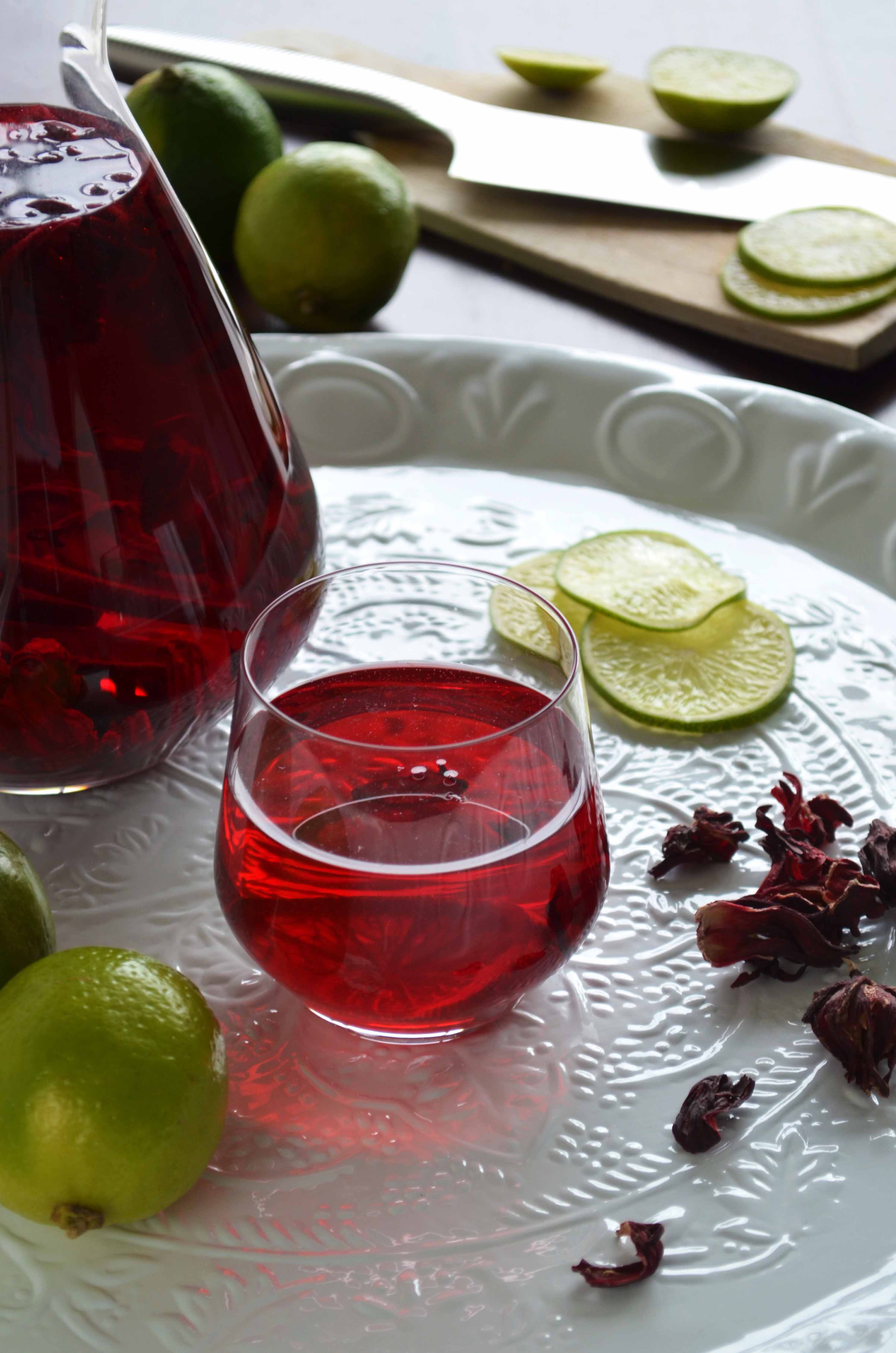 Hibiscus flowers can be hard to come by, however most Arabic or Turkish shops sell it, and even some supermarket sell hibiscus tea. Otherwise, you can always try to buy it online at e.g. Amazon or iHerb.
Oh and by the way, this would also make a great cocktail if you combine it with some tequila, vodka, rum or perhaps even some cinnamon liqueur to intensify the cinnamon flavor of the iced tea 🍹
Cold Brewed Jamaican Hibiscus Iced Tea
Prep time: 5 mins
Cook time: –
Total time: 6 hours or overnight
Yield: 1 liter
Ingredients
15 gram dried hibiscus flowers or hibiscus tea bags
1 stick cinnamon
1 liter water
1 to 4 tablespoons of sweetener of choice (I used 1 tablespoon granulated xylitol, as I like it quite tart)
optional: juice of 1/4 lime
Instructions
1. Put the hibiscus flowers and the cinnamon stick in a big jar or bottle and add 1 liter water. Seal the lid and let steep in your fridge for at least 6 hours or overnight.
2. In the morning, strain the tea and throw away the hibiscus flowers and cinnamon stick. Check the flavor of the tea, depending on your personal preference and the quality of your hibiscus tea or hibiscus flowers you'll want to add 1 to 4 tablespoons of sweetener to your drink. I would suggest choosing a sweetener that easily dissolves in water.
3. Personally, I really like adding a little lime juice to the mix as well to freshen it all up. Just remember to add a little more sweetener if you do this.
Nutritional information
I am not able to provide any nutritional information on this recipe, as I am not aware of the nutritional values of hibiscus tea, and also the amount of sweetener that one wants to put in, and I do not want to provide wrong information.