To be honest, I've never liked chia pudding.
To be really honest, I absolutely and totally hate them.
That weird, slimy texture, and those tiny crunchy balls… Nope, those puddings are not meant for me. Maybe I've just never made it the right way, or maybe it's just that my tastebuds are weird, but I guess I'll just have to live with it haha.
However, after all my downright horrible chia pudding experiments, I was still left with a whole bag of chia seeds. Of course they can be used as an egg replacer, in smoothies and to thicken things in general, but with my 500 gram (yes, 500 gram chia seeds – I don't know what I was thinking when I ordered them at iHerb) I really needed some other purposes for them to finish them before the expiration date.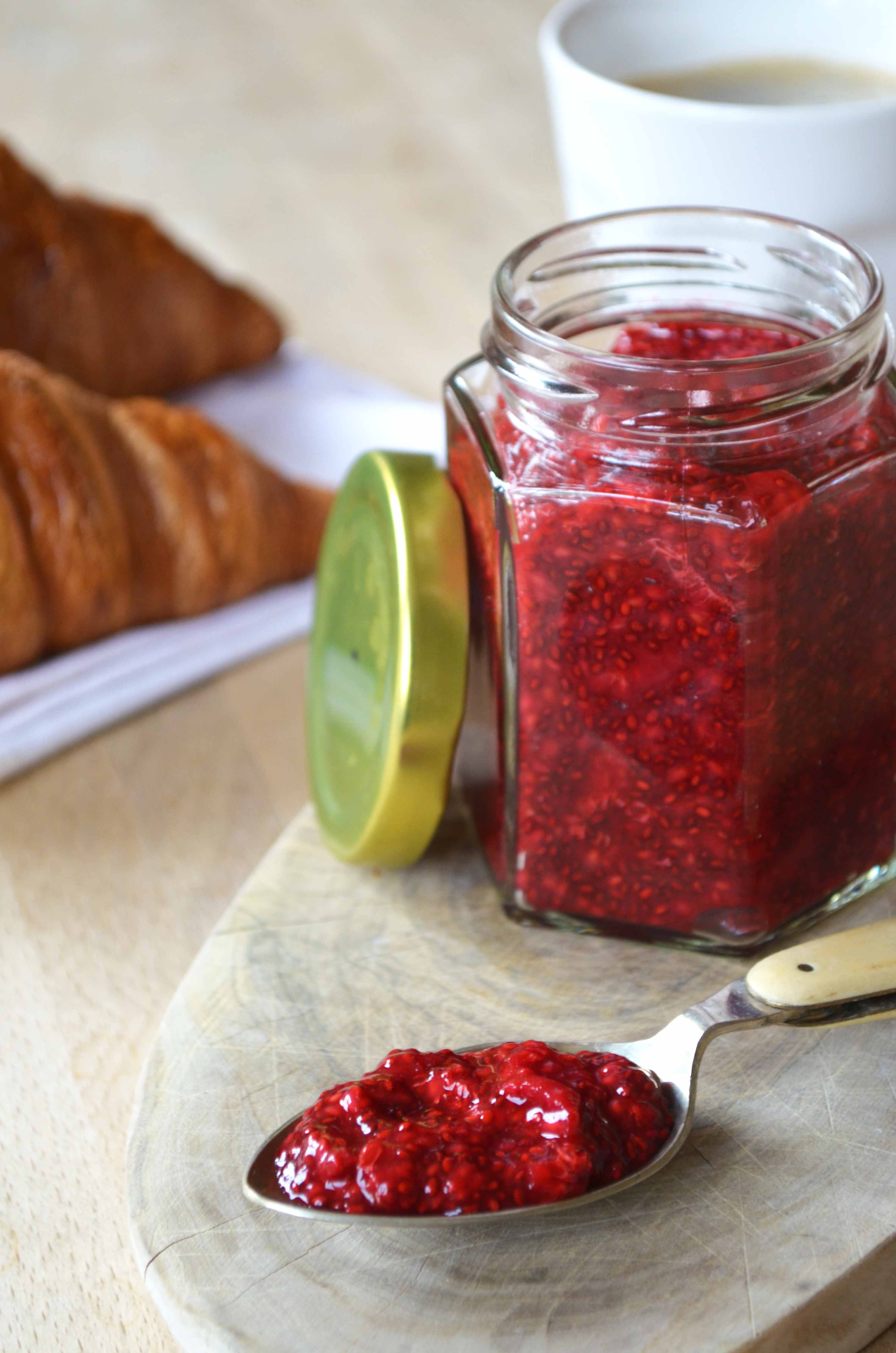 And that is where this amazing jam comes in! Even though there is no cooking involved, the texture of this jam is exactly like you would expect from traditional jam. Because this jam is raw, the super intense raspberry flavor is preserved and there is no need to add any sugar.
And, perhaps most important, the chia seeds are barely noticeable too, as they blend in perfectly with the raspberry seeds, so this recipe is perfect even for chia pudding haters like myself!
Two ingredient raspberry jam
Prep time: 5 mins
Cook wait time: 15 mins
Total time: 20 mins
Ingredients
250 gram raspberries
2 tablespoons chia seeds
Instructions
1. In a bowl, mash the raspberries until desired consistency. I like my jam with some chunks, so I left some whole.
2. Stir in the chia seeds and let sit for 10 to 15 minutes until the chia seeds have soaked up the raspberry juice and the mixture has a jam-like consistency.
Nutritional information per tablespoon (18 gram)
11 kcals
0.2 gram fat
2.1 gram carbs
of which 1.2 gram fiber and 0.7 gram sugar
0.3 gram sugar