Ahh, guys, this sauce is amazing!
Seriously… I don't think I'll ever return to supermarket pasta sauce. I just can't imagine how I ever thought ready made pasta sauce was okay. Ah, well wisdom comes with age, right?!
This sauce is the perfect combination between quick-and-easy and made-from-scratch, and making this sauce will truly make you feel like a domestic goddess, or at least I did. Basically all ingredients for this sauce can be picked from your own veggie garden – or bought at the farmers market if you're not that lucky.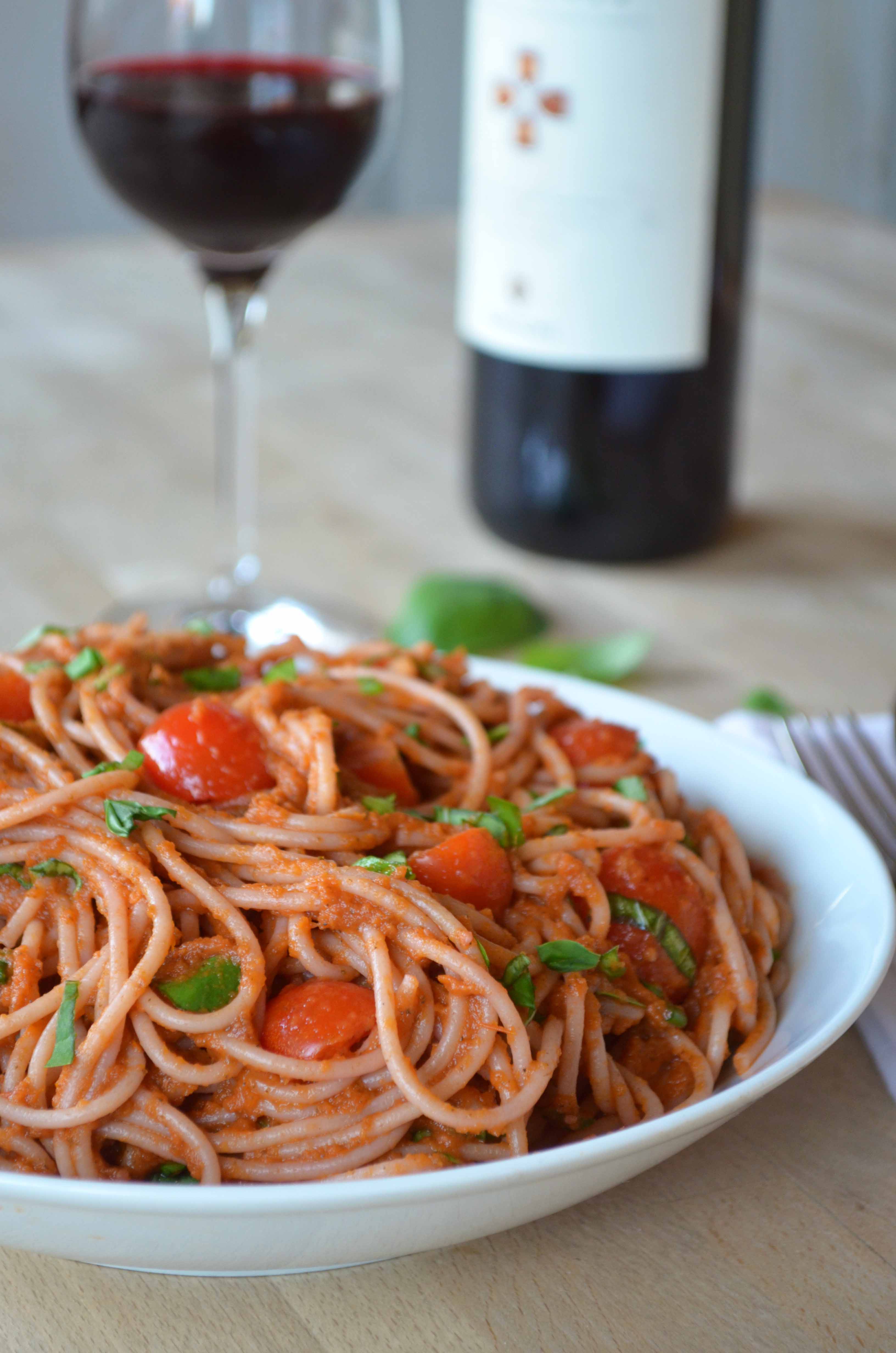 I've made this sauce multiple times now, and the variations are endless. The ingredients may not look like much alone, but once combined they give birth to a beautiful – and delicious – pasta sauce baby. The carrot gives some "body" and thickness to the sauce, and adds a little extra sweetness, which is perfectly harmonized by the spicy and aromatic thyme.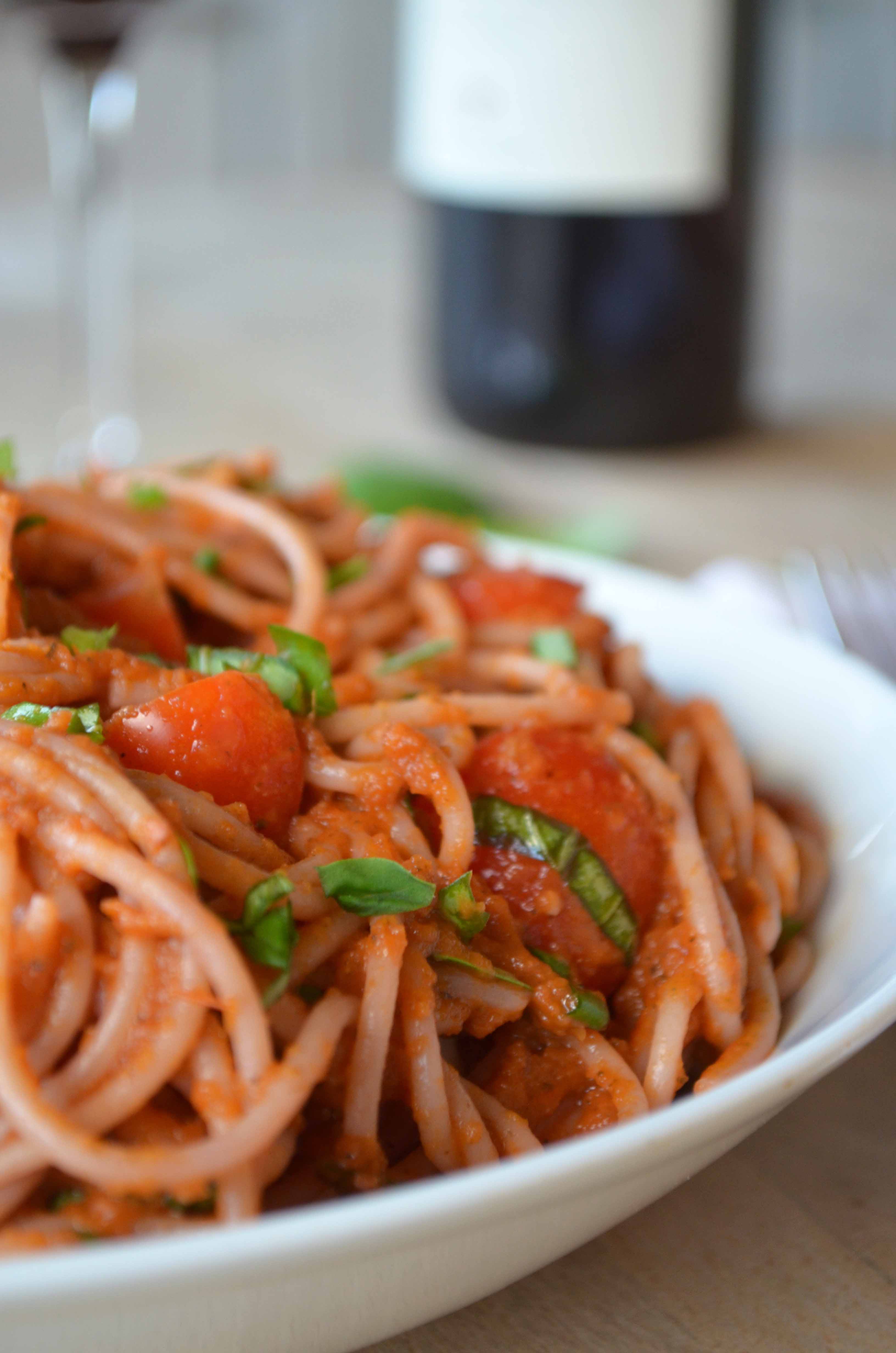 What I personally really really like about this sauce is that it is a truly honest sauce: no additives; no hidden sugars or sweeteners; no preservatives; just goodness! And with staples like pasta sauce that all might be even more important, as changing your habits starts with changing the things you do eat regularly!
Serve with some whole wheat or brown rice pasta and a nice glass of full bodied red wine. Also, good to know if you like cooking in large batches: the sauce holds up really well in the freezer too, yay!
The best marinara pasta sauce
Prep time: 10 mins
Cook time: 15 mins
Total time: 25 mins
Yield: 4 servings
Ingredients
1 tablespoon olive oil
70 gram tomato puree
1 red onion, finely diced
2 cloves garlic, finely diced
1 big carrot (about 200-300 gram), chopped
750 gram good quality, ripe tomatoes (about 8 to 10), quartered
3 tablespoons dried thyme or a few sprigs fresh thyme, leaves only
1/4 to 1/2 cup water (60 to 120 ml)
salt and black peper to taste
handful fresh basil leaves, torn
handful cherry tomatoes, quartered
Instructions
1. Heat the olive oil in a large pan and add the tomato puree, onion, garlic and carrot. Fry over medium heat until the onion looks glassy. Keep stirring to prevent the tomato puree from burning.
2. Add the quartered tomatoes, thyme and water to the pan, and let simmer over low to medium heat until the carrots are soft and the tomatoes begin to fall apart. Add more water if needed.
3. Blend the sauce with a powerful blender or food processor or – for a chunky sauce – mash with a potato masher. Add salt and pepper to taste
4. Right before serving, stir in the fresh basil leaves and the cherry tomatoes.
Nutritional information per serving
115 kcals
4.1 gram fat
of which 0.6 gram saturated fat
19.4 gram carbs
of which 5.5 gram dietary fiber and 10.1 gram sugar
3.0 gram protein