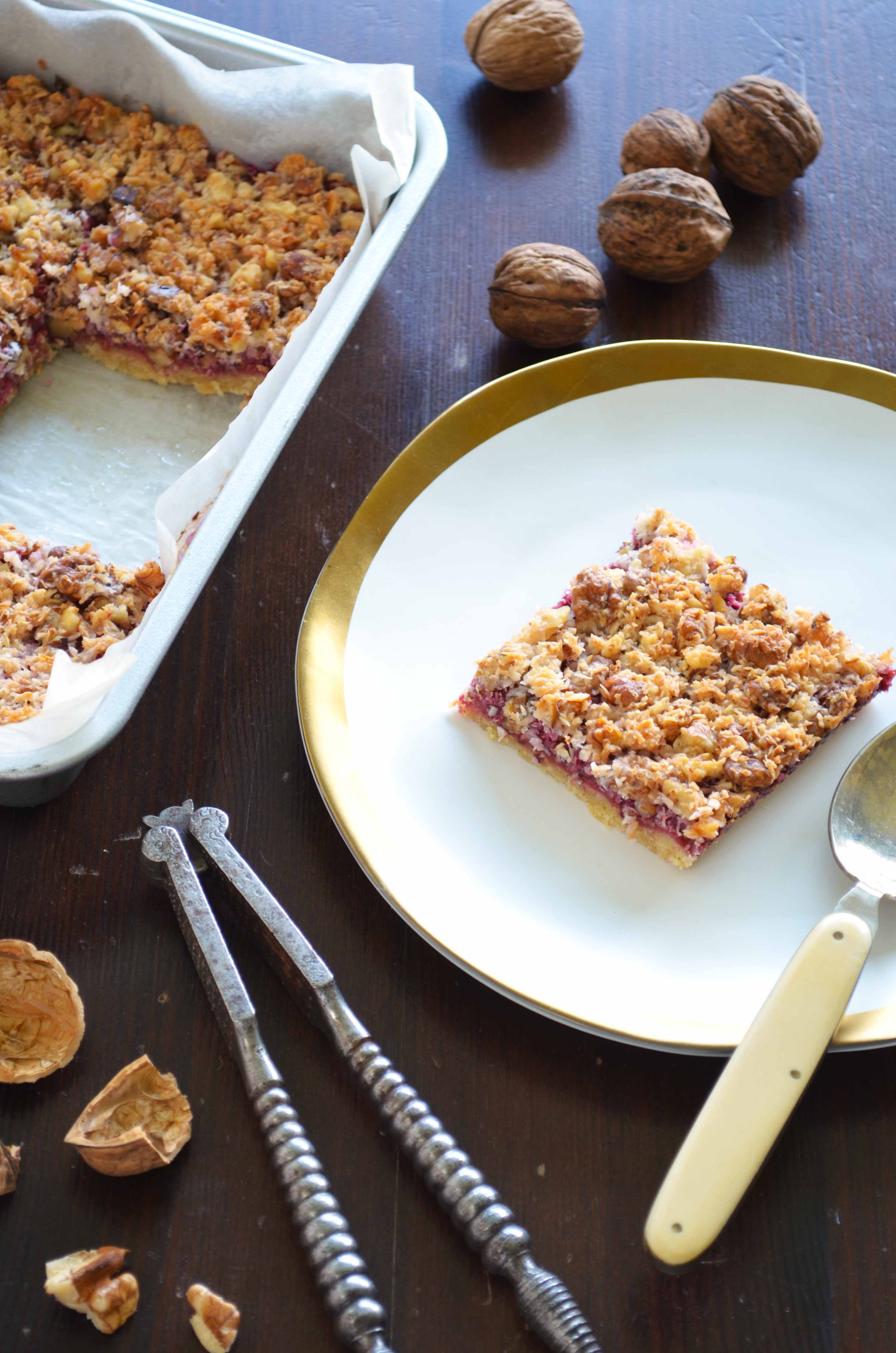 The creation of these Nutty Raspberry Streusel Bars was actually quite random. I had yet another batch of my Two Ingredient Raspberry Jam in my fridge that was waiting to be used, and I had some almond flour and loooots of walnuts laying around the house. That, plus a major sweet craving and some spare time resulted in the creation of these super delicious Nutty Raspberry Streusel Bars 💕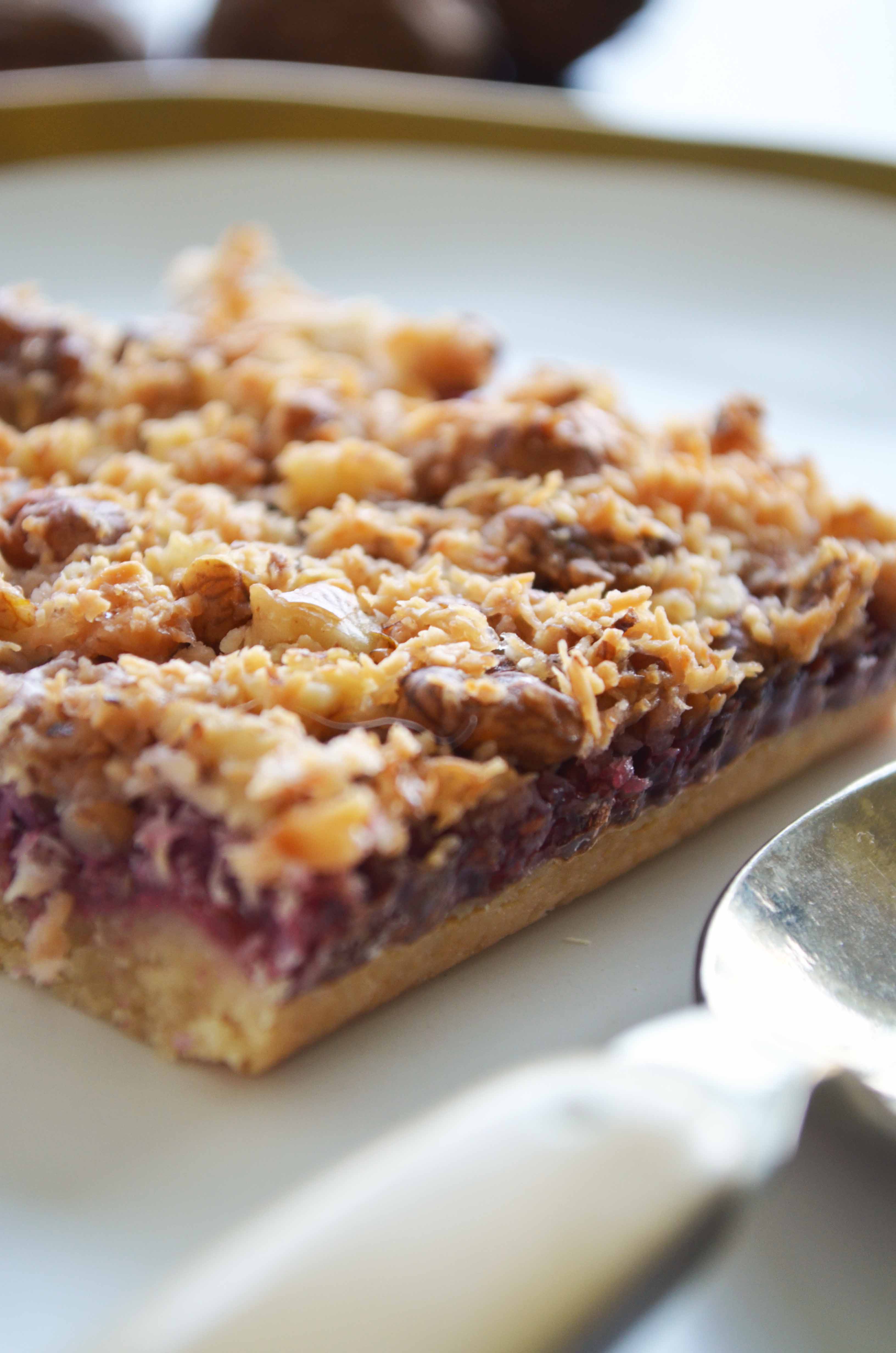 The great thing about these bars is that they – besides being yummy – are almost sugar free too! With only 1.5 gram sugar per bar (1 out of 9, pictured), this is definitely a great low-carb and low-sugar snack. So, if you're trying to lower your sugar intake a bit, but still have a huge sweet tooth, I can highly recommend this. Even the kids that I babysit approved of them!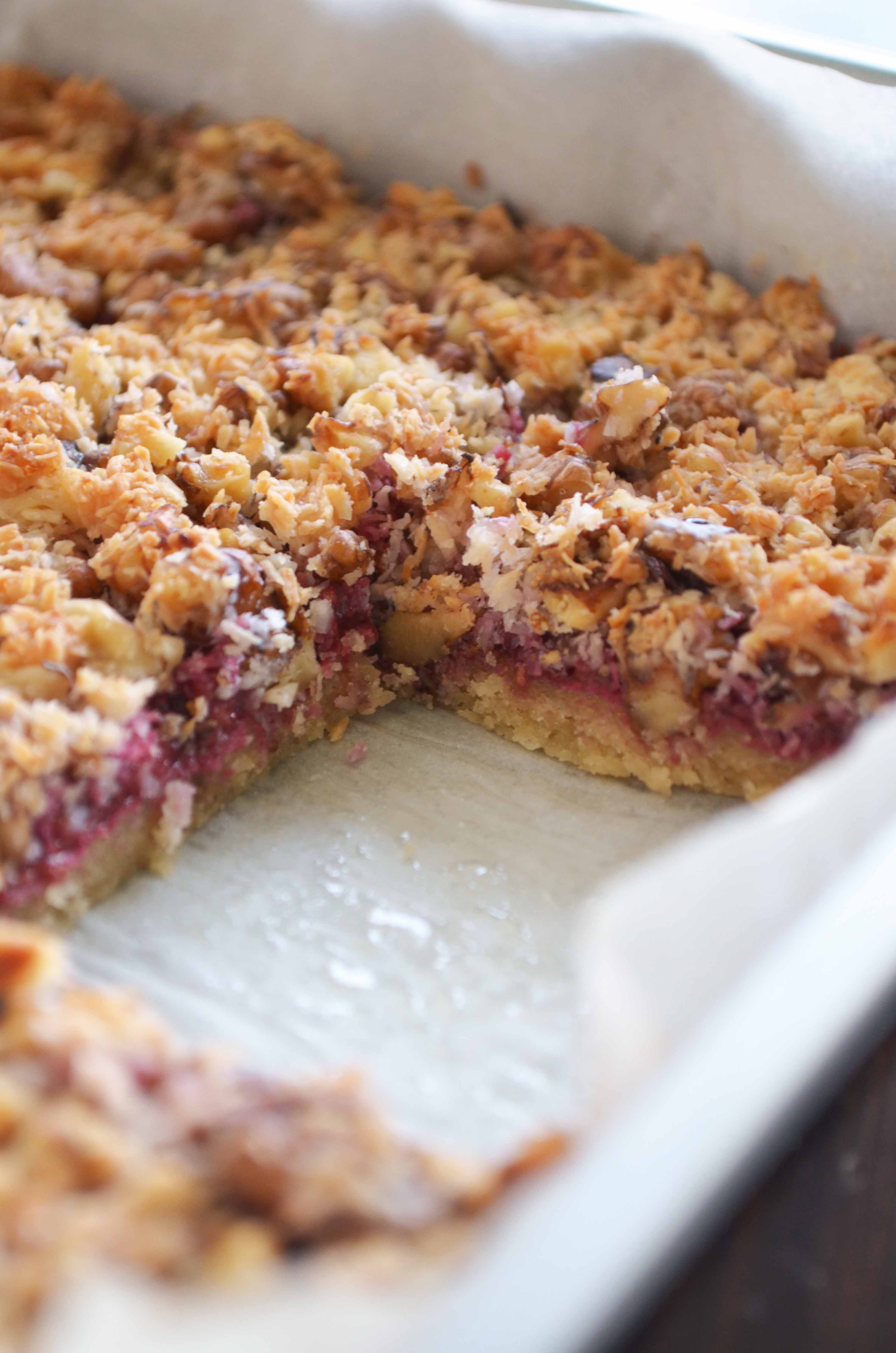 The bars have three layers, and if you put a little bit of effort into evening out the layers, they will show beautifully when you cut the bars. The bottom layers consists of almond flour, which is baked first to ensure a nice crisp base with a lovely hint of vanilla. After baking, the Two Ingredient Raspberry Jam is poured over it, which will eventually turn into a beautiful sweet and sticky layer of goodness. All that is then topped with a crunchy streusel layer with walnuts, shredded coconut and some granulated xylitol.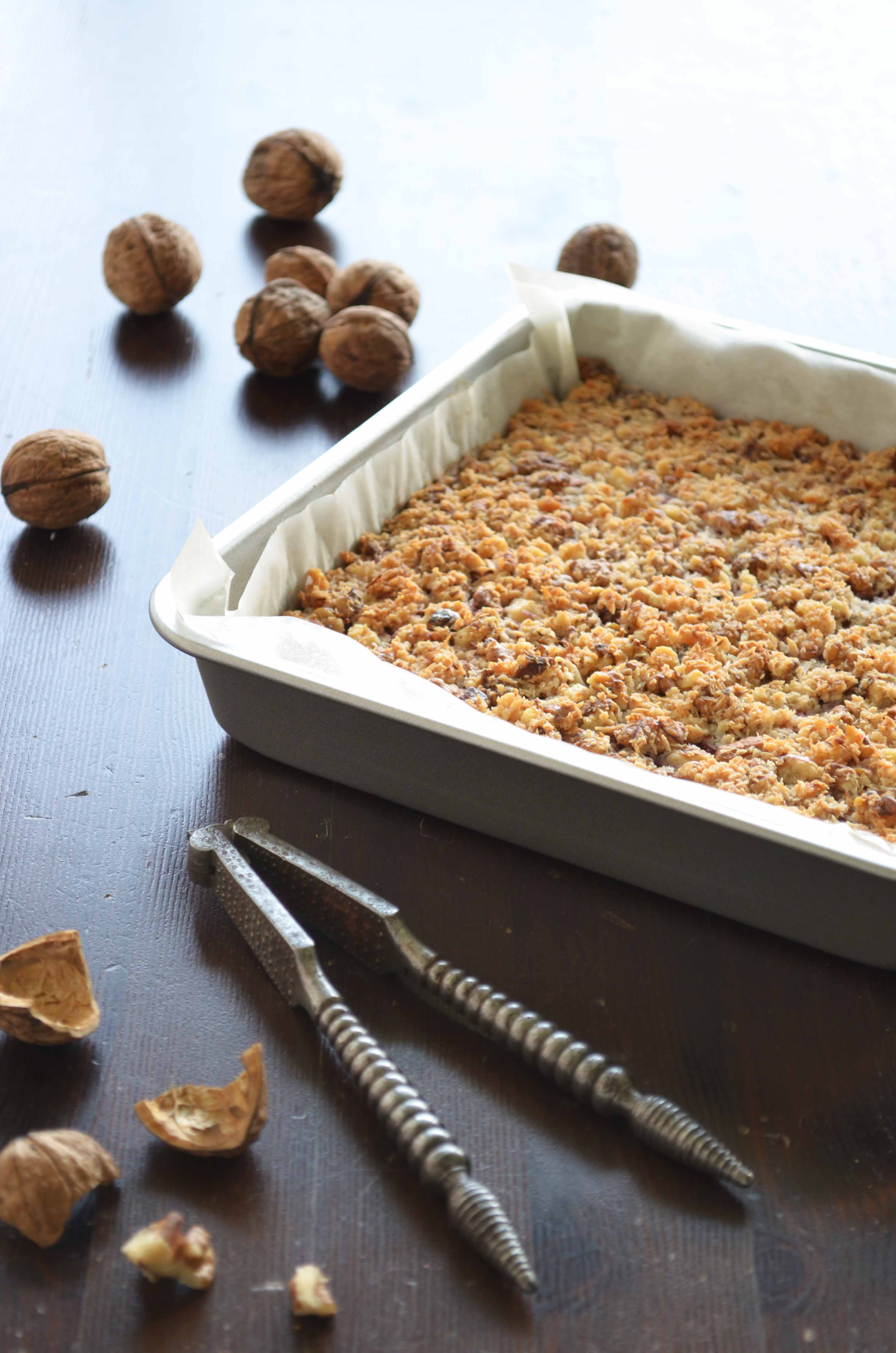 Xylitol is a sugar alcohol that can be used as a sweetener. Usually it is made from birch tree juice, although cheaper variants may also make it from corn husks. It is naturally found in low concentrations in the fibers of most fruits and vegetables. When comparing its sweetness to sucrose (table sugar), it is basically just as sweet, but with 33% less calories, and with great benefits for your teeth and overall dental health. Also, it has absolutely no weird (after)taste that stevia or other sweeteners sometimes have. I can't wait to experiment with this sweetener the coming weeks! Of course, not everyone has xylitol, but it can be replaced perfectly by coconut sugar. Replacing it for a liquid sweetener is also possible, just make sure to use a little less than what the recipe states, as liquid sweeteners tend to be sweeter than granulated sweeteners in general.
Nutty Raspberry Streusel Bars
Prep time: 10 mins
Cook time: 25 mins
Total time: 35 mins
Yield: 9 bars
Ingredients
2 cups (170 gram) almond flour
1/8 teaspoon fine grained salt
2 tablespoons liquid coconut oil
1 tablespoon unsweetened pure vanilla extract
1 tablespoon water
2/3 cup (160 gram) Two Ingredient Raspberry Jam*
1/4 cup (50 gram) liquid coconut oil
2 tablespoons (30 gram) xylitol**
1/2 cup (40 gram) unsweetened shredded coconut
1/4 teaspoon fine grained salt
1 cup (60 gram) walnuts, roughly chopped
* of course this can be replaced by any other raspberry jam, but keep in mind that the nutritional values may change.
** can be replaced 1:1 by coconut sugar or any other form of granulated sugar. Liquid sweetener can also be used, but I would suggest using 1,5 tablespoon in stead of 2 tablespoons. This will change the nutritional values.
Instructions
1. Preheat your oven to 180 degrees Celcius.
2. In a bowl, mix the almond flour with 1/8 teaspoon fine grained salt, 2 tablespoons liquid coconut oil, 1 tablespoon unsweetened pure vanilla extract and 1 tablespoon water.
3. Transfer the mixture to a brownie tin (20 x 20 cm) lined with parchment paper and distribute the mixture evenly over the tin. I prefer doing this by hand.
4. Bake the almond base for 10 minutes.
5. In the meantime, make the streusel by mixing the left over coconut oil, xylitol, shredded coconut, salt and roughly chopped walnuts.
6. Take out the brownie tin and pour the Two Ingredient Raspberry Jam over it and spread it out evenly.
7. Sprinkle the streusel over the raspberry jam layer and put the brownie tin back in the oven.
8. Bake the bars for another 15 minutes or until the streusel layer starts to brown a little bit.
9. Let cool completely before cutting and enjoy!
Nutritional information per bar
200 kcals
18.4 gram fat
of which 10.7 gram saturated
6.0 gram carbs
of which 3.0 gram fiber and 1.5 gram sugar
3.1 gram protein