Aahh, summer has now begun fo' real here in the Netherlands. Temperatures of around 30 degrees, lots of sun and lots of chilling. I love it! Of course BBQ'ing is an integral part of summer too, and with my lazy summery self in mind I came up with these delicious and extremely simple veggie burgers.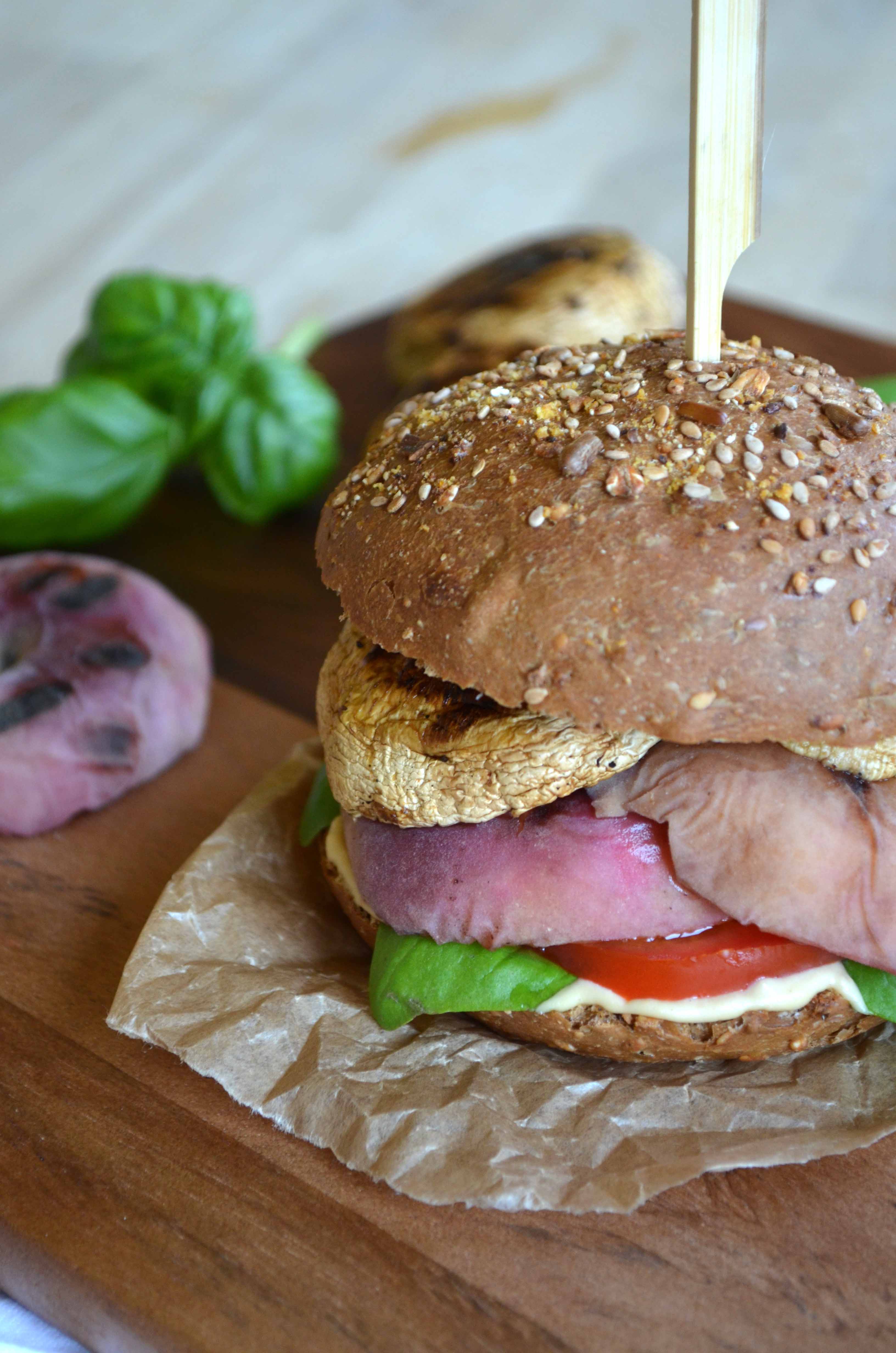 The cool thing is that you don't have to form a burger patty or something like that, which gives you more time to chill and actually enjoy summer. Plus, you can grill them easily without being scared the burgers will fall through the grid.
Double win, yay!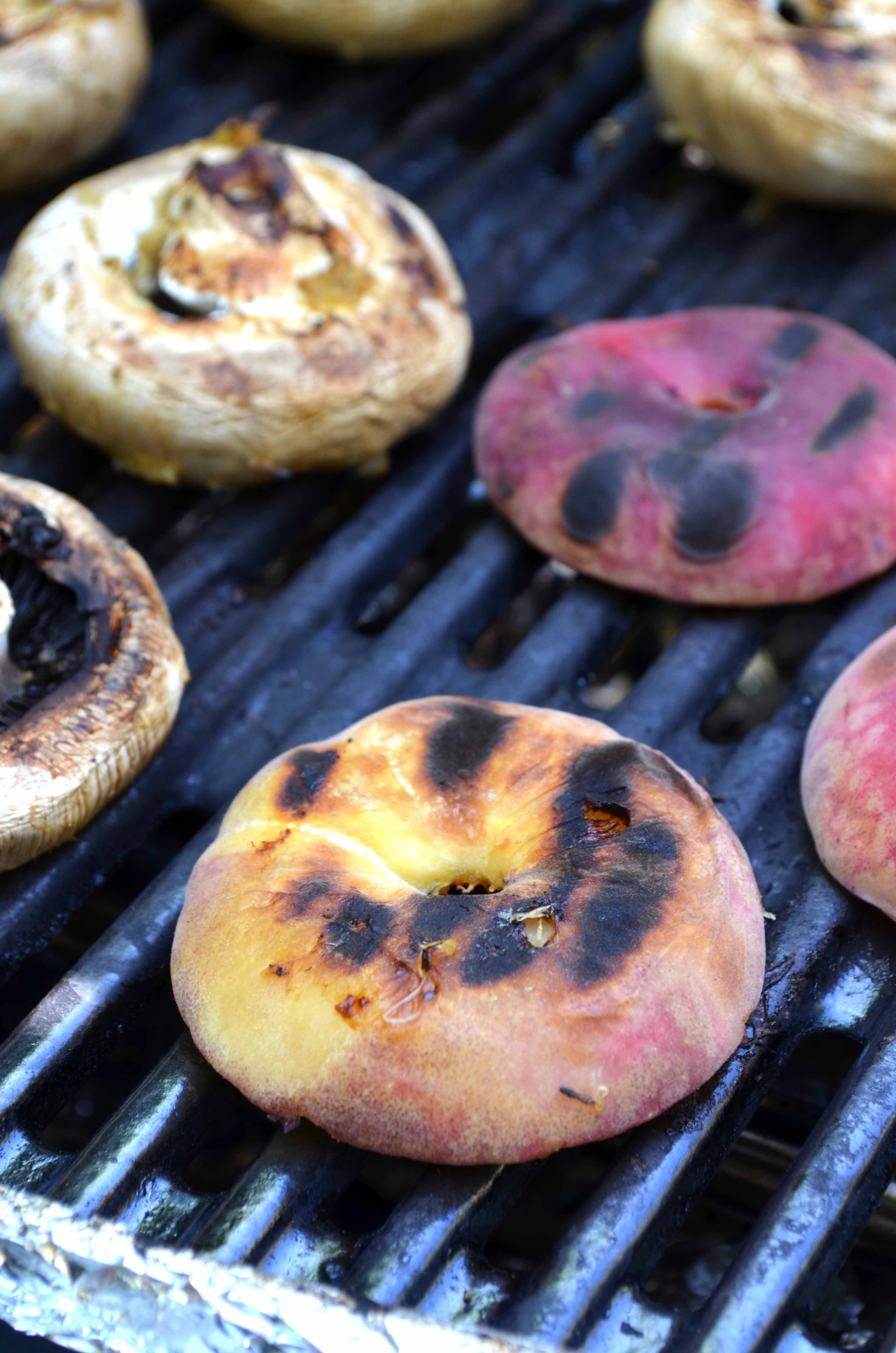 I made these with some super ripe wild peaches we still had lying around the house, but I've made these before with nectarines, and the burgers were just as delicious ! I bet other stone fruits like apricots of normal peaches will work great too, and you might even want to add some pineapple for a tropical twist.
Fruit on your burger may seem a bit weird, yet it really is super delicious. Normally, you may want to add some ripe tomatoes to balance out the savory, or some sweet BBQ sauce with lots of added sugars, but just adding some fruit to your burger is a much healthier option. That way, you will still have all the sweetness, but also the fibers, vitamins, minerals and all the other good stuff that nature provides us with.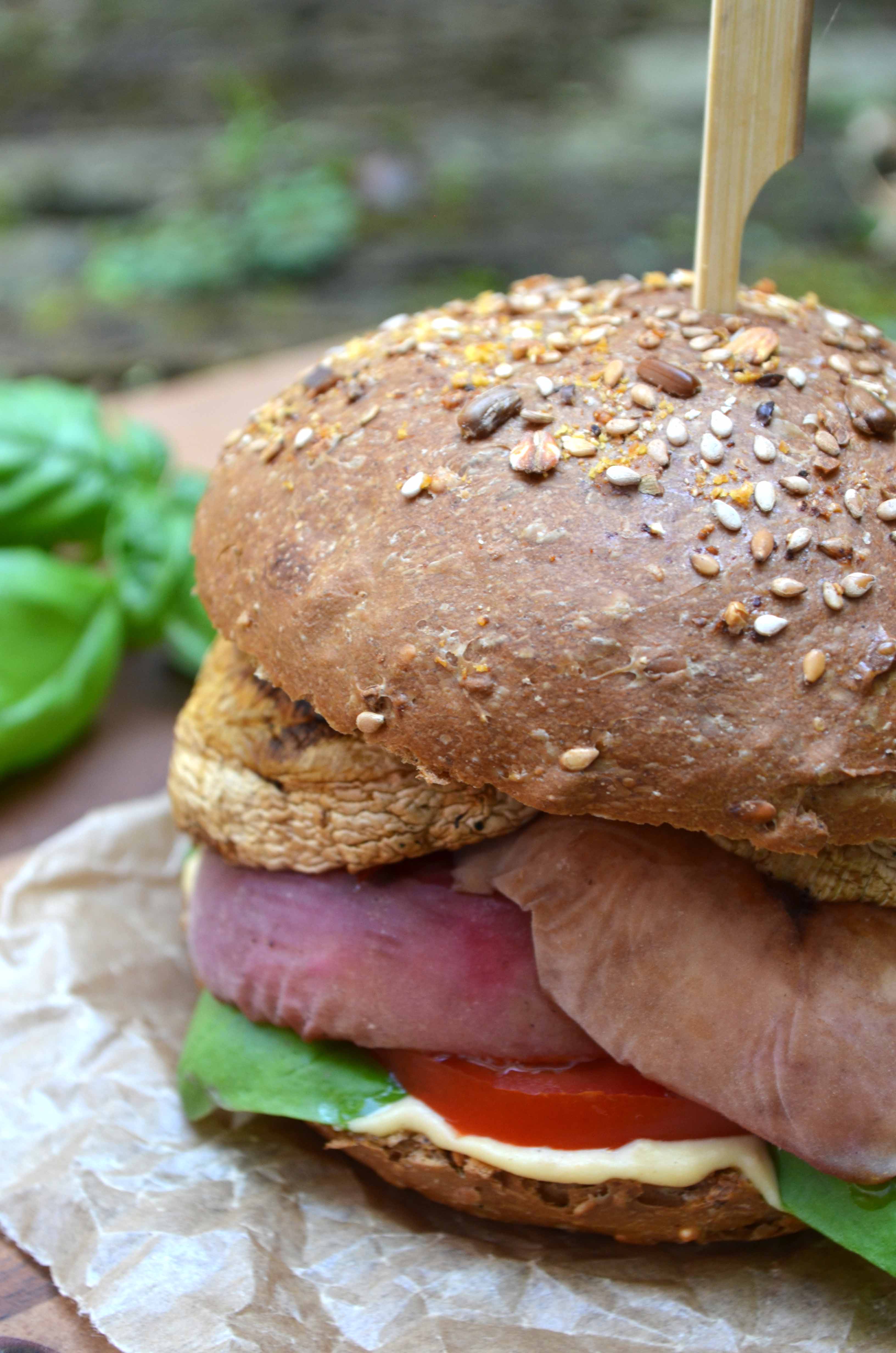 The portobello's are marinated in this amazing salty-sour-spicy marinade with lime, fresh ginger, soy sauce and a small pinch of dried chilli. It pairs amazingly with the sweet grilled wild peaches, and the lime and ginger gives the whole burger a nice edge and summery vibe.
I topped my burgers with some home made basil hummus (replace the cilantro for basil), fresh heirloom tomatoes, lots of fresh basil and of course the grilled peaches and portobello's themselves. This is a seriously good combination guys! I am sure I'll be making this A LOT this summer!
P.S. Oh, and this is perfect for the 4th of July too ;)
Grilled wild peach and lime-ginger portobello burgers
Prep time: 5 mins
Cook time: 15 mins
Total time: 30 mins
Yield: 3 burgers
Ingredients
juice and zest of one lime
0,5 x 0,5 x 0,5 cm cube of fresh ginger, grated
1 ½ tablespoon soy sauce
pinch of dried chilli powder
3 portobello mushrooms
3 wild peaches, halved
half a batch home made lime-basil hummus (replace the cilantro with basil)
3 whole wheat burger buns
3 ripe and juicy tomatoes
fresh basil
Instructions
1. Mix the juice and zest of the lime with the grated ginger, the soy sauce and the dried chilli.
2. Drizzle the marinade over the portobello mushrooms and let sit for 10 to 15 minutes.
3. In the meantime, make the lime-basil hummus.
4. Grill the peaches and the portobello mushrooms on both sides for 5 to 10 minutes or until browned stripes appear.
5. Serve the grilled peaches and portobello's on a whole wheat bun with a dollop lime-basil hummus, juicy tomatoes and some fresh basil. Success guaranteed!
Nutritional information per burger (excluding the bun but including everything else in the ingredient list)
326 kcal
10.5 g fat
of which 1.3 g saturated fat
46.5 g carbohydrates
of which 12.5 g fiber and 13.8 g sugar
16.4 g protein