Vegans are often accused of two things: they either get no protein at all, or they get all their protein from "artificial sources" such as protein drinks. Truth is, for me – and most of the vegans I've met – neither is the case! I love me some Mexican bean tacos, Indian lentil soup, and Middle-Eastern chickpeas. Since I've been tracking my protein intake with the app My Fitness Pal for quite a while now, I can confidently say that I get plenty of protein every single day, without drinking protein shakes like my life depends on it. Of course I eat the occasional protein bar, simply because I like them.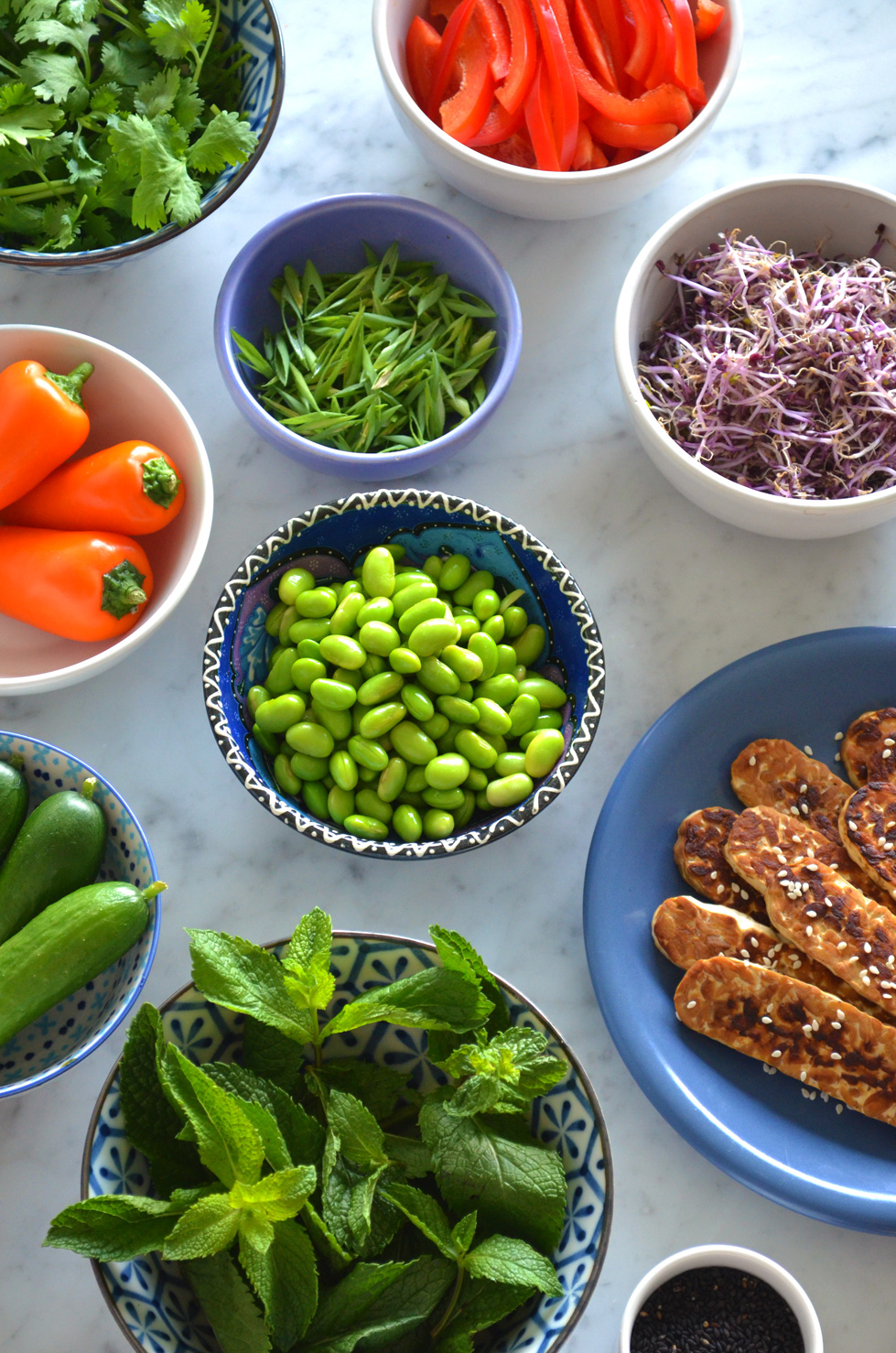 Now, of course there are only so many things you can make with beans and pulses, so I've been introducing tofu and tempeh into my diet as well. I know there are quite some people out there that think soy is the devil, but so far I personally haven't noticed any side effects. I haven't looked into the soy debate, simply because it is a huge subject that I would like to delve into a little deeper. However, when I'm done with my internship at the KNMI, I'll probably write a post about it because I'm really interested in it, so stay tuned for an academic blog post on soy!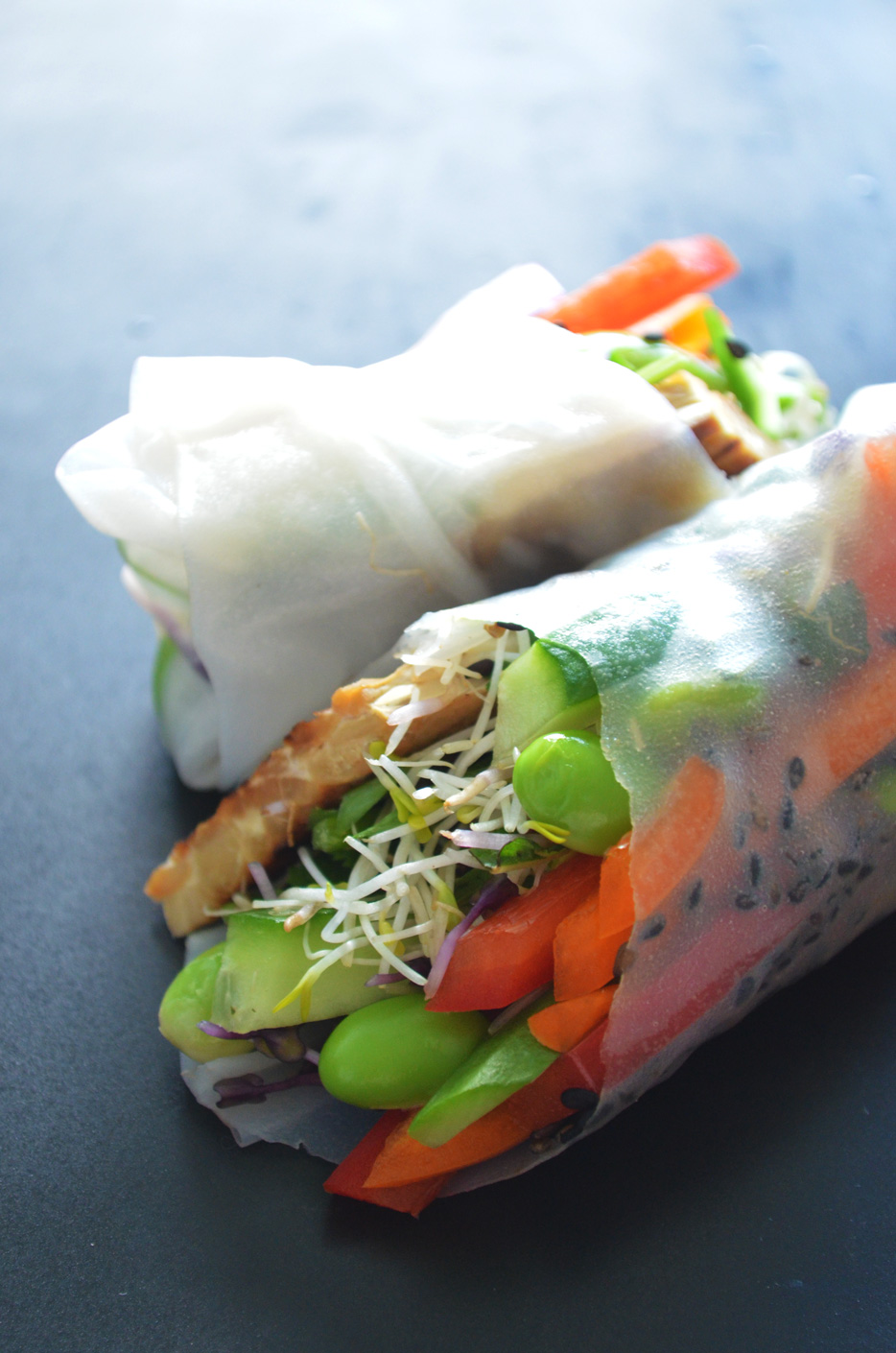 For now, I would just like to talk about these delicious vegan and high protein summer rolls. If you look at the nutritional information (I always include these at the bottom of the recipe), you can see that one summer roll with dipping sauce has only 138 kcals and almost 10 gram protein! The rolls are filled with lots of seasonal produce, and since you eat these cold, they are absolutely perfect for those hot summer nights where you want something refreshing and light, yet not as boring as a salad. Rolling them takes some practice, but in the end it's the flavour that count, so I wouldn't worry too much about that.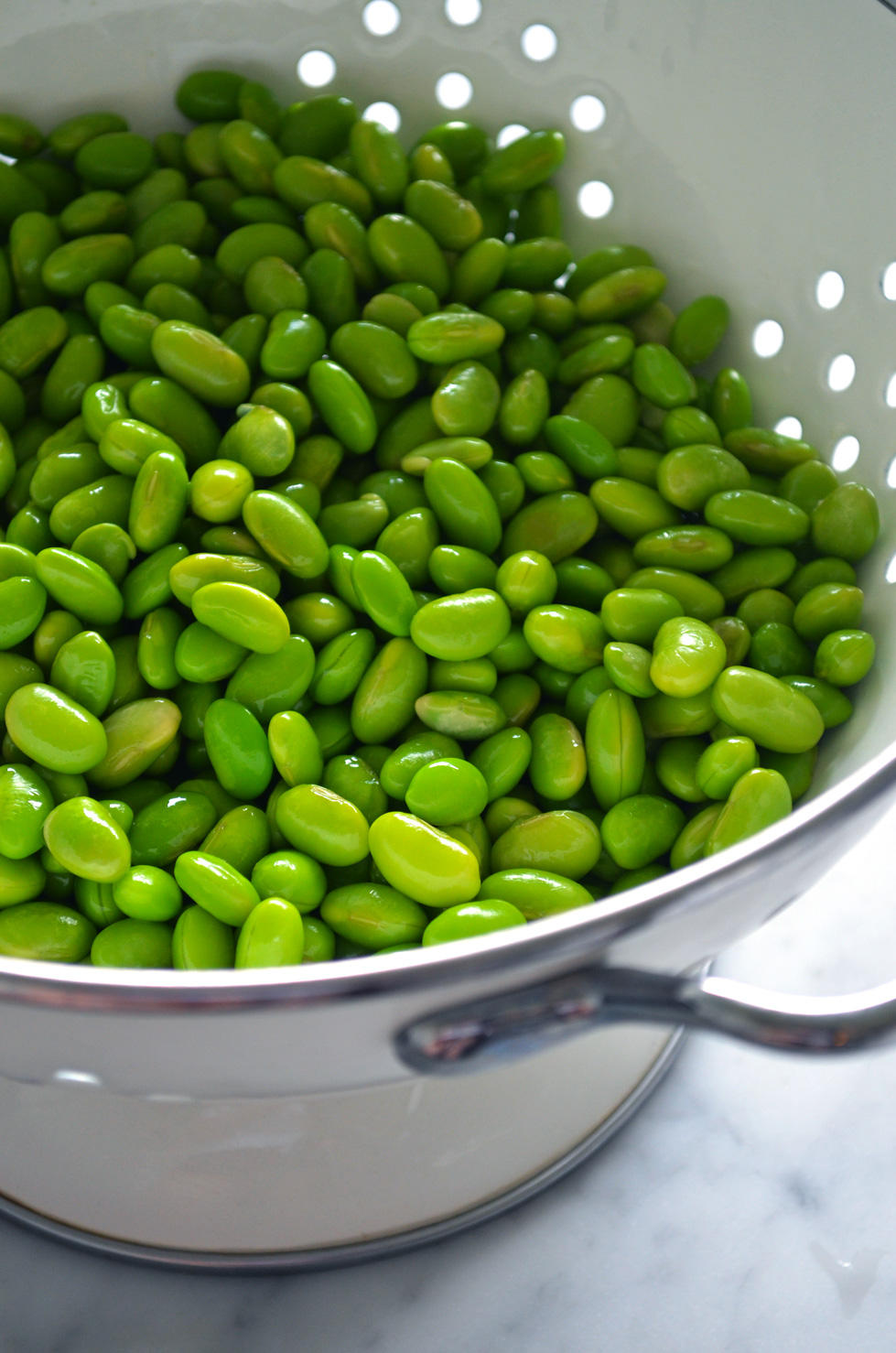 I filled them with baby cucumbers, orange baby bell pepers, fresh mint, marinated tempeh, red bell pepper, fresh cilantro, sesame seeds, spring onion, sprouts and edamame beans. I received the baby cucumbers and baby bell peppers at the Tommies food blog event I attended a little while ago. I recorded the whole day on Snapchat, but of course you can't see that anymore, so to give you an impression you can head over to Instagram. To stay up to date with the future food blog events I attend, sneak peeks at upcoming recipes and the occasional selfie, add me on Snapchat! My username is emma.2995 😉

High Protein Vegan Summer Rolls
Author:
That Healthy Kitchen
Prep time:
Cook time:
Total time:
Serves:
10 spring rolls with dipping sauce
Ingredients
250 gram tempeh
2 tablespoons tamari (gluten free soy sauce)
20 gram peanut butter powder
1 tablespoon tamari (gluten free soy sauce)
2 tablespoons rice vinegar
1 tablespoon water
dash of ginger, chili and garlic powder
1 tablespoon olive oil
10 rice paper wrappers
1 tablespoon black sesame seeds
a bunch fresh cilantro
a big handful of fresh mint leaves, torn
one red bell pepper, julienned (about 120 gram)
3 orange baby bell peppers, julienned (about 75 gram)
150 gram shelled edamame beans
6 spring onions, sliced (about 18 gram)
40 gram sprouts
3 baby cucumbers, julienned (about 90 gram)
Instructions
Slice the tempeh and marinate it in 2 tablespoons soy sauce for 5 to 10 minutes.
Meanwhile, make the peanut dipping sauce by mixing the peanut butter powder, 1 tablespoon soy sauce, rice vinegar, water and ginger, chili and garlic powder.
Heat up the olive oil in a skillet and fry the marinated tempeh until crispy. Set aside and let cool.
Take a rice paper wrapper and lightly pat it with a clean damp towel until it becomes soft and pliable.
Fill it in the middle starting with some black sesame seeds, one or two sprigs fresh cilantro and a few torn mint leaves. Put some julienned red and orange bell pepper on top, followed by julienned cucumber, edamame beans, spring onion and some sprouts. Top it all off with a slice tempeh.
Roll the summer roll like you would roll a burrito: first tuck in the left and right side of the wrapper, and then roll it up. This can get kind of sticky and rolling summer rolls definitely takes some practice, yet even if they don't look amazing, they will still taste amazing!
Nutrition Information
Serving size:
1 spring roll with dipping sauce
Calories:
138 kcal
Fat:
5.8 gram
Saturated fat:
1 gram
Carbohydrates:
12.9 gram
Sugar:
1.2 gram
Fiber:
2.1 gram
Protein:
9.5 gram