A few weeks ago I was cleaning out my spice cabinet and came across a little jar of dried, edible, rose petals. I had bought them once to use as decoration for cupcakes but eventually never used them. I've always loved eating flowers, be it in restaurants or as a topping on a simple rice cracker, but apart from using flowers in drinks, cooking and developing recipes with them has always been a little bit outside of my comfort zone.
So, in order to step out of my comfort zone, I took a look at my favourite book, The Vegetarian Flavor Bible, to search for some ingredients that pair well with rose. Next week there is a recipe coming up that uses rose water and these pretty little candied rose petals. It is delicious and perfect for summer, so stay tuned!!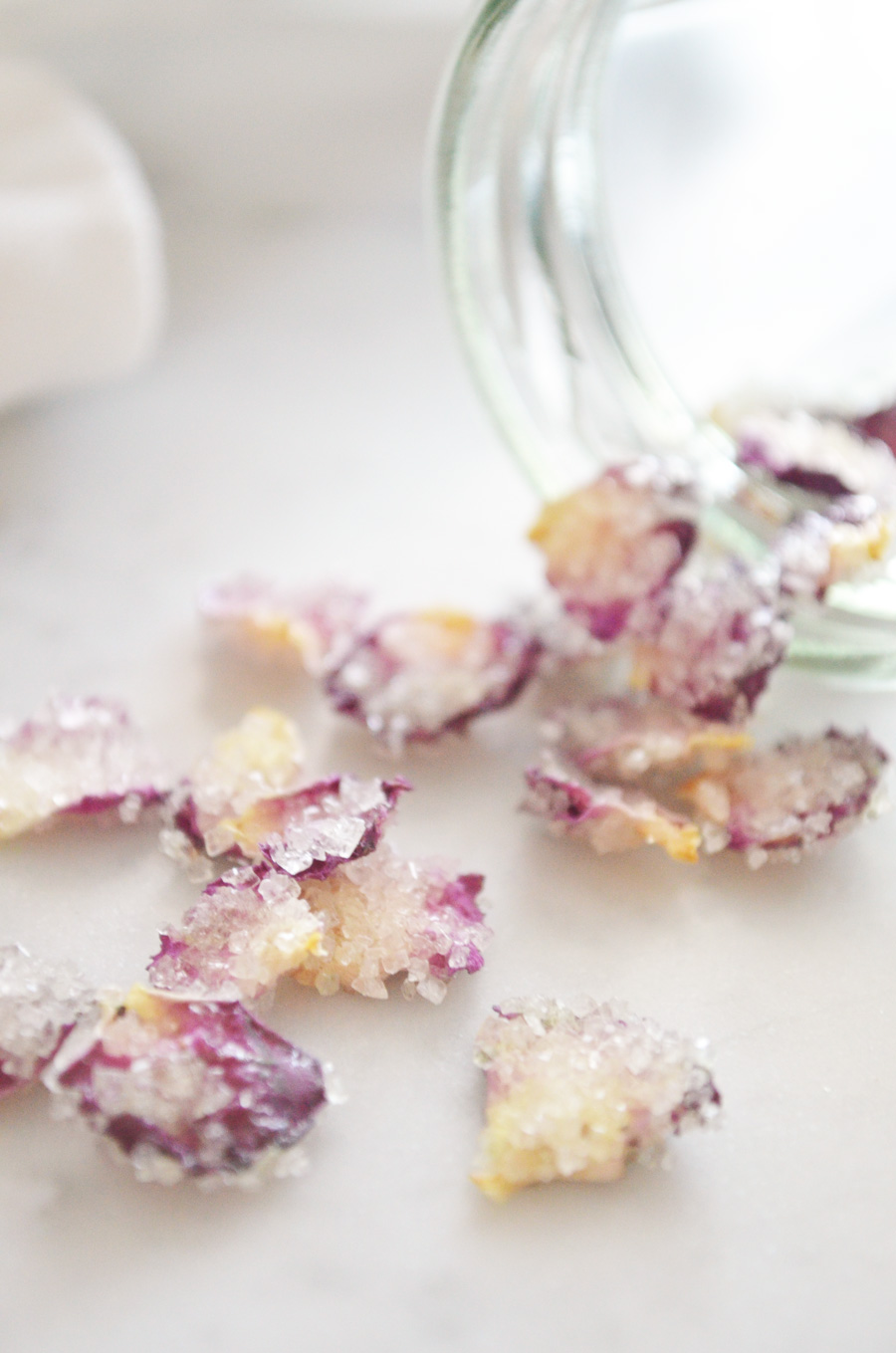 Apart from using these in the recipe that is coming up, the candied rose petals are also perfect to use as decoration on e.g. cakes, to give as a gift or even to give to your kids instead of candy. Their flavour is surprisingly delicate and fruity, and they will be a great addition to many dishes.
Normally, rose petals are candied using egg white, but in order to make these vegan I decided to try my luck with aquafaba. Aquafaba literally  means 'bean water' and it is the liquid you find in cans of beans or the water in which you cooked your beans, preferably chickpeas. Aquafaba can replace egg whites in loads of recipes, such as meringues or pavlova's. However, since it is a by-product, the quality, consistency, etc differs tremendously. For this recipe, I would recommend using the aquafaba you can find in a can of chickpeas. It should have approximately the same viscosity as liquid egg whites have. In the Vegan Meringue Facebook group you can find loads of other uses for it and information about this interesting ingredient.

Vegan Candied Rose Petals
Serves:
a small handful of candied rose petals
Ingredients
a small handful dried edible rose petals or however many you would like to candy
about 3 tablespoons aquafaba from chickpeas with the consistency of egg whites
granulated sugar
Instructions
Lay out your rose petals in a single layer on a baking tray lined with baking paper.
Use a small brush to put some aquafaba on the upper side of the rose petals and sprinkle enough granulated sugar on top to cover it completely. Since the aquafaba dries quite quickly, I would recommend brushing a maximum of 10 petals each time before sprinkling the sugar on top. Depending on the climate and humidity in you house, it could be useful to help the rose petals dry in an oven on it's lowest setting, preferably with the door half open.
When the aquafaba has dried, you can turn over the rose petals to repeat the same process for the other side of the petals.
Store in an airtight jar.