These cookies are actually a slightly adjusted version of my Salted Peanut Butter Cookies. Both versions are vegan, gluten free and utterly delicious, but the main difference is that I'm using peanut butter powder here instead of actual peanut butter. As a result, these cookies are higher in protein, lower in fat and lower in calories.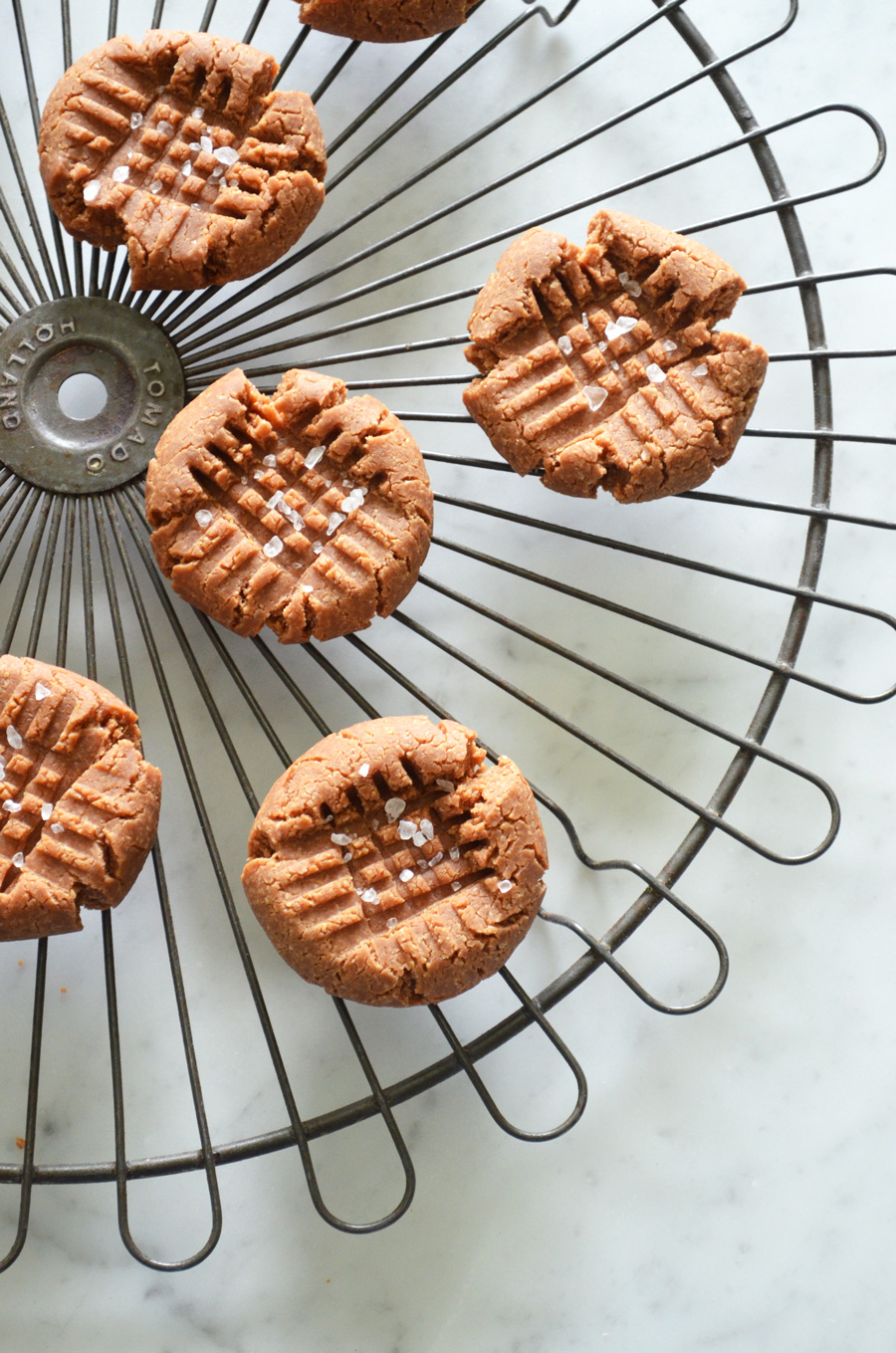 Peanut butter powder is basically what is leftover after making peanut oil. It only contains peanuts, but since most of the oil is extracted out, it is much more macro friendly than actual peanut butter. If you don't have peanut butter powder, I would suggest you to just make the original version, which you can find here. It is just as delicious, promise! Ever since I've discovered peanut butter powder I've been using it for everything: dip sauces, smoothies, oatmeal and now cookies 💕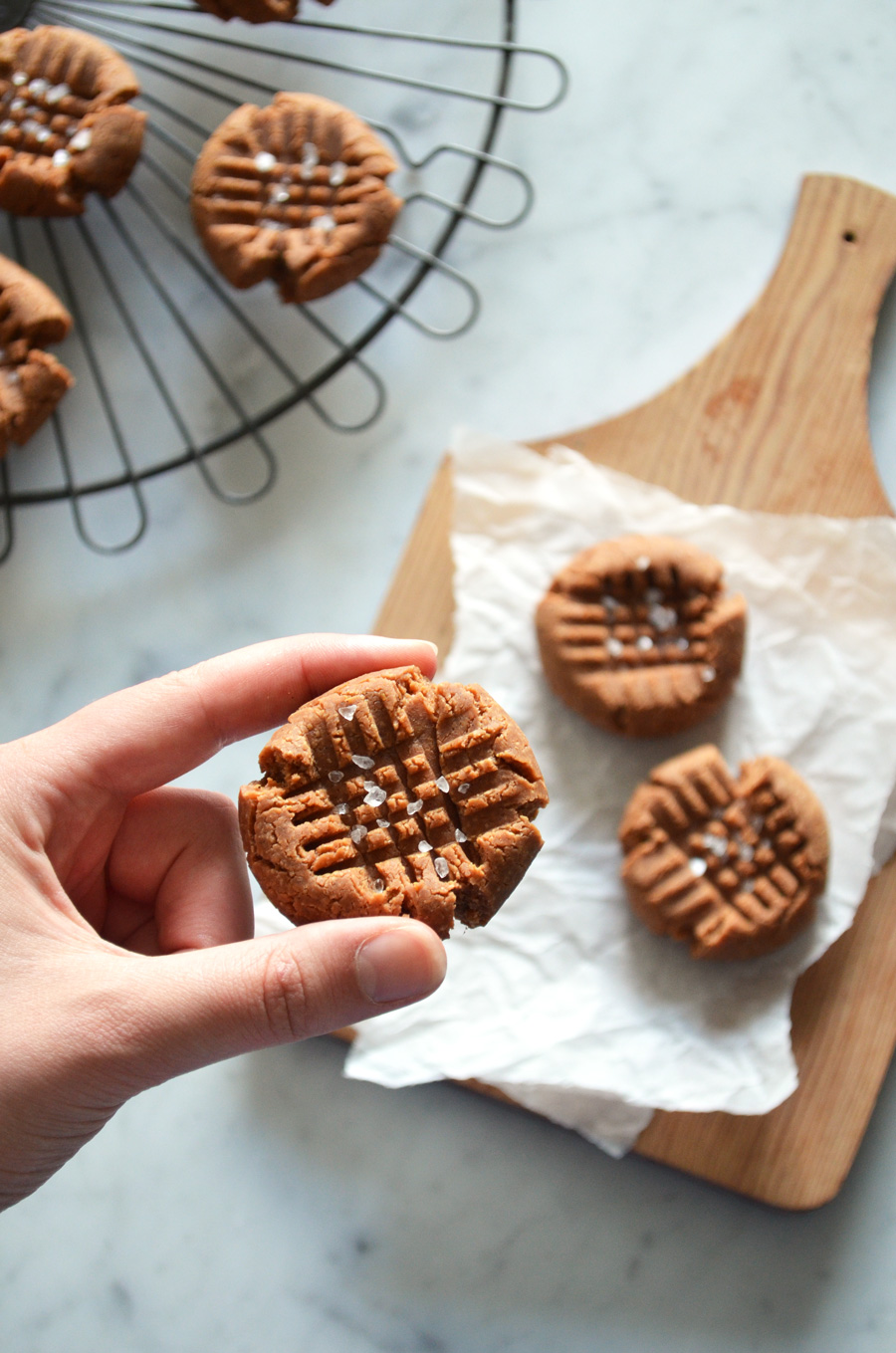 These cookies have a really nice, melt-in-your-mouth feel to them, and since I based the recipe off of the well known American peanut butter cookies, these have more of a chewy texture rather than a crunchy one. But, if you're not into chewy cookies (what's wrong with you?! lol), you can also just shape the dough into bliss balls, because it is already super delicious before baking it.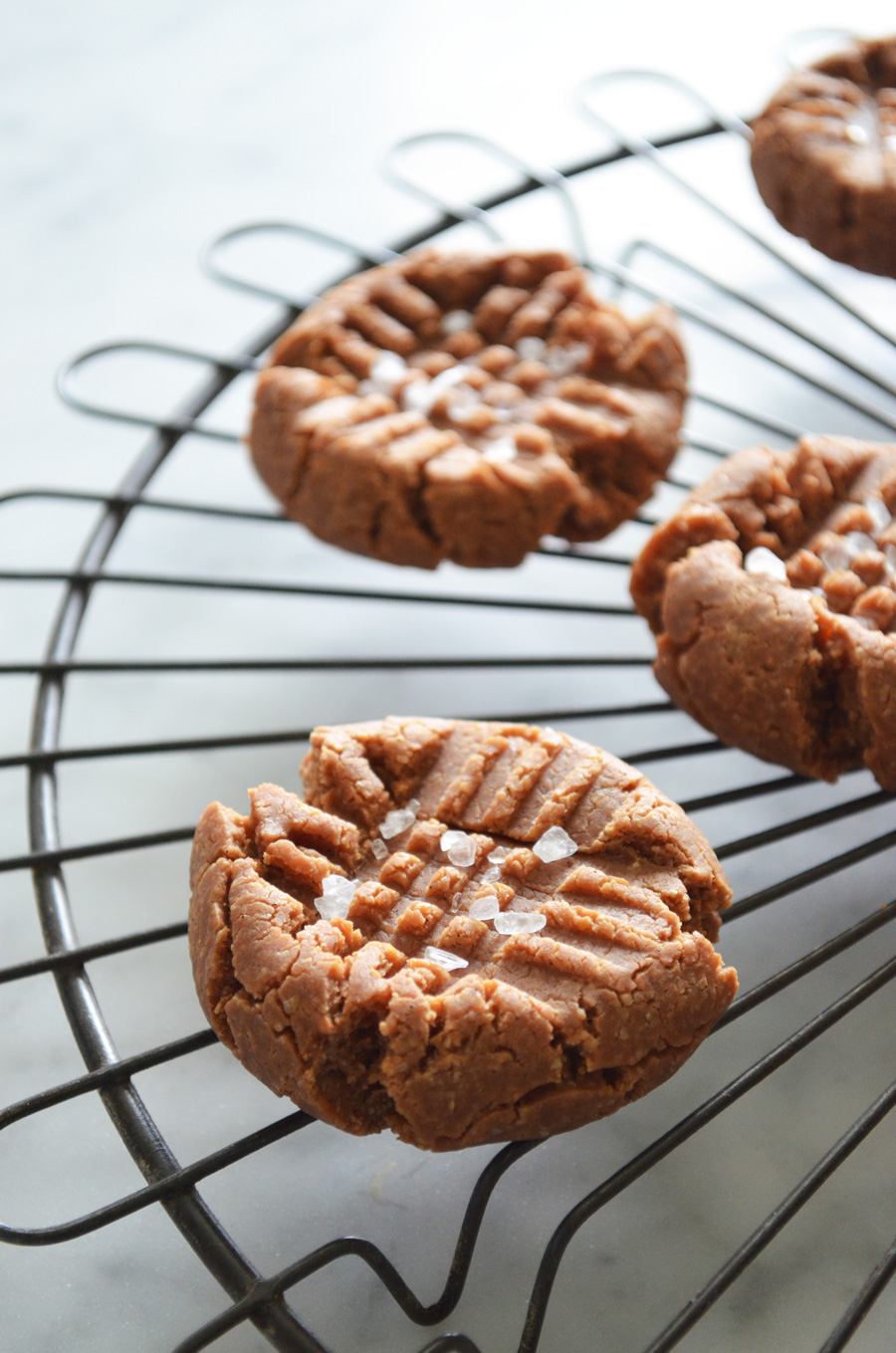 A few weeks ago I received a cute little package from Ekoplaza with some goodies, among which was the date syrup that I used in this recipe. Curious about what else I received from them? Add me on Snapchat! My username is emma.2995.
Also, just to let you guys know, I'm super busy with my internship at the KNMI and writing my thesis at the moment, which is the reason why it is a little quiet here on the blog, on Instagram and on Facebook. However, I'll be done with that all mid-August, so get ready for a ton of recipes and updates. How is your summer treating you so far?

Lighter Salted Peanut Butter Cookies
Author:
That Healthy Kitchen
Prep time:
Cook time:
Total time:
Ingredients
120 gram oats or oat flour
½ teaspoon gluten-free baking powder
½ teaspoon ground cinnamon
¼ teaspoon fine grained salt
1 fresh vanilla bean
60 gram date syrup
40 gram coconut oil, melted
100 gram peanut butter powder
140ml water
flaked sea salt
Instructions
Preheat your oven to 175 degrees Celcius.
Make oat flour by blending up your oats in a blender or food processor. It is very important to sift it after, because blending your own flour does not always give the finest grain. You can blend and sift the leftovers again, until you have 120 gram oat flour.
In a big bowl, mix the oat flour with the baking powder, cinnamon and salt.
Slice the vanilla bean open lengthwise and scrape out the seeds. Transfer them to a second bowl and use the pod itself for e.g. infusing almond milk.
Also add the date syrup, coconut oil, peanut butter powder and water to this second bowl and mix well until the mixture has no lumps of peanut butter powder anymore and is smooth.
Mix the peanut butter mixture with the dry ingredients until a thick dough forms.
Take an ice cream scoop and scoop out 8 even portions of the dough onto a baking tray lined with parchment paper. Flatten them with a fork. They don't really spread out during the baking process, so you can put them pretty close together.
Sprinkle with some coarse or flaked sea salt and bake them for 10 mins in your preheated oven.
Nutrition Information
Serving size:
1 cookie
Calories:
128 kcal
Fat:
5.5 g
Saturated fat:
4 g
Unsaturated fat:
0.6 g
Trans fat:
0 g
Carbohydrates:
14.4 g
Sugar:
5.7 g
Fiber:
2.6 g
Protein:
6.2 g
Cholesterol:
0 mg