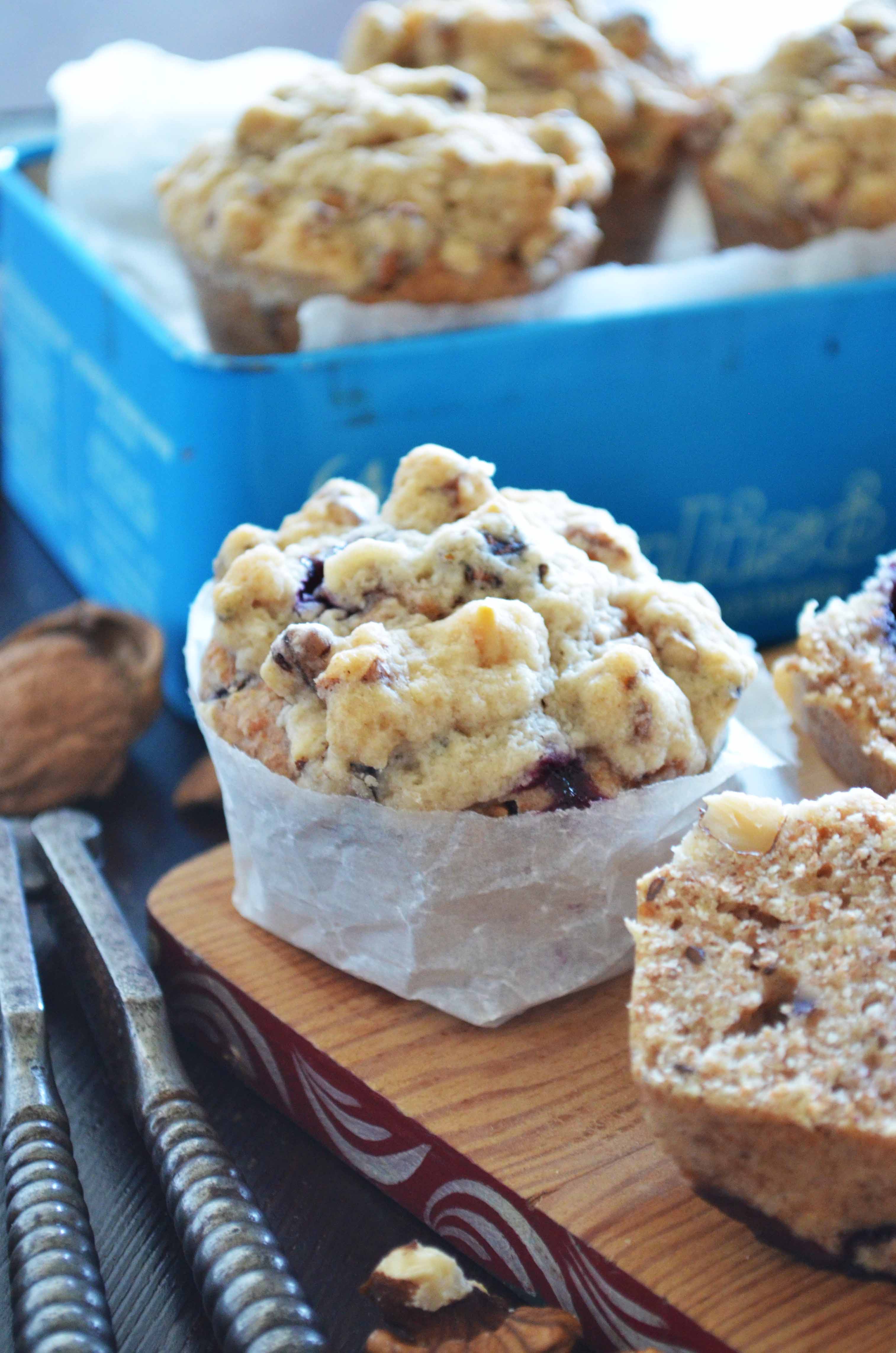 I think these muffins are my newest addiction.
Or maybe a walnut streusel topping on everything is? 🙈
Fact is, these vegan and low-sugar Blueberry Muffins with Walnut Streusel Topping are pretty amazing!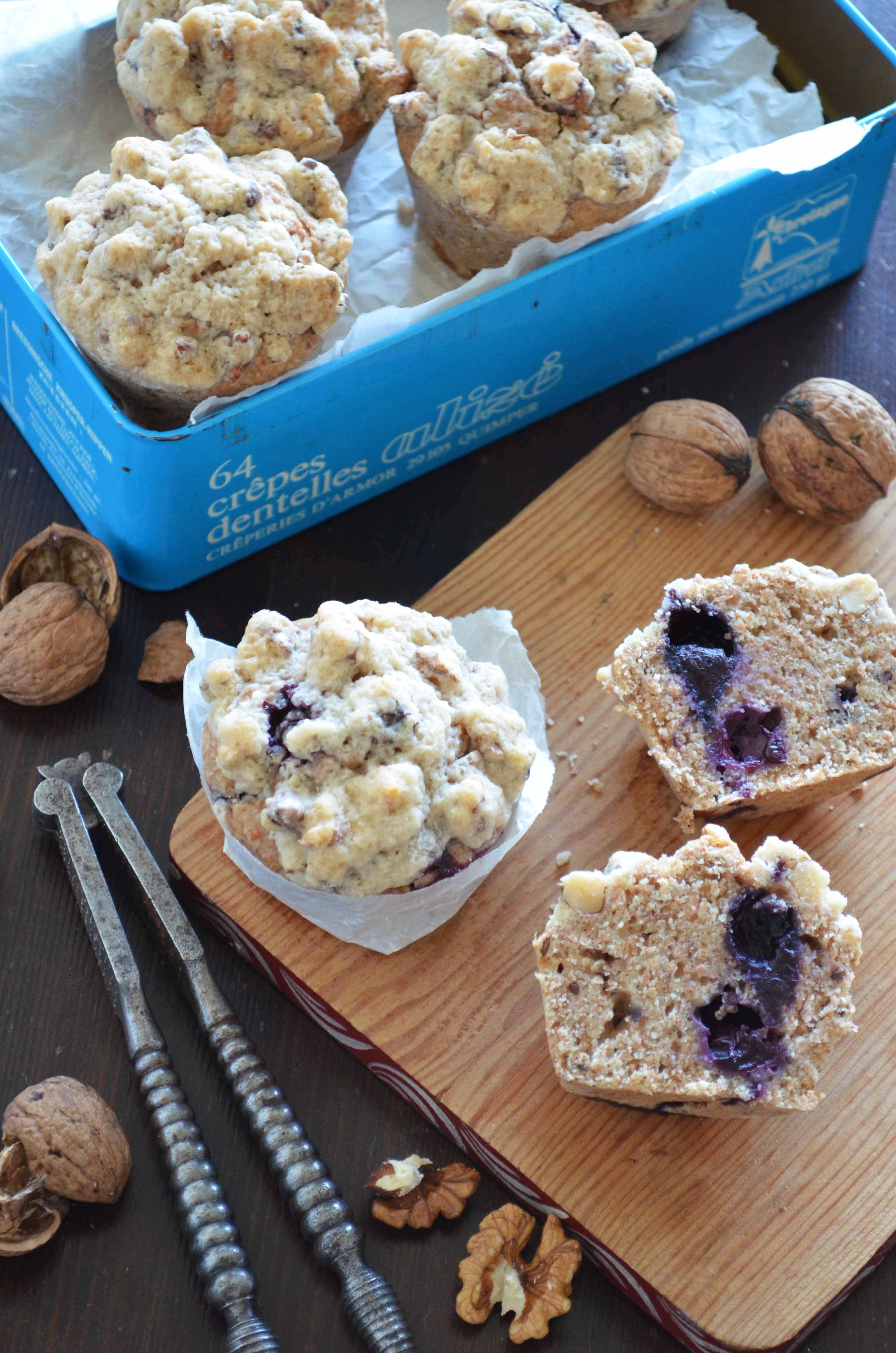 For the muffins, I was inspired by my Blueberry Banana Breakfast Muffins and the topping of these Nutty Raspberry Streusel Bars. They are not overly sweet, but just sweet enough for me personally. The streusel adds a nice crunch to the muffins and creates a beautiful contrast with the sweet and soft blueberries. I love these best when they are straight out of the oven, but they keep well too. I like to warm them up in the oven to bring out the sweet flavors even more.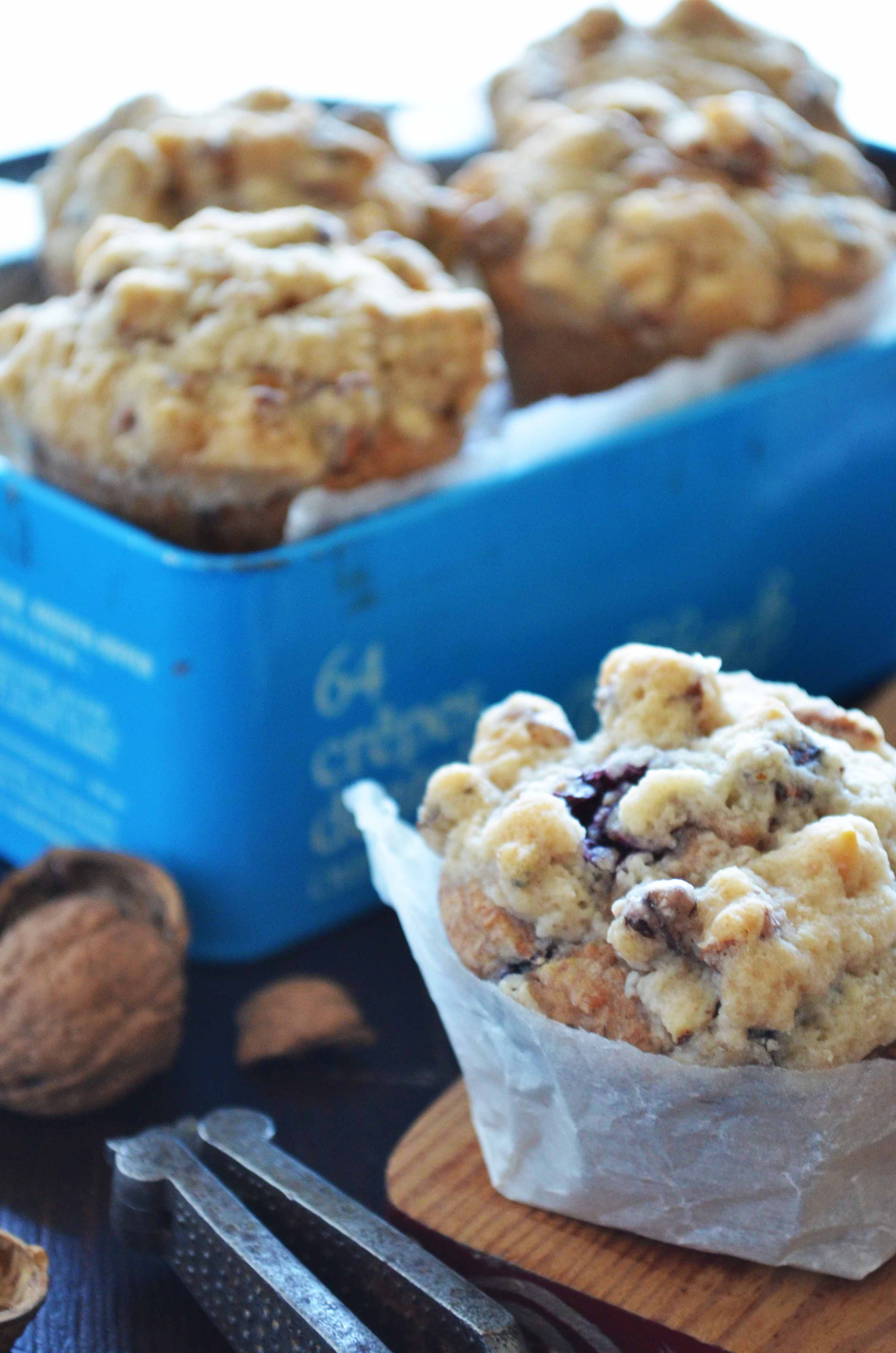 Now, of course these babies are not "super healthy" as they are still muffins and should be considered as treats, but you can very well eat one with your cup of tea every afternoon. They are made with whole wheat spelt flour, sweet blueberries, and healthy coconut oil. The walnuts on top add some protein to these too, and all in all I'm pretty happy with their macronutrient balance! With 259 kcals per muffin they are not particularly skinny, but they do contain quite some healthy fats, proteins and fiber to keep you full for long, and with only 1.8 gram sugar per muffin these won't spike your blood sugar levels too.
Blueberry Muffins with a Walnut Streusel Topping
Prep time: 15 mins
Cook time: 30 mins
Total time: 45 mins
Yield: 6 muffins
Ingredients
For the muffins:
1 tablespoon broken flax seed
3 tablespoons water
1 1/4 cup (170 gram) whole wheat spelt flour
1/2 teaspoon salt
3/4 teaspoon baking powder
1/4 cup (50 gram) xylitol*
2 tablespoons coconut oil (liquid)
1/2 cup water
1 teaspoon vanilla extract
3/4 cup (90 gram) fresh or frozen blueberries
For the streusel:
1/3 cup (40 gram) whole wheat spelt flour
2 tablespoons (30 gram) xylitol*
1/8 teaspoon salt
1/4 cup (30 gram) walnuts, roughly chopped
2 tablespoons coconut oil (liquid)
* can be replace by e.g. coconut sugar 1:1. If using a liquid sweetener, I would advise using a little less as liquid sweeteners tend to be sweeter than granulated sweeteners.
Instructions
1. Preheat your oven to 230 degrees Celcius.
2. Combine the flax and water in a big bowl and set aside.
3. Make the streusel topping by combining all streusel ingredients in a big bowl. Set aside on a relatively warm place to keep the coconut oil relatively liquid.
4. In another bowl, mix the spelt flour, salt and baking powder for the muffins.
5. When the flax-water mixture has a thicker texture, add the xylitol, coconut oil, water and vanilla extract and mix until combined.
6. Pour the wet ingredients with the dry ingredients.
7. Distribute the muffin batter evenly over 6 muffin holes (I love using an ice-scoop for this) and top with 1/6th of the streusel topping.
8. Bake the muffins for 5 minutes in the 230 degree oven, then turn down the heat to 180 degrees Celcius and bake for another 20 to 25 minutes. Keep in mind that the muffins won't brown, as xylitol does not caramelize like sugar would.
Nutritional information per muffin
259 kcals
13.2 gram fat
of which 8.2 gram saturated
32.1 gram carbohydrates
of which 5.3 gram fiber and 1.8 gram sugar
6.4 gram protein