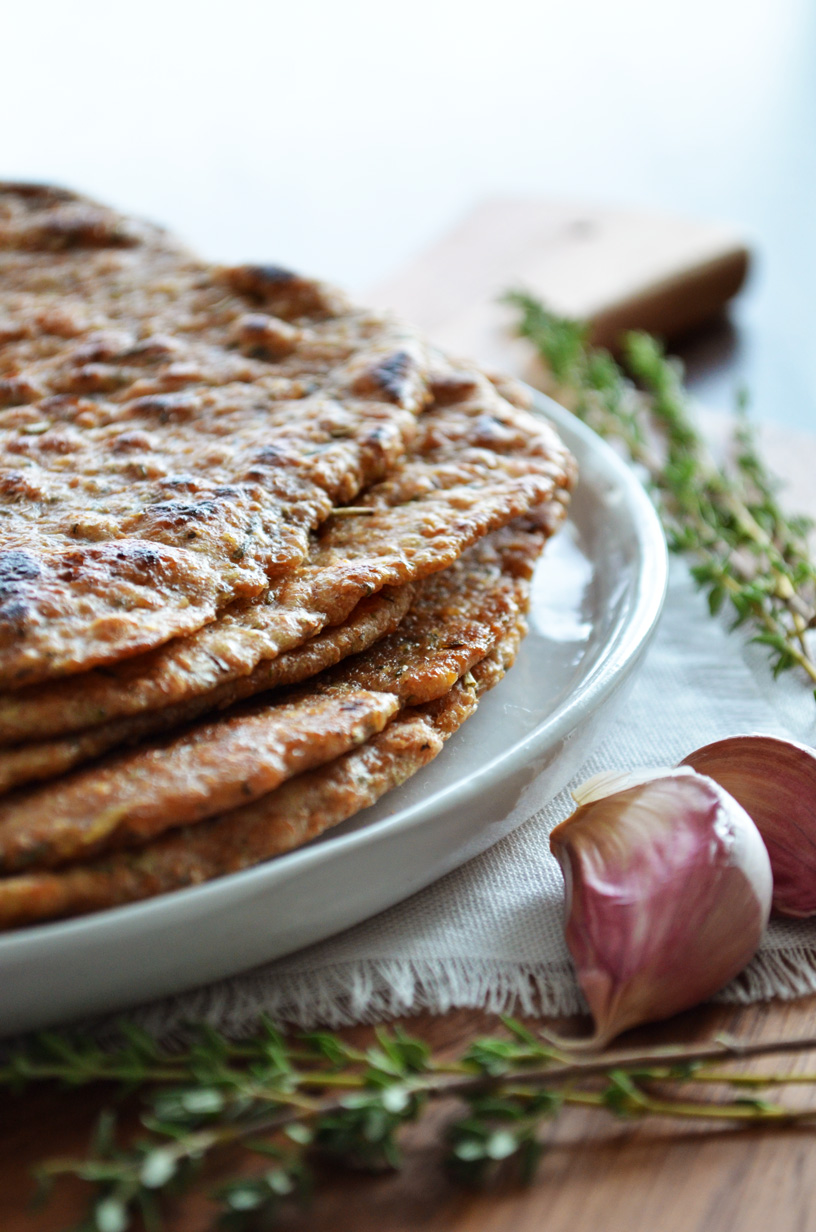 For a simple dinner, I love throwing some beans in a pan with a spicy tomato sauce and maybe some diced peppers or other vegetables that I have at hand. Then, after it's warmed up in the pan, I just put the whole mixture in a wrap and dinner is done in under 10 minutes… Talking about fast food 😉
However, lately I've been getting quite bored with the taste of normal wraps you can get at your local supermarket. Other than that they don't taste great, they're not great for your body either. Often they are made with white bleached flour of which all the fibers and many nutrients have been stripped, and they are full with "flour enhancers" and weird additives. Personally I'm not necessarily against additives, as not all of them are bad, but I do think that in such a simple product as wraps, adding all those additives shouldn't be necessary.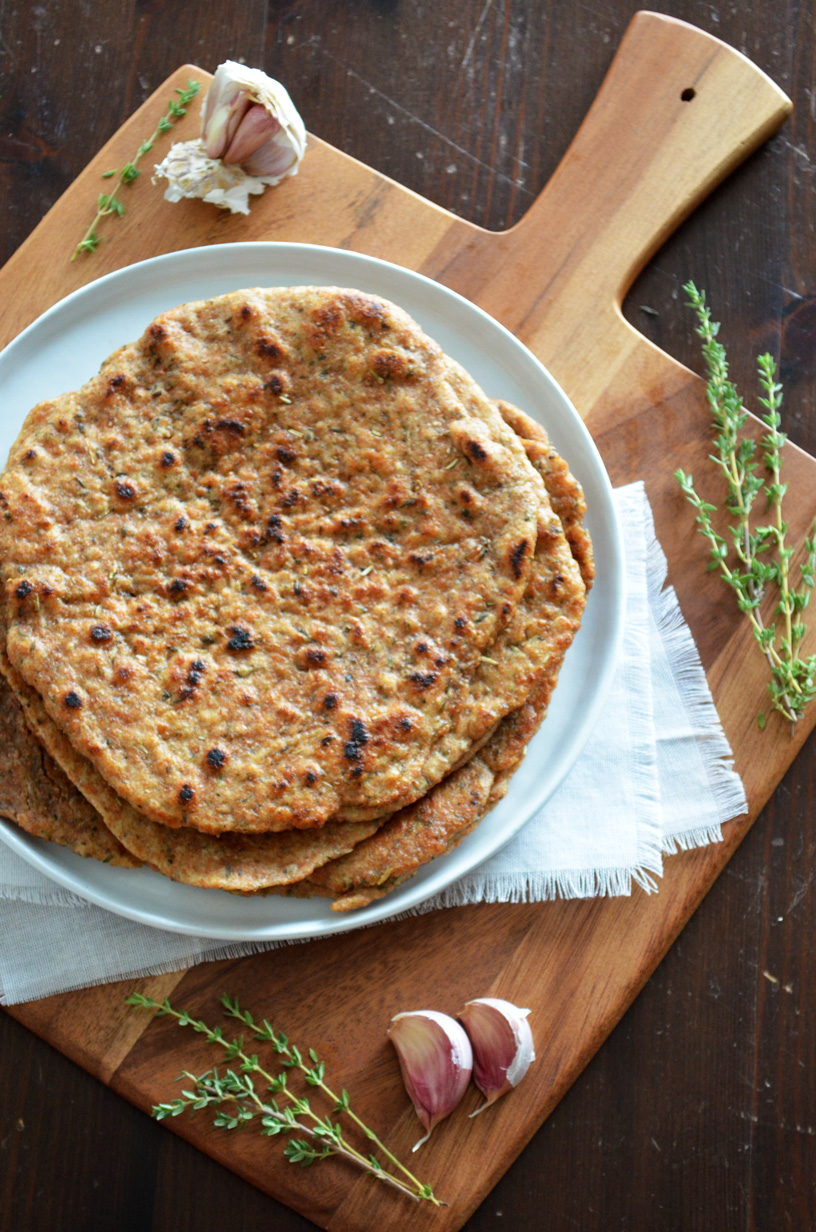 Making your own wraps is indeed quite some work, but for me personally it is definitely worth it. Not only are these wraps extremely delicious, but you also know exactly what goes into them and you have the ability to add (or leave out) the herbs and spices of your choice. Furthermore, using whole wheat spelt flour in stead of regular white flour also adds heaps of nutrients, fibers and vitamins.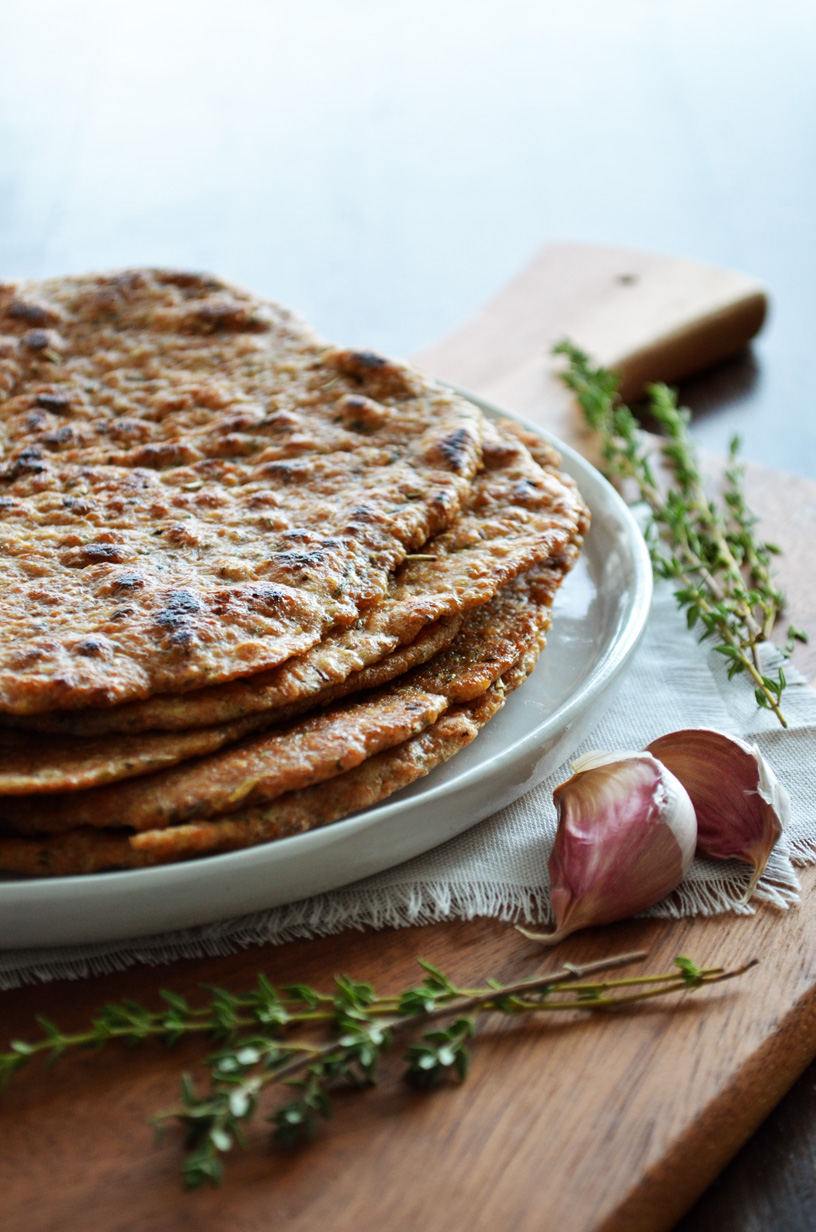 These delicious wraps are made with whole wheat spelt flour and are flavored with a whole range of herbs, including thyme, oregano, basil and rosemary and for some extra flavor I also added minced garlic. Together these flavorings make these wraps really tasty, so even if your filling is a little boring or bland, I can guarantee you that they will take any burrito to the next level!
Spelt Wraps with Herbs
Prep time: 15 mins
Cook time: 25 mins
Total time: 1 hour 40 mins
Yield: 6 wraps
Ingredients
2 cups (260 gram) whole wheat spelt flour + more for kneading
2 1/4 teaspoon dry yeast
3/4 teaspoon salt
1/2 teaspoon coconut sugar (to activate the yeast)
1 tablespoon dried thyme
1 teaspoon dried oregano
1 teaspoon dried basil
1 teaspoon dried rosemary
1 tablespoon olive oil + 7 teaspoons more
2 cloves garlic, minced
2/3 cup (160 ml) warm water (about 40 degrees C)
Instructions
1. Add the spelt flour, yeast, salt, coconut sugar, thyme, oregano, basil and rosemary to a large bowl and whisk.
2. Add 1 tablespoon olive oil, the minced garlic and half of the water to the mixture and knead. Add more water if needed to form a doughy substance.
3. Knead the dough for about 2 minutes on a floured surface. Roll into a ball and coat with 1 teaspoon olive oil.
4. Transfer the ball to a clean bowl and cover with a damp towel and let rest on a warm place for 1 hour.
5. Divide the dough into 6 even pieces and roll into a ball. Do not roll/handle them too much as that will affect the air bubbles in the dough. Let rest under a damp towel until you're going to bake the wrap.
6. Roll out one of the 6 balls into a wrap form, but don't roll them too much / knead them too much. If you did, just roll them in a ball again and let rest for 5-10 mins before using it again.
7. Bake the wraps in a large skillet with about 1 teaspoon of oil. Bake for 2 to 3 minutes on each side. Add 1 teaspoon to the skillet every time you want to bake a new wrap. These are great when eaten still warm, but you can also store them air tight (to prevent them from drying out and getting hard) in your fridge for a couple of days or freeze and later reheat them in the microwave or skillet before using.
Nutritional information per wrap
122 kcals
7.6 gram fat
of which 1.0 gram saturated fat
11.3 gram carbohydrates
of which 2.4 gram fiber
2.4 gram protein