Yesterday, I finally saw rhubarb at my local grocery store that was actually fresh and ripe, so I immediately went for it – obviously! – and decided to put it to good use immediately. Personally, I just really love the classic combination of rhubarb and strawberries, so I decided to do something with that, and I was also inspired by a dish my grandmother and mothers used to make very often: Brusselse appelen (Brussels apples). Basically it is just an apple crumble recipe with a very yummy, but quite unhealthy and very non-vegan crust.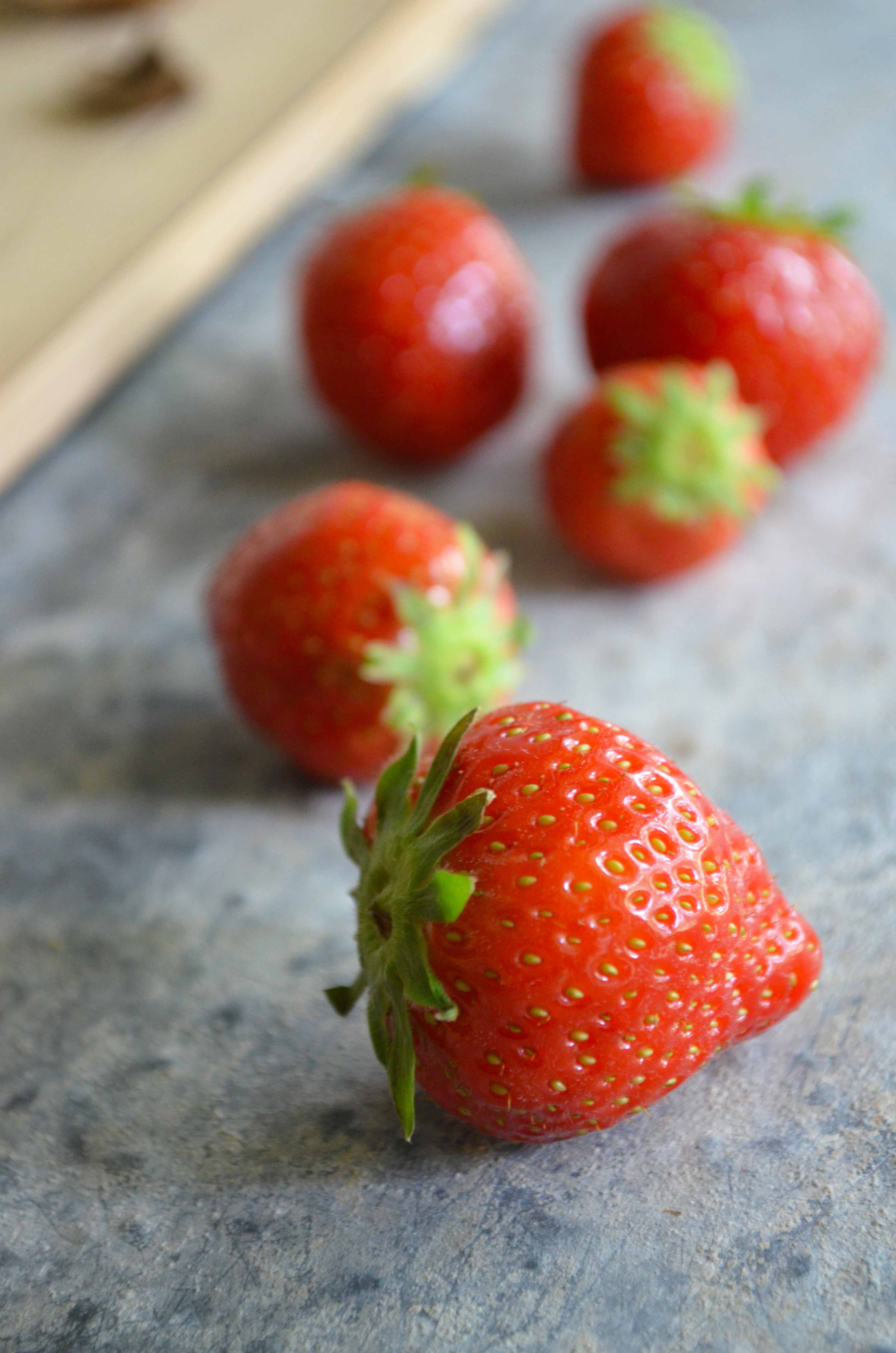 So, inspired by these two things I decided to make this amazing strawberry-rhubarb crumble. As I did not want to make a classic crumble topping involving butter and the like, I decided to top the strawberries and rhubarb with a mixture of rolled oats, almond meal and walnut. Sooo good!
Especially the addition of the walnuts takes this crumble to the next level. Normally, these kind of oven dishes can be really really sweet due to added sugars and the concentrated fruits, but in this case, the walnuts balance that out pretty perfectly.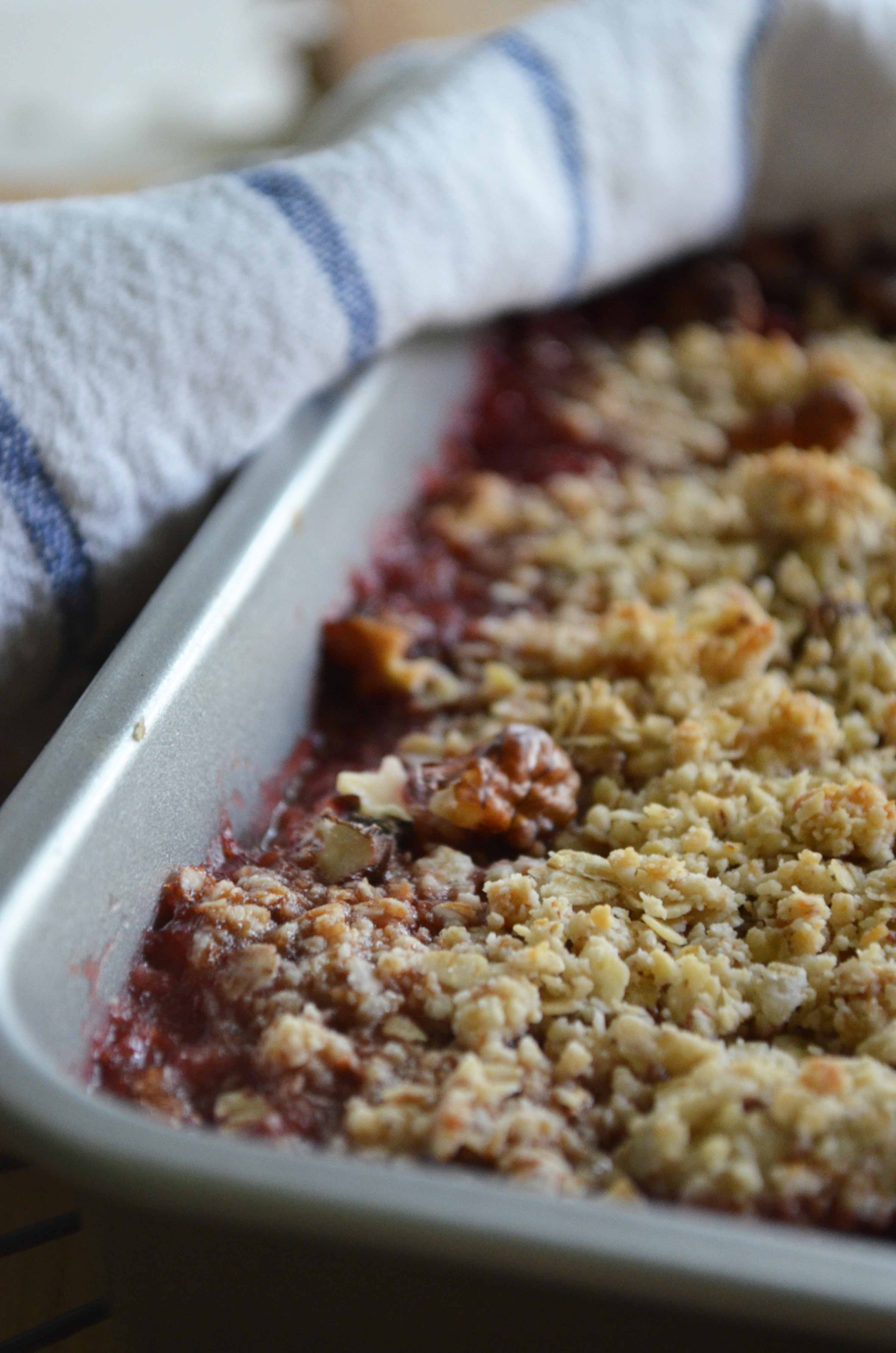 Although this recipe is chock full of nuts (and thus not very low on calories), it is also very filling, and contains quite some proteins, fibers and complex carbohydrates. So, if you're looking for a seasonal, awesomely delicious and easy dessert, I think this recipe will be perfect for you!
Strawberry rhubarb crumble
Prep time: 10 mins
Cook time: 50 mins
Yield: one squared oven dish (22 x 22 cm)
Ingredients
400 gram rhubarb, diced
450 gram strawberries, without crown
1 tablespoon maple syrup (optional)
coconut oil for greasing
1 cup rolled oats
50 gram walnuts, chopped
1/2 cup almond meal
1/4 cup coconut sugar
3 tablespoons liquid coconut oil
Instructions
1. Preheat your oven to 180 degrees Celcius.
2. Add the rhubarb and strawberries to a pan with 2 tablespoons of water and heat over low to medium heat until the rhubarb starts to release some of its liquids. Do not stir, as this will cause the rhubarb and strawberries to lose their shape. Depending on the sweetness of the produce you used, you may want to add one tablespoon of maple syrup at the end.
3. Meanwhile, grease your brownie pan with some coconut oil.
4. In a bowl, combine the rolled oats, chopped walnuts, almond meal, coconut sugar and coconut oil, and mix with your bare hands until you have a crumble-like texture.
5. Add the strawberry-rhubarb mixture to your greased brownie pan and put the crumble-mixture on top.
6. Bake for 30 to 40 minutes or until the fruit starts bubbling a little and the crumble is golden brown. Serve piping hot with maybe a little coconut yoghurt on the side.