These muffins… These are so delicious, I can't even explain. Did you ever had the Ben & Jerry's flavor Cherry Garcia? Personally, I've always loved the combination of cherries and chocolate, and for this muffin I was inspired by the classic Ben & Jerry's flavor. Now, I know these may not look like the prettiest muffins, but men, these are really really good! And if you feel a little fancy, you can just drizzle them with some dark chocolate, like I did with some of them.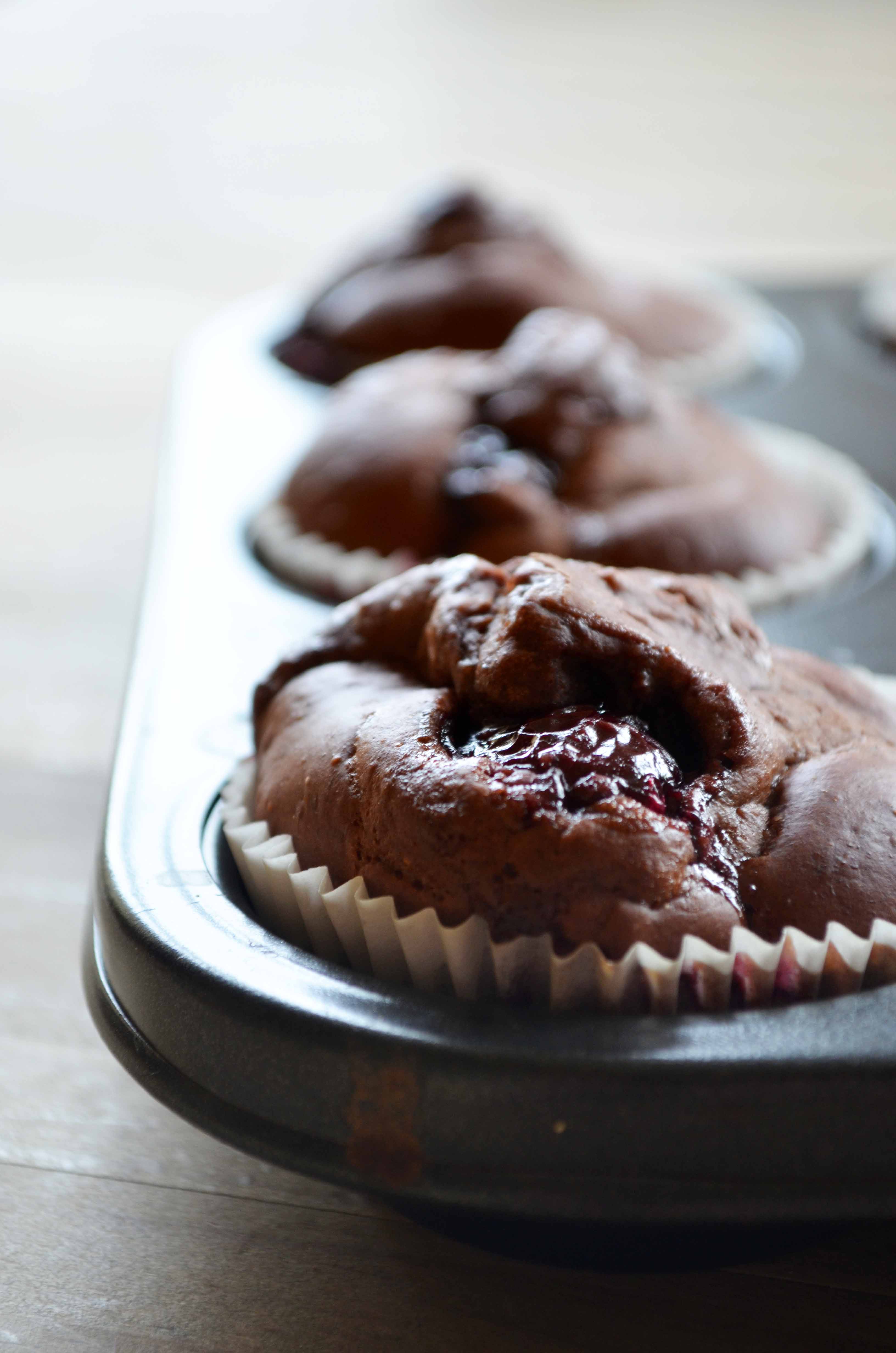 I made these last weekend, while studying for my last exams and writing my last essays. And now I'm finally completely done for this year! Even though I'm starting a summer course at my home university next Tuesday, I still feel like celebrating this mini vacation. Also, the weather here in the Netherlands has been pretty great today and will probably continue to be like that this weekend, yay!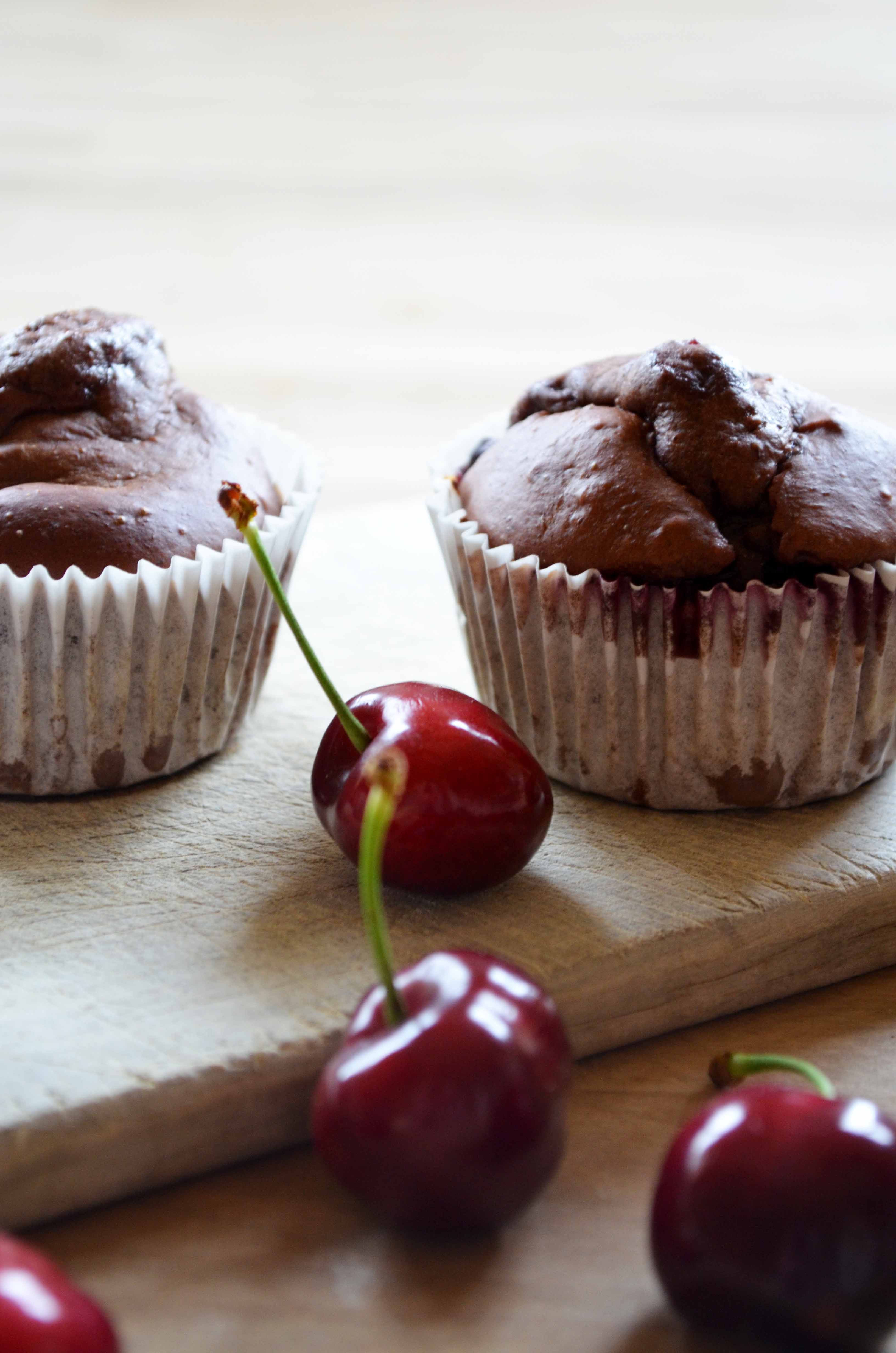 Okay, now on to these Cherry Garcia inspired muffins! The batter is plain chocolate, and the cherries are mixed in later, so if you're not really into cherries, or if you just want to do something different, you can of course just use nuts or some other kind of fruit to replace the cherries. I'm betting strawberries would taste really great as well.
Now, the great news about these muffins is that they are actually healthy enough to have them for breakfast. They are filled with fibers, some healthy fats and complex carbs. Pair them with some fresh fruit and perhaps a cup of tea and you've got yourself a super breakfast!
Cherry Garcia muffins
Prep time: 10 mins
Cook time: 20 to 25 mins
Yield: 9 large muffins
Ingredients
2 tablespoons broken flax
6 tablespoons water
150 gram (coconut) yoghurt
50 gram coconut oil (liquid)
1 ripe banana, mashed
60 gram maple syrup
200 gram whole wheat spelt flour
1 teaspoon baking powder
1/2 teaspoon baking soda
3 tablespoons (raw) cacao powder
pinch of salt
200 gram cherries, without pit
Instructions
1. Mix the broken flax with the water in a big bowl and set aside.
2. Preheat your oven to 220 degrees Celcius.
3. In a big bowl, mix the coconut yoghurt, coconut oil, mashed banana, maple syrup.
4. In another bowl, mix all the dry ingredients with each other: the spelt flour, baking powder, baking soda, cacao powder and a pinch of salt. Now add the dry ingredients to the wet ingredients and mix until well combined.
5. Lastly, add the pitted cherries to the batter.
6. Divide the batter over the cupcake or muffin tin.
7. Bake the muffins for 5 minutes at 220 degrees Celcius and another 15 to 20 minutes at 180 degrees. This will make sure they will become pretty and fluffy.