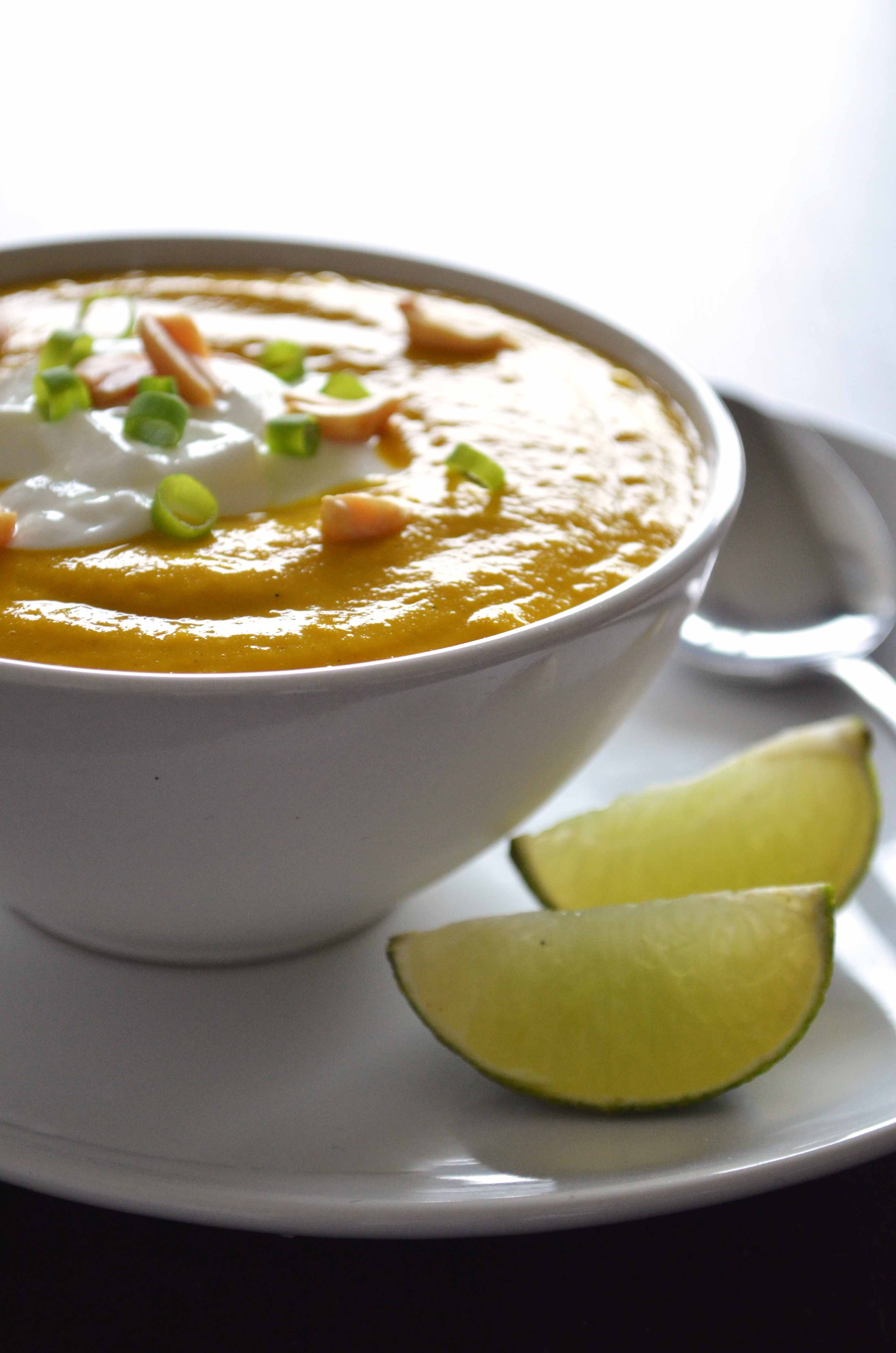 With my trip to Thailand in mind, I recently started to look more into Asian style food and recipes, because I'm actually not that familiar with the Asian kitchen! Yes, I love sushi and I've made some Indian curries a long time ago, but other than that I'm absolutely clueless on which spices to use, what herbs, what produce, what kinds of cooking methods, etc etc.
My Asian food adventure started with this amazing Creamy Red Lentil and Coconut Soup, and now I am bringing you this Spicy Pumpkin and Coconut Soup — yes, I know they're both soups and both with coconut, but cut me some slack will ya' 😉 As if you guys didn't notice yet, I just really love me a good soup. They they hold perfectly well in the freezer, which I do all the time as I cook for only myself most of the time, they are comforting, delicious, nutritious and (most of the time) chock full of vegetables.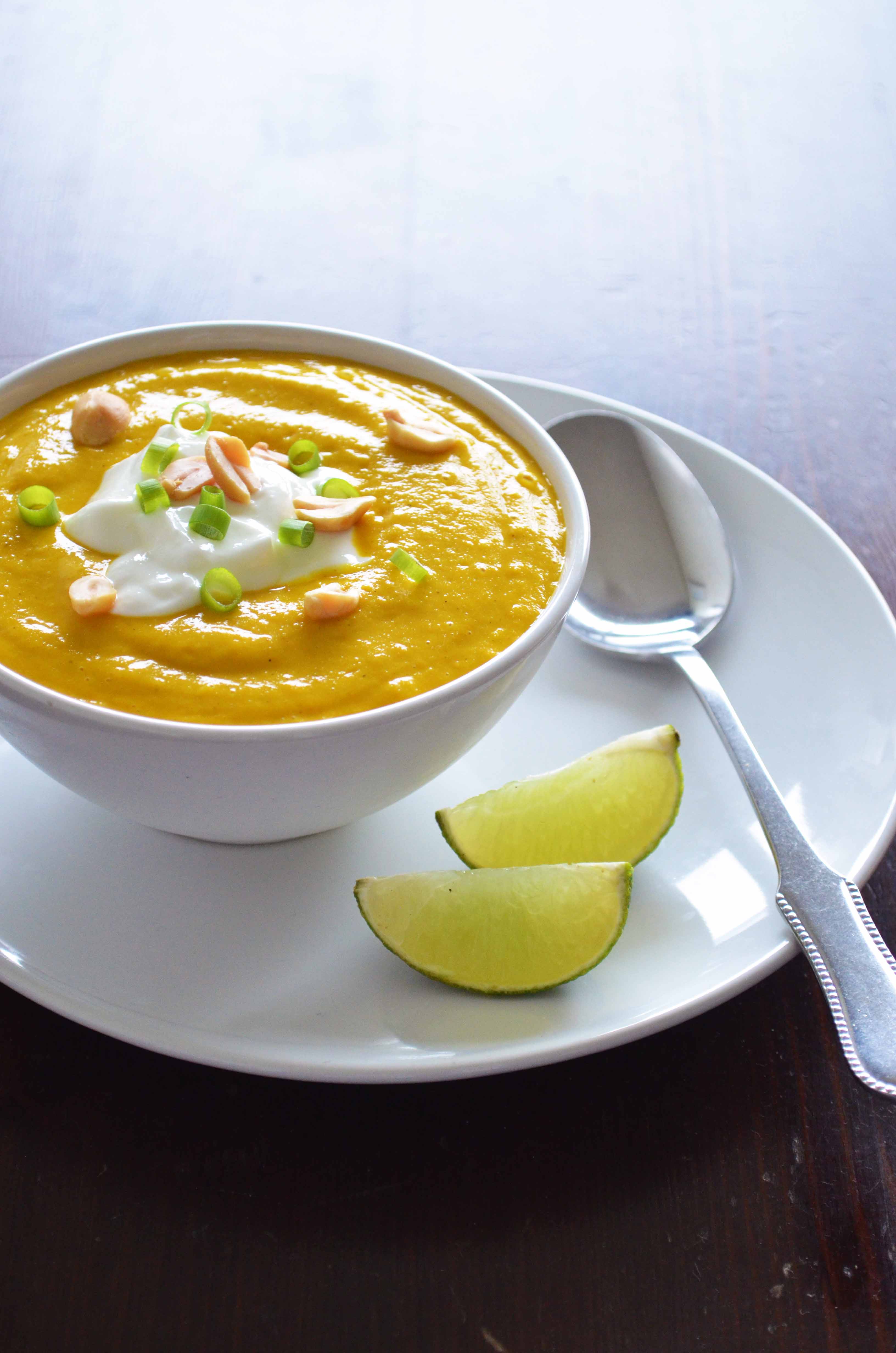 So, as far as my Asian-food experience goes, this is how I interpreted this pumpkin soup: a perfect balance of sweet (coconut sugar), spicy (red peppers), creamy (coconut milk), sour (lime) and a little salt. Although most of the time I prefer soups without a creamy element (unless it is to cancel out some sour/bitterness, like in this soup), I feel it really suits this one well, and at the same time it adds that little exotic feeling too.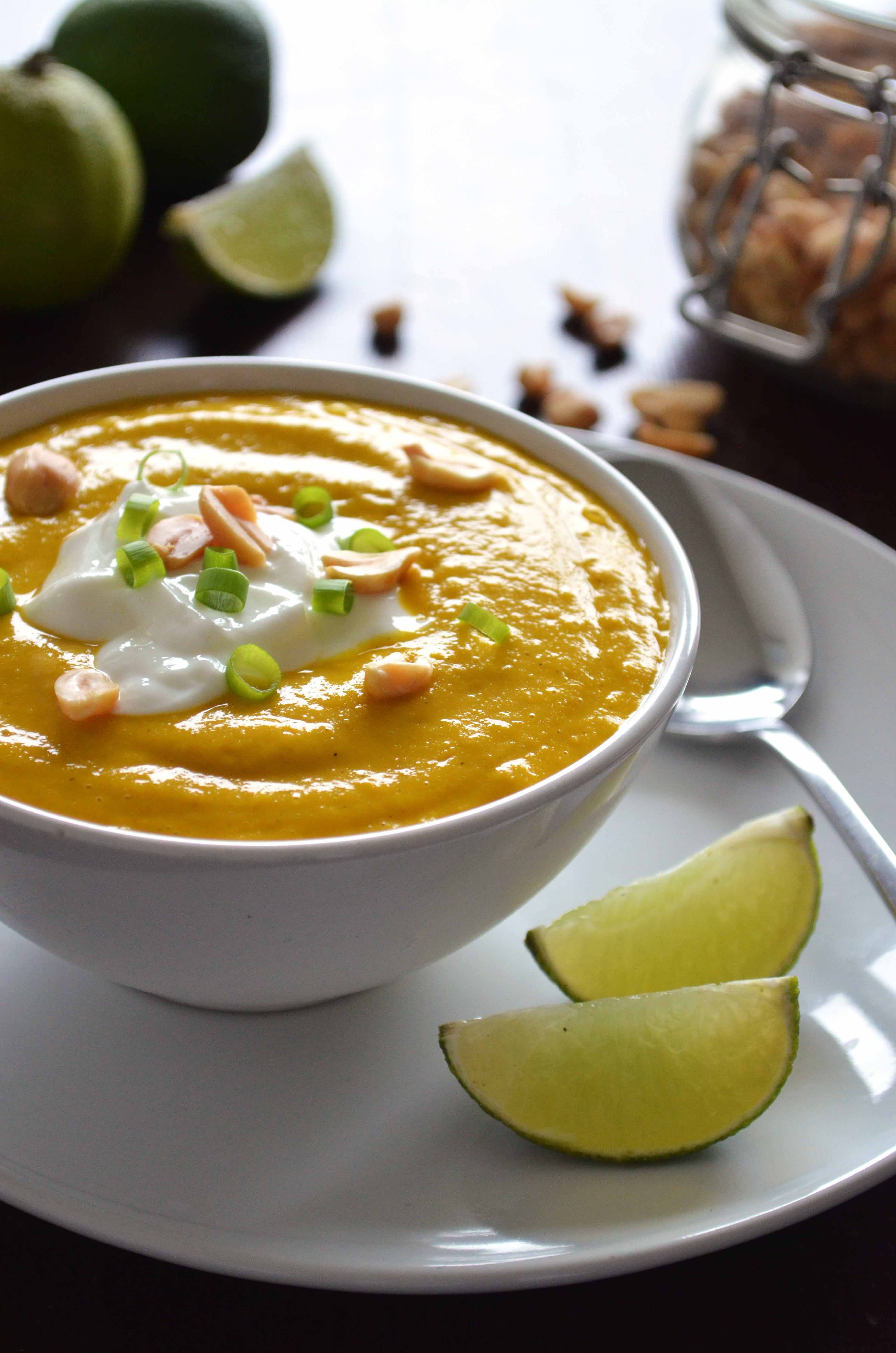 I served the soup with a little dollop of coconut cream (thickened coconut milk), some crushed peanuts and spring onion, but any other 'Asian' or semi-Asian topping would do just fine I imagine.
Spicy Pumpkin and Coconut Soup
Prep time:
Cook time:
Total time:
Yield: 6 servings
Ingredients
850 gram pumpkin, diced
2 onions, quartered
3 cloves garlic
2 tablespoons olive oil
1 to 2 tablespoons coconut sugar
1 tablespoon ground cumin
1 teaspoon dried oregano
1/2 to 1 dried or fresh red pepper
1 teaspoon ground paprika
1 teaspoon ground ginger
1 teaspoon salt
400 ml coconut milk
300 ml water
2 limes, juiced or wedged
Instructions
1. Preheat your oven to 200 degrees Celcius.
2. Toss the pumpkin, onions and garlic with the olive oil and salt, and roast for about 20 minutes on 200 degrees Celcius or until the onions have caramelized and the pumpkin has slightly browned.
3. Let the pumpkin, onions and garlic cool for about 5 to 10 minutes. Then transfer to a blender and add all other ingredients except for the lime juice. Blend until smooth.
4. Pour the soup in a pan to re-heat. Stir in lime juice just before serving, or serve with lime wedges so that everyone can add the lime juice according to their taste.
Nutritional information per serving
288 kcals
21.7 gram fat
of which 15.2 gram saturated fat
25.7 gram carbohydrates
of which 7.9 gram fiber and 11.8 gram sugar
4.3 gram protein
P.S. If you're looking for an equally delicious pumpkin soup that is just a tad higher in protein and lower in fat, check out this Spicy Pumpkin Soup.