Happy soup season everyone! 💕
The weather here in the Netherlands has been horrible to say the least for the last couple days, and those grey-ish days always make me want to crawl into bed with a good cuppa soup and a good book or my current fave series.
Yes, imagine that… Aaahhh now I want to get back into bed!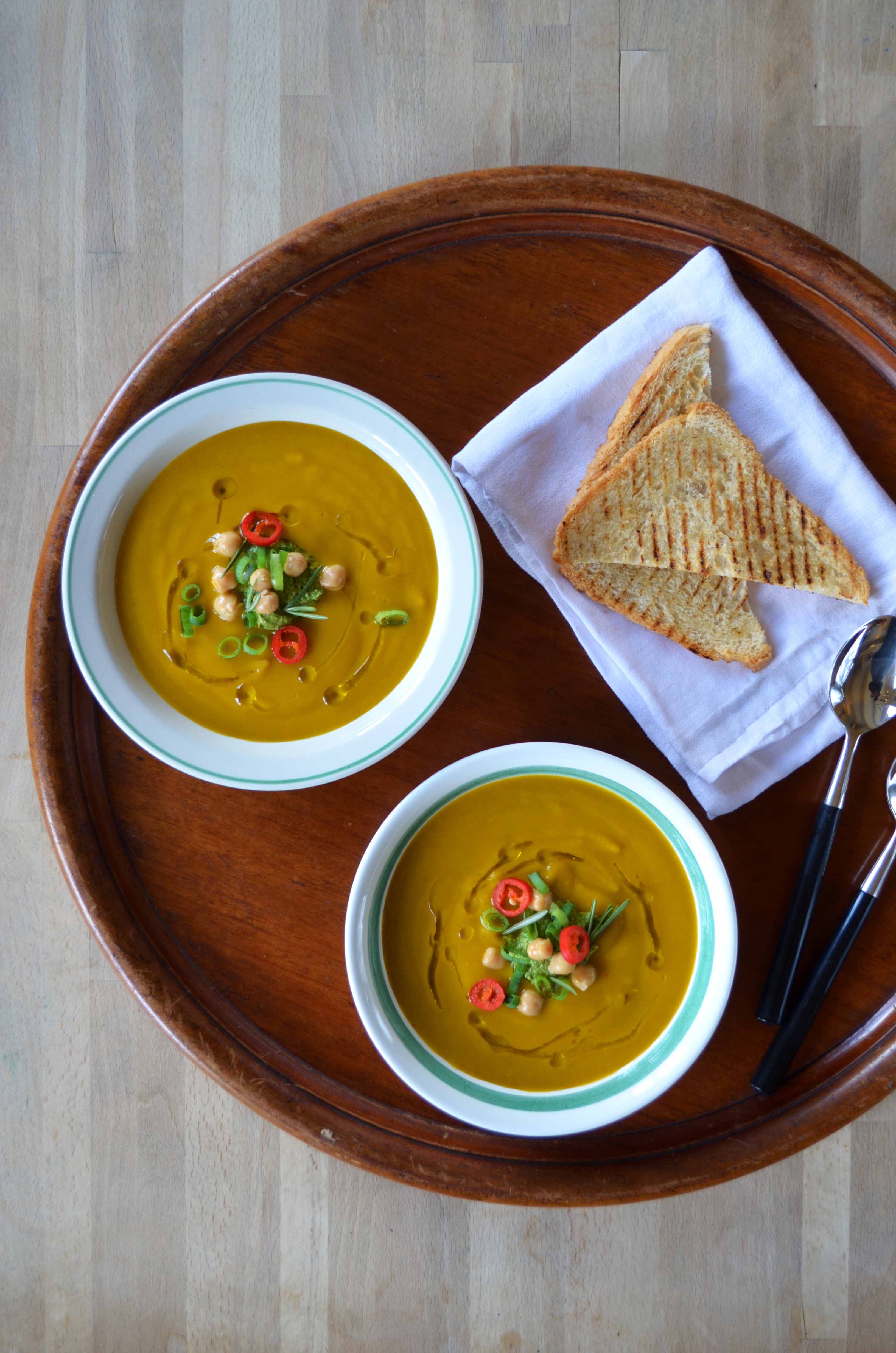 Anyway, this pumpkin soup is really just a super simple meal in a bowl – and bowls are just awesomeeee! 🎉
You can make this soup from start to finish in under 20 minutes and it is so good! In my opinion soup is the perfect comfort food if you're craving something quick and easy, and this pumpkin soup just checks everything that I would want from a soup: It's spicy, creamy (without any cream!), it's comforting, and it is super easy to make.
For those of you who have trouble meeting their protein intake every day – a.k.a. me 🙋 – there are even some chickpeas hidden in there to get you some protein. Buuut don't worry, it doesn't taste like liquid hummus or anything like that, the chickpeas actually make the soup super thick and creamy and delicious.
Spicy pumpkin soup
Prep time: 5 mins
Cook time: 15 mins
Total time: 20 mins
Yield: 8 servings
Ingredients
6 spring onions
8 sprigs of fresh rosemary
1/2 fresh red Spanish pepper (use less if you're not very into spicy)
1 tablespoon olive oil
1 butternut squash (normal sized)
3 large carrots (about 600 gram)
1 liter vegetable stock, or 1 vegetable stock cube and 1 liter water
1 can chickpeas
Instructions
1. Put the spring onions, rosemary (only the leaves), Spanish pepper and olive oil in a blender or food processor and blend.
2. Transfer the mixture to a large saucepan and fry.
3. Meanwhile, quarter the butternut squash and transfer them together with the carrots to your blender or food processor and blend. It doesn't need to be smooth or anything, this is just to quicken up the cooking process.
4. Put the butternut squash and carrot mixture to the saucepan and add the vegetable stock and the chickpeas too.
5. Put the lid on the pan and bring it to a boil. Once it has boiled for about 10 minutes you can serve it or blend it once more for an even smoother texture (like I did).
Nutritional information per serving
183 kcals
3.7 gram fat
of which 0.5 gram saturated fat
33.5 gram carbs
of which 9 gram dietary fiber and 9.1 gram sugar
6.9 gram protein