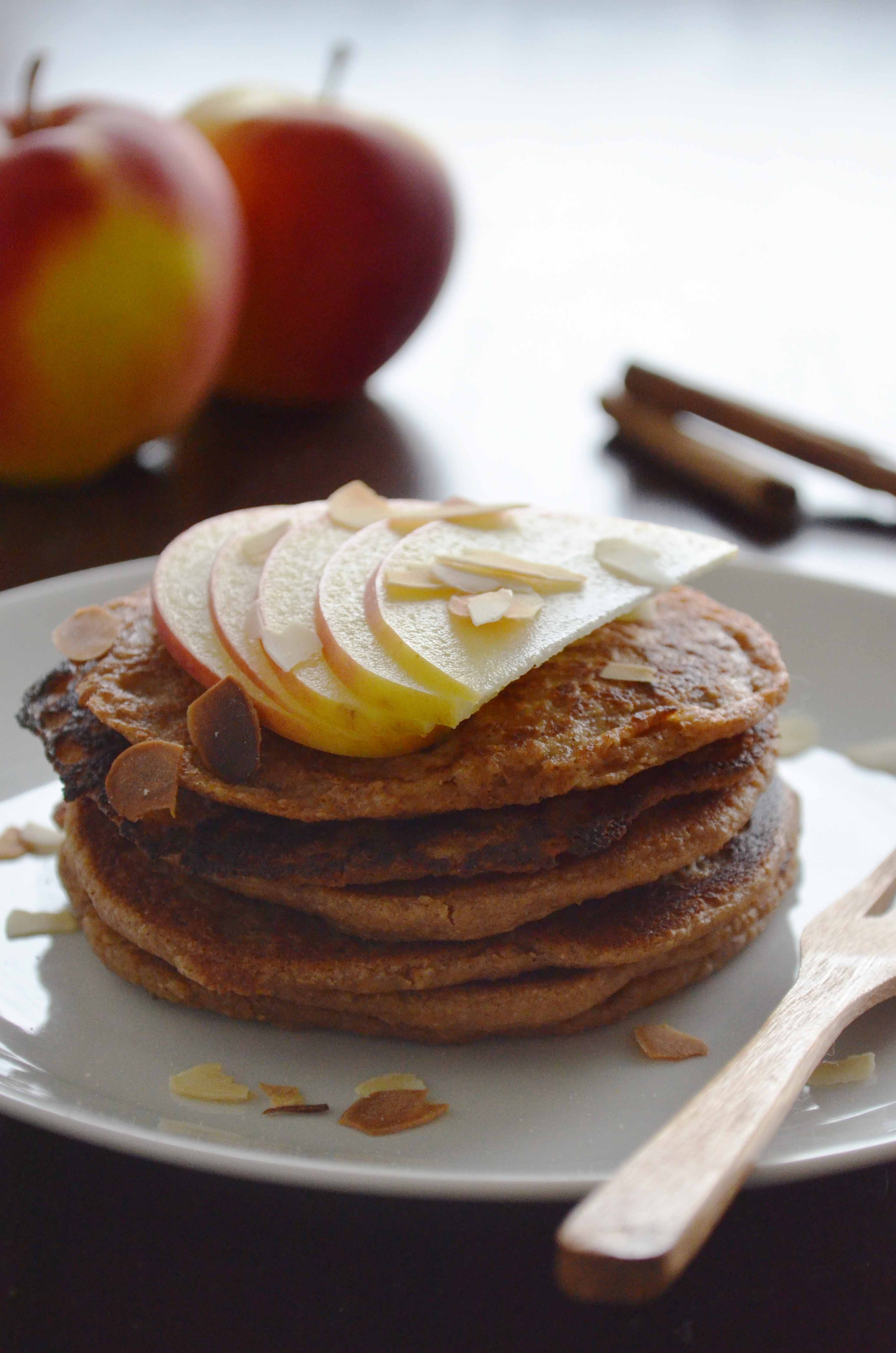 These Autumn Apple Pancakes are amazing guys! Perfect for a lazy Sunday breakfast or brunch now that the days are getting colder and you want a warming breakfast.
If you've been following this blog for a while, you probably noticed that I'm a huuuge sucker for the combination of apple and cinnamon: my favourite oatmeal is this Apple Pie Oatmeal and my favourite muffins are these Apple Muffins with Walnuts, Cinnamon and Zante Currants. They are both so so good!! The combination of apples + cinnamon is just amazing to me. It reminds me of long autumn strolls in the woods, the beautiful red, orange and yellow colours of the trees, reading a book by the fireplace, etc.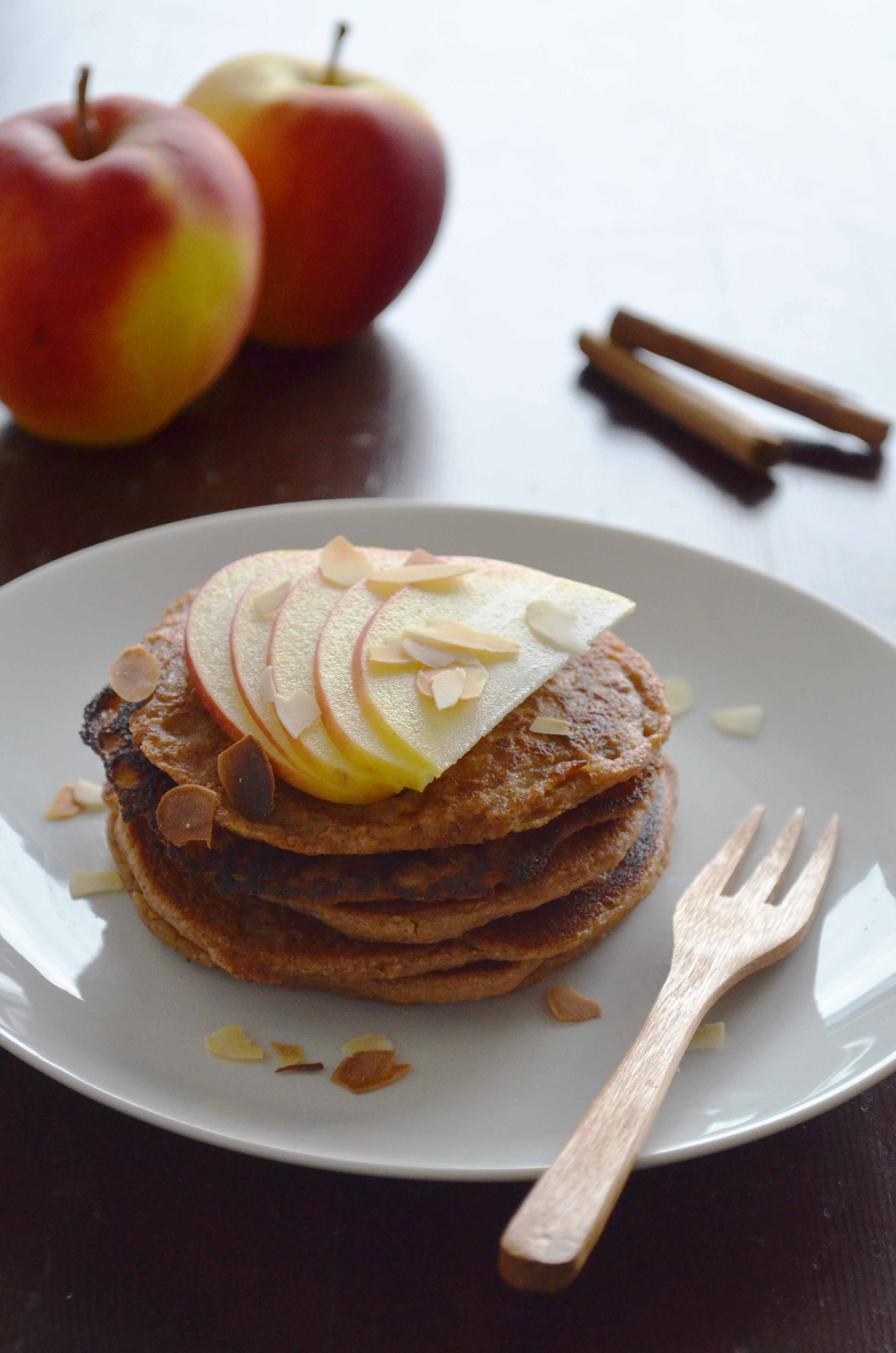 If you really want to get your Autumn on, you could add some chopped up walnuts and raisins or currants to the batter too. Personally, I prefer my pancakes without bits and pieces, but with regards to taste they make a perfect match.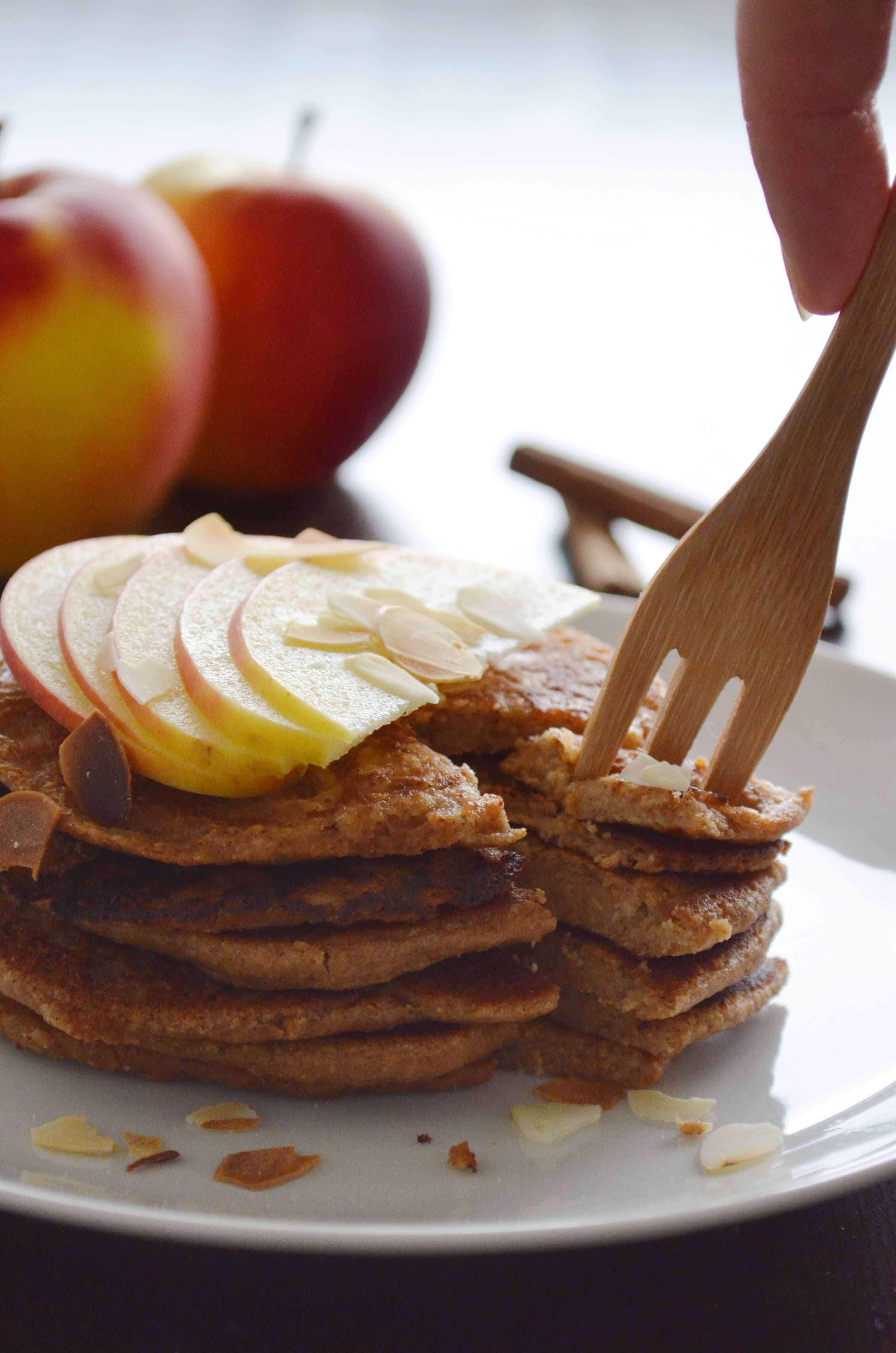 With all the apples that are overflowing my pantry at the moment I needed some other usages for them apart from oatmeal and muffins — which are delicious, but just kind of boring after the 100th apple pie oatmeal breakfast. One of the things that I used the apples for was this raw apple sauce. Super easy, quick and perfect to store in your freezer. It is also the apple sauce that I used in this recipe, and it works like a charm! If you're still looking for ways to use up your apples, I can highly recommend trying it — or make loads and loads of these Autumn Apple Pancakes of course 😉
Autumn Apple Pancakes
Prep time: 10 mins
Cook time: 10 mins
Total time: 20 mins
Yield: 8 pancakes
Ingredients
1 tablespoon broken flax
6 tablespoons lukewarm water
3/4 cup (200 gram) applesauce
1 cup (100 gram) oatmeal
1 tablespoon maple syrup
2 tablespoons liquid coconut oil + more for baking
1 teaspoon ground cinnamon
1 teaspoon vanilla extract
1 teaspoon baking powder
1/4 teaspoon salt
Instructions
1. Mix the broken flax with 3 tablespoons lukewarm water in your blender and set aside.
2. When the flax mixture has a gooey consistency (after 5 to 10 minutes), add the other ingredients to the blender and blend until the batter is smooth. The batter is supposed to be quite thick, but if it really bothers you, you can of course blend in a little more water.
3. In a large skillet, heat up some coconut oil and pour in about 3 to 4 tablespoons of the batter. You might need to flatten the pancake a little. Cook over medium heat until the edges start to look matte, then flip the pancake and bake for another 1 to 2 minutes until both sides are golden brown.
Nutritional information per pancake
117 kcals
6.2 gram fat
of which 4.5 gram saturated fat
14.5 gram carbohydrates
of which 2.3 gram fiber and 4.3 sugar
1.9 gram protein