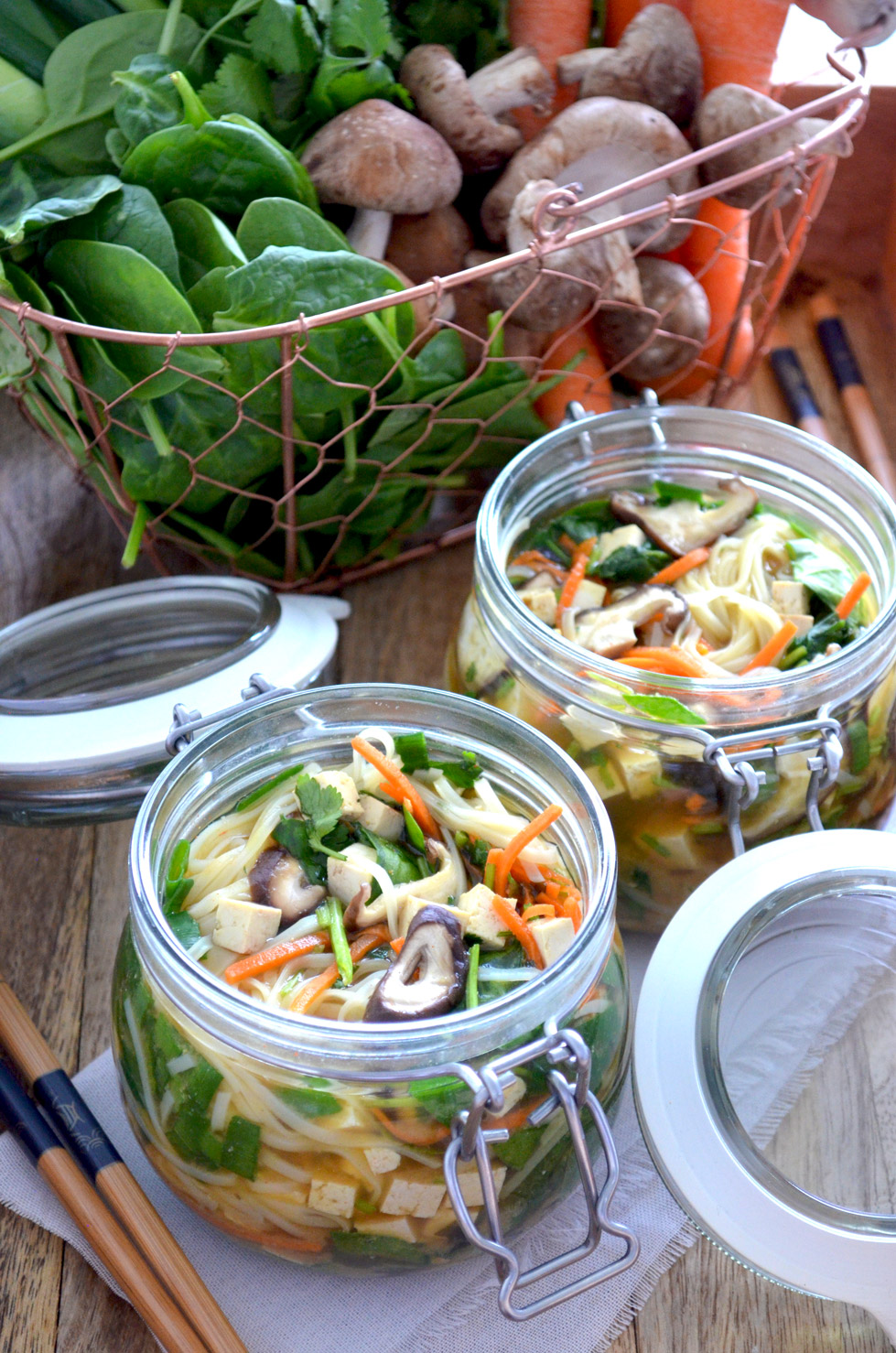 As promised, today I present to you one of my favorite to-go lunches/dinners: Instant Noodle Soup! Whaaaa!! It's a dream come true, or at least for me. I used to love instant noodle soup when I was younger, it was salty, it was warm and it was super quick — no prepping or cutting of vegetables involved, just pouring in boiling water and wait 3 minutes (which was the hardest part!) and then you'd have this delicious bowl of salty soup with teeny tiny chunks of veggies and lots of noodles.
Of course, that's not really healthy, and most of those instant noodle soups have extremely high sodium levels and actually little ingredients that were nutritious or had any significant value of vitamins and minerals.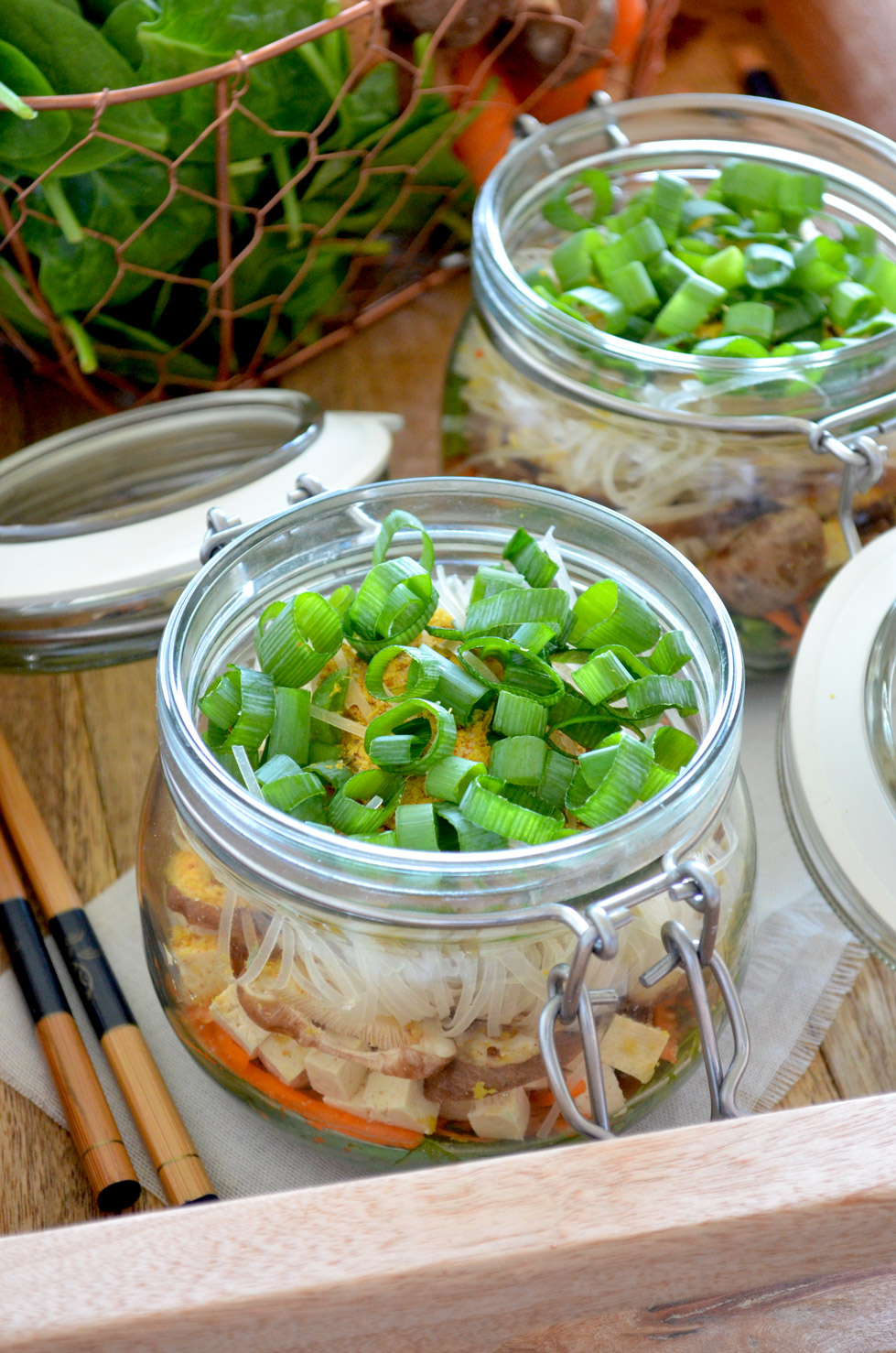 This version however, is quite different. We're using fresh veggies and we're going to use our own, home made bouillon powder! Other than that, there are rice noodles, a little miso paste and some tofu added to the mix. What I personally really really love about this recipe is that you can take it with you to e.g. your work and just add boiling water for a steaming fresh and delicious homemade instant noodle soup.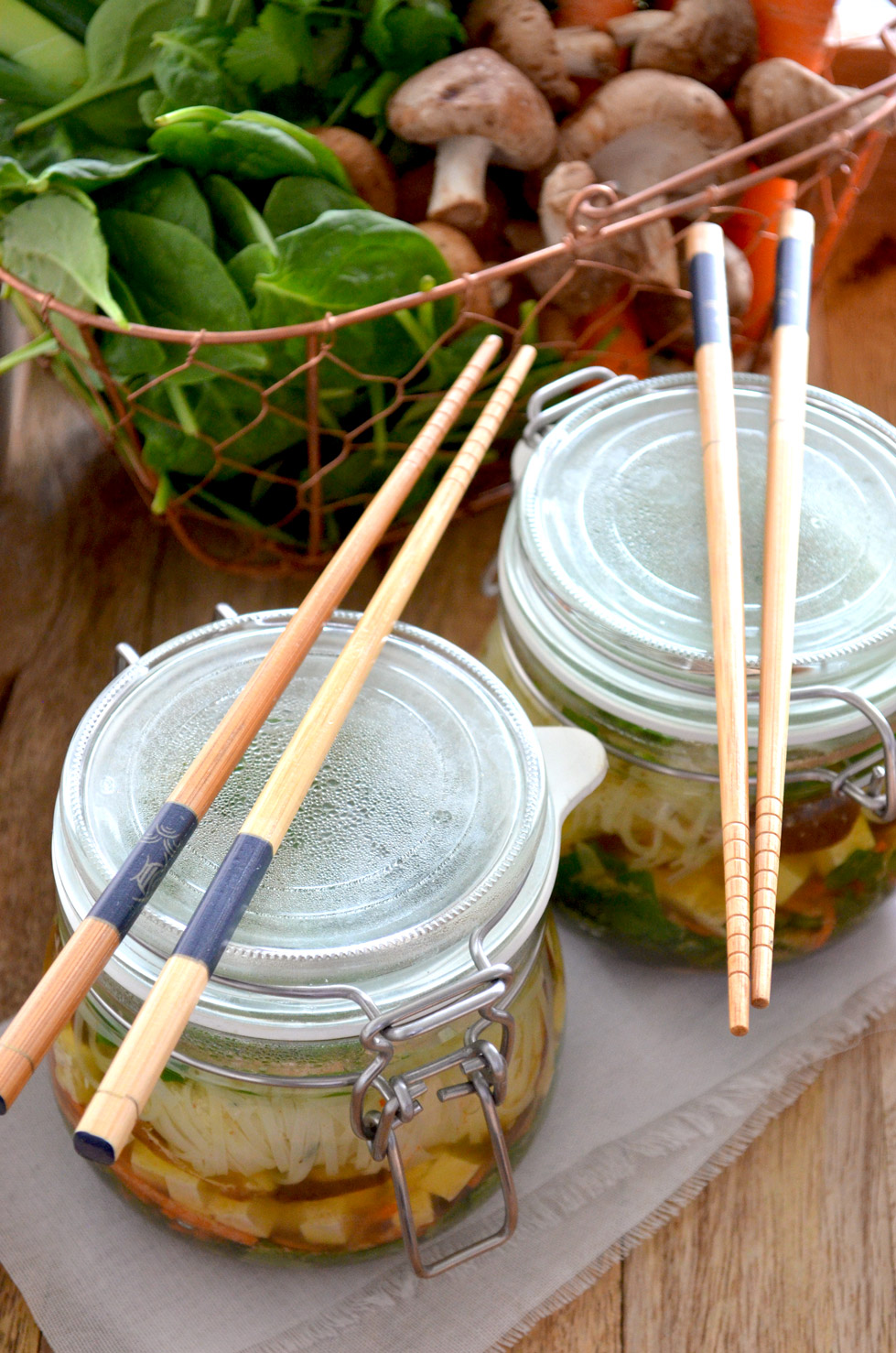 Of course, you can change up the fresh ingredients and add what you have on hand or what is in season. In this version I'm still using fresh ingredients, which means that the instant noodles can't be stored for ever, but I'm working on a version using dehydrated ingredients, which would mean that you could perhaps make these jars 2 weeks ahead or even longer! I'll keep you guys updated of course.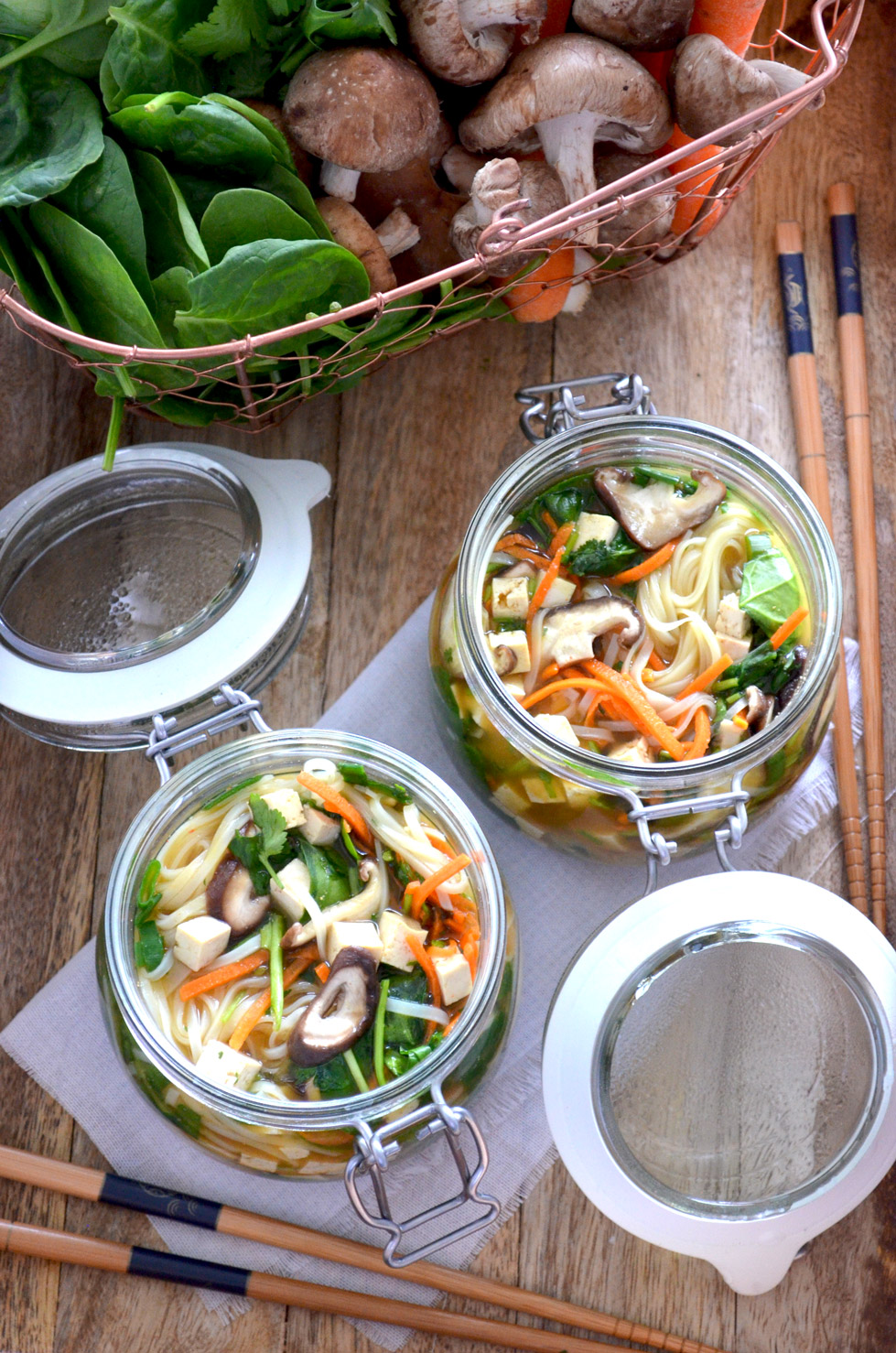 For now, I've found that I could store my jars for up to 4 days in my fridge. Although I would recommend not storing them any longer, as the chopped veggies may go bad, you can of course try and see what works best for you and your fridge.
Instant Noodle Soup
Prep time: 20 mins
Cook time: 3 mins
Total time: 23 mins
Yield: one 500 ml jar
Ingredients (per jar, but I would encourage you to make multiple ones at the same time)
1/2 cup (20 gram) fresh spinach leaves
1/4 cup (8 gram) fresh coriander, leaves and stems, chopped
1/4 cup (20 gram) julienned carrot
1/2 cup (50 gram) finely cubed firm tofu
1/4 cup (13 gram) sliced shiitake mushrooms
1 nest (about 40 gram) rice noodles (use ones that only have to cook 2-3 mins)
1 tablespoon bouillon powder
2 tablespoons (6 gram) diced spring onion
2 teaspoons (18 gram) miso paste
1 teaspoon soy sauce or tamari if gluten free
Instructions
1. Prep the ingredients: finely chop the coriander, julienne the carrot, cube the tofu, slice the shiitake and dice the spring onion.
2. Layer the ingredients in a 500-ml jar in the following order from bottom to top: spinach, coriander, carrot, tofu, shiitake, (optional: miso paste and soy sauce), rice noodles, bouillon powder, spring onion.
3. Store the miso paste and soy sauce in a small, separate jar to increase the shelf life of the instant noodle pots. If you're going to use the pots within 2 days, you could also add it to the pot after the shiitake mushrooms but before the rice noodles. Store the jars in the fridge.
When ready to use, add boiling water (and miso paste + soy sauce mixture if stored separately) to the jar and close the lid. Let steep for about 3 minutes. Remove the lid, give your soup a good stir and enjoy!
Nutritional information per jar
266 kcals
3.6 gram fat
of which 0.7 gram saturated fat
49.6 gram carbohydrates
of which 5.8 gram fiber and 5.4 gram sugar
12 gram protein