As some of you might know, I spent almost 3 months in Canada and the US during my blog hiatus. Before this trip I'd never had a cinnamon roll, can you believe it? Yeah, I'd heard of them, seen them on tv, and I also read about all sorts of people that raved about cinnamon rolls, but I never tried them. Cinnamon rolls are not really a thing in the Netherlands, which is why they are difficult to get if you're not into making them yourself.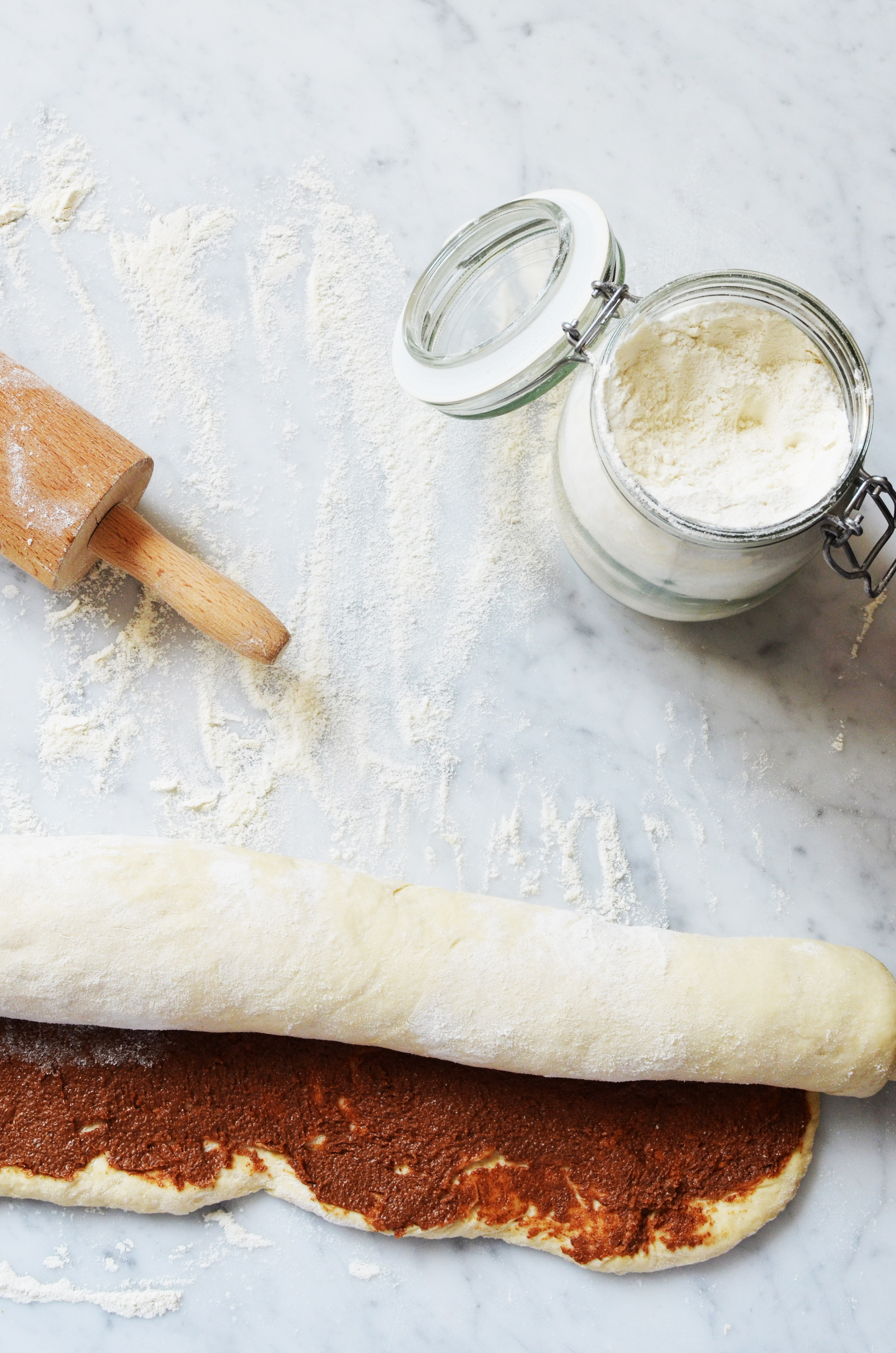 But when I finally tried my first one… Boy, did I miss something! Wow! That sweet, sticky bun of perfection has everything that I want from a pastry (well okay – I don't love the calories, but balance right?!) lots of cinnamon (my favourite spice!), a semi-fluffy but also melt-in-your-mouth buttery dough, and topped with some kind of vanilla-heavy glaze. YUM!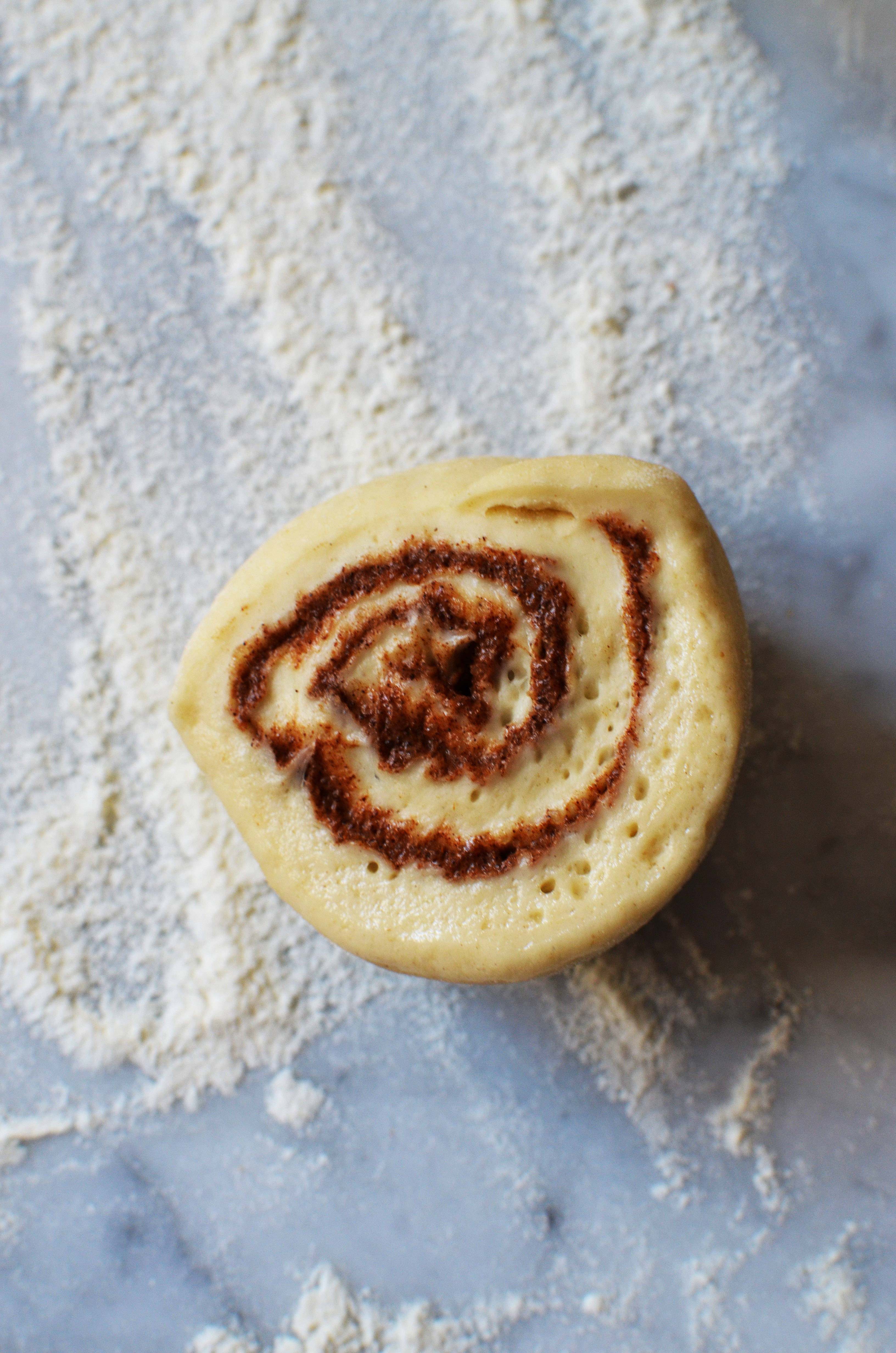 A few months after I got back home, I got treated by my friend Dewi to some homemade cinnamon rolls made with puff pastry. I was amazed at the small amount of time and work it took her to whip up some rolls for our friends, and their taste took me back to my trip and I was reminded of my love for cinnamon rolls.
Since then, I started experimenting with the dough, the filling, etc, and I'm happy to say that I have now (in my *humble* opinion) perfected my recipe! These are everything I look for in a cinnamon roll, and I hope you love them as much as I do! These are best served warm, so eat them straight out of the oven, or reheat them in a microwave (a sacrilege, I know – but so easy and quick!) or in the oven.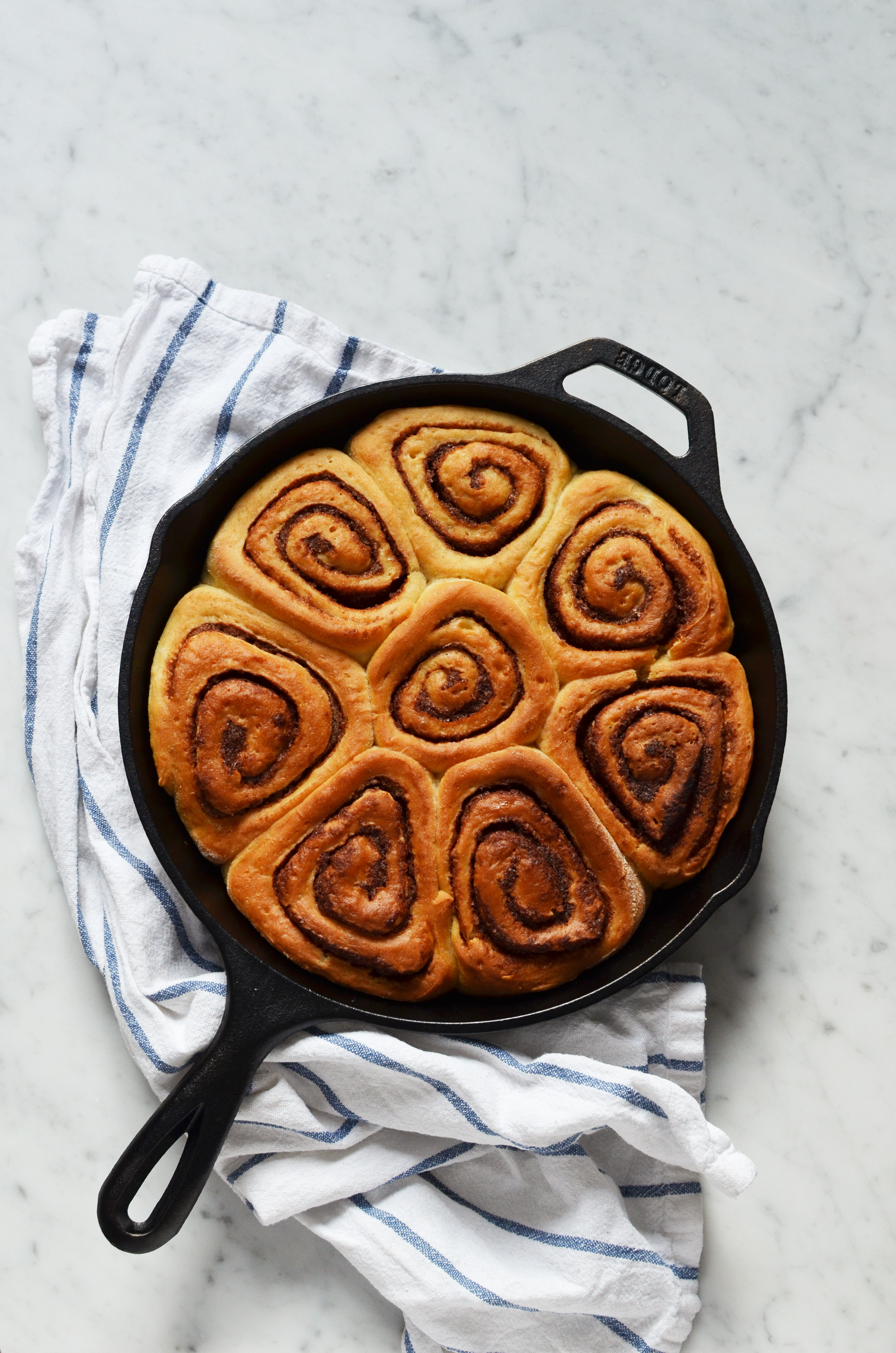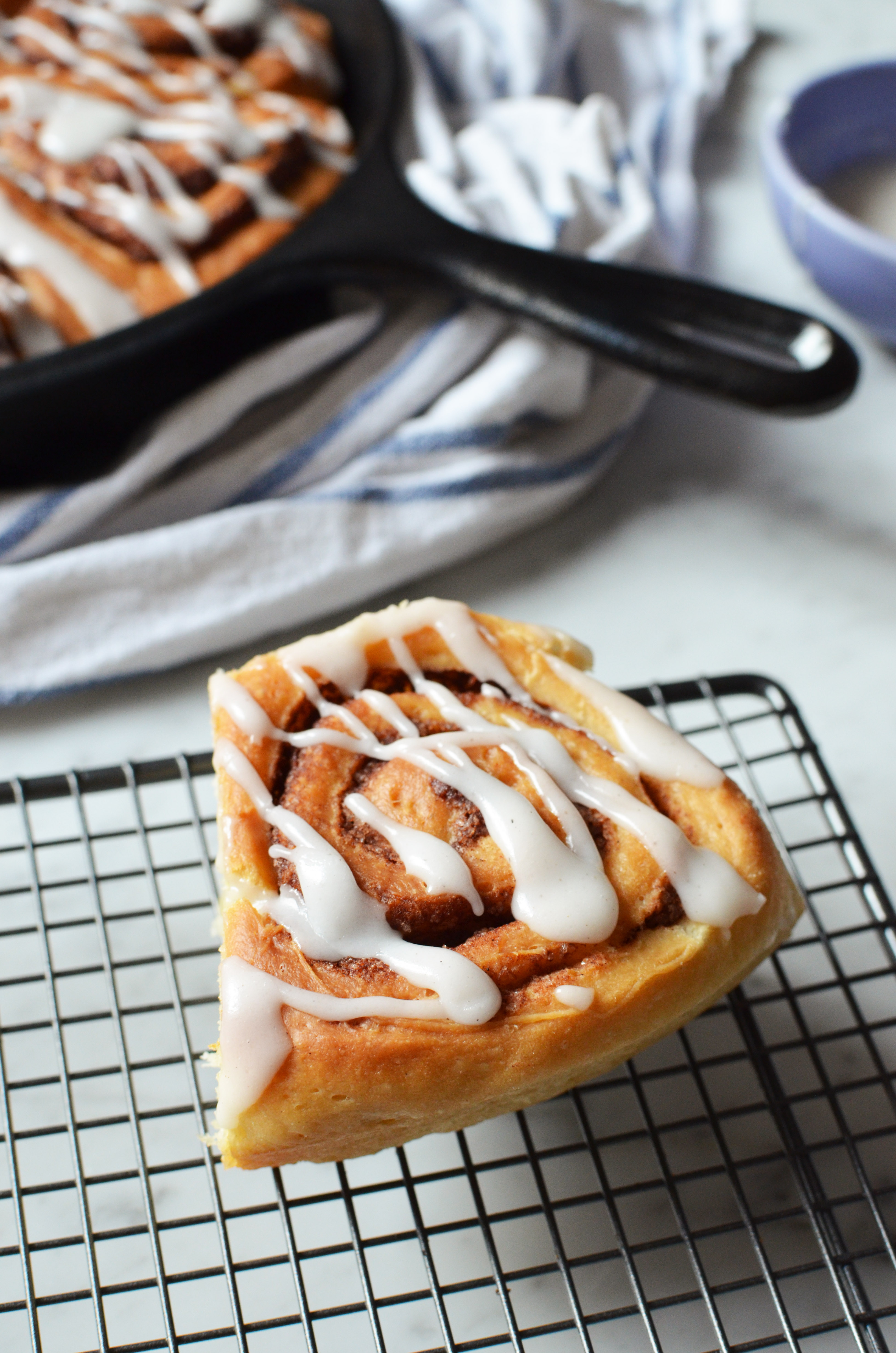 If you give them a try, I would love to hear what you think of them!!

Cinnamon rolls
Author:
That Healthy Kitchen
Prep time:
Cook time:
Total time:
Ingredients
For the dough:
240 ml milk (at roomtemperature, but preferably even a bit warmer)
50 gram melted butter
30 gram sugar
3,5 gram dried yeast (half a package in most cases)
320 gram flour
45 gram flour
For the filling:
80 gram butter (at room temperature)
50 gram brown sugar
2 tablespoons ground cinnamon
For the glaze:
80 gram powdered sugar
pinch of vanilla powder (if using vanilla extract, you might need a bit more powdered sugar to get the right consistency)
1 tablespoon melted coconut oil (you can also use melted butter if you want)
2 teaspoons hot milk
Instructions
In a large bowl, mix the warm milk, melted butter, and sugar until the butter has semi-dissolved into the milk. If it forms clumps, your milk was probably too cold. Heat up the bowl in short intervals in the microwave, stirring frequently until the clumps have disappeared.
Add the yeast, stir and let rest (preferably in a warm place) for a few minutes to allow the yeast to develop.
Then add the 320 grams of flour to the bowl, and mix until there are no large lumps of flour left. cover the bowl with plastic wrap and let rise for at least an hour, until the dough has doubled in size. The warmer it is, the faster this goes.
Then, preheat your oven to 180 degrees Celcius.
Meanwhile, prepare the filling by mixing the butter (at room temperature), brown sugar and cinnamon. I like to do this in a kitchen machine, but you can also do this by hand as long as your butter is warm enough. Set aside, but not in the fridge, this has to be at room temperature when we're going to use it. On the countertop should be fine for a short while.
When the dough had doubled in time, remove the plastic wrap, add the leftover flour (45 gram) and stir it in. When it becomes hard to stir, take out the dough onto a lightly floured surface and start kneading. To avoid the dough sticking to your hands, you can rub your hands in some vegetable oil (works like a charm!).
Roll out the dough into a rectangle with a thickness of approximately 1 cm. Make sure there is plenty of flour on your work surface underneath the dough.
Spread out the filling evenly over the dough, and then roll it up. Depending on the size of your dough, this might be a bit difficult, so be careful not to tear the dough.
Close the seam with a little water and place the log seam-down on your work surface.
Cut the log into 9 even slices, and place them in a buttered baking tray. Cover the tray with plastic wrap and let the rolls rise for another 30 minutes or more.
Then, take off the plastic wrap and put them in the oven. Bake them for 25 to 30 minutes. They don't necessarily have to be golden brown, because you're covering them with a glaze anyway, and baking them too long will dry them out.
While the cinnamon rolls are in the oven, make the glaze by mixing the powdered sugar, vanilla powder, liquid coconut oil and hot milk. It might be a bit hard to stir at first, but I promise you that it will work if you just keep on stirring. If it really gets too lumpy, it is very likely that the coconut oil is solidifying, so to make the glaze come together more easily, you can microve it for a few seconds to softend the coconut oil.
When the cinnamon rolls come out of the oven, drizzle them with the frosting and enjoy while still warm!
Nutrition Information
Serving size:
1 cinnamon roll (out of 9)
Calories:
350 kcal
Fat:
14.2 g
Saturated fat:
9.2
Unsaturated fat:
4.3 g
Trans fat:
0 g
Carbohydrates:
51.6 g
Sugar:
10.5 g
Sodium:
1.54 g
Fiber:
2.3 g
Protein:
5.5 g