Hi guys! I am so sorry for the long absence!! Life just got in the way, and I decided I needed to focus on some other things than the blog for a while. But now, 1.5 years later, I feel soooo ready to get back into blogging again! I didn't stop cooking in those 1.5 years, but I did stop photographing and writing about my food. A lot has happened, and I talk a bit more in depth about what I did exactly on my Instagram and Facebook pages, if you would like to know the nitty gritty of what I have been up to. How have you all been??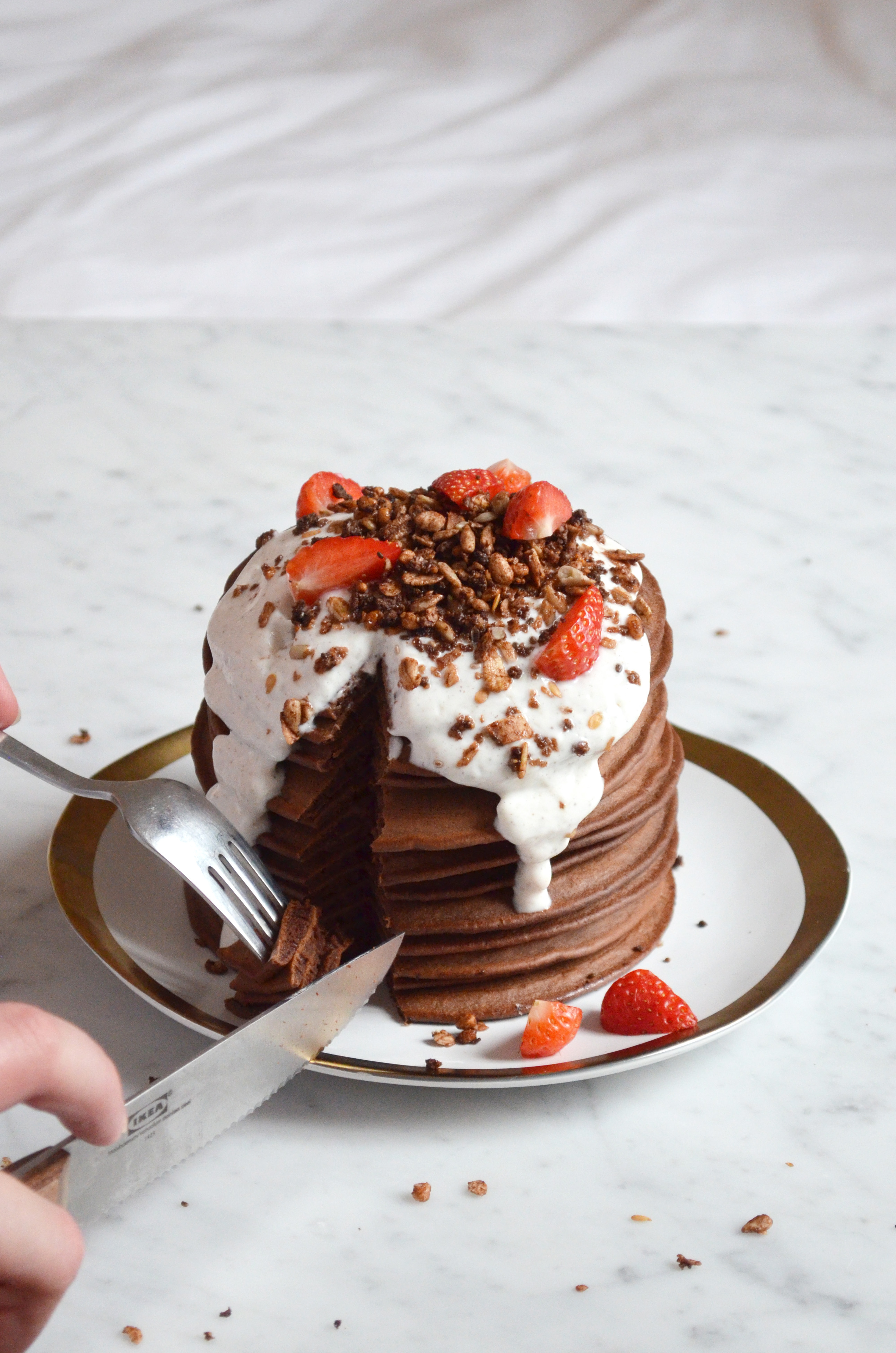 I have a lot of ideas for the new year, and I thought, what better way to come back to THK than by making delicious chocolate pancakes?! These are ridiculously simple, but that does not mean that they are any less tasty! In fact, the easier the recipe, the better the taste often is (as long as you choose your ingredients wisely). I topped these with a vanilla greek yoghurt cream, some fresh strawberries and chocolate granola. Absolutely yum!

Chocolate pancakes
Author:
That Healthy Kitchen
Prep time:
Cook time:
Total time:
Ingredients
150 gram flour
30 gram good quality cacao powder
2 eggs
200 ml milk of your choice
50 gram sugar (I would not recommend using less as you need it to balance out the bitterness from the cacao)
½ teaspoon baking powder
100 gram full fat greek yoghurt
2 teaspoons sugar
pinch of vanilla powder or one vanilla bean
Instructions
In a blender, mix the flour, cacao, eggs, milk, 50 gram sugar and baking powder.
Heat a skillet over medium heat. I used a nonstick pan so I did not need any oil to keep the pancakes from sticking, but you may want to use some.
Pour about ⅓ cup worth of batter into the pan. Flip when bubbles start forming. Repeat until the batter is gone.
While baking the pancakes, you can make the greek vanilla cream by mixing the greek yoghurt with the 2 teaspoons sugar and a pinch of vanilla cream, or use the beans of one vanilla bean instead.
Top the pancakes with the vanilla cream and enjoy!
Nutrition Information
Serving size:
1 pancake with 1/15th of the greek vanilla cream
Calories:
79 kcal
Fat:
2 gram
Saturated fat:
0.6 gram
Unsaturated fat:
1.4 gram
Trans fat:
0 gram
Carbohydrates:
13.1 gram
Sugar:
5 gram
Fiber:
0.9 gram
Protein:
2.8 gram