If you are not a conventional beetroot lover, this recipe is for you! A few weeks ago, I realized I had a jar of beets in my cupboard that was about to go bad. I normally don't love the extremely earthy taste of red beets, but I also hate wasting food, so I decided I had to make something with them anyway. I first made a pizza (with a delicious crispy crust 😍) topped with beets, goats cheese, caramelized red onion, thyme and pine nuts. Delicious for sure, but I could still very much taste the earthy flavor of the beets. So, with the other beets, I decided to make something else: a curried beet soup! With this, you can barely taste the beets at all, since the curry spices are such a dominant flavor.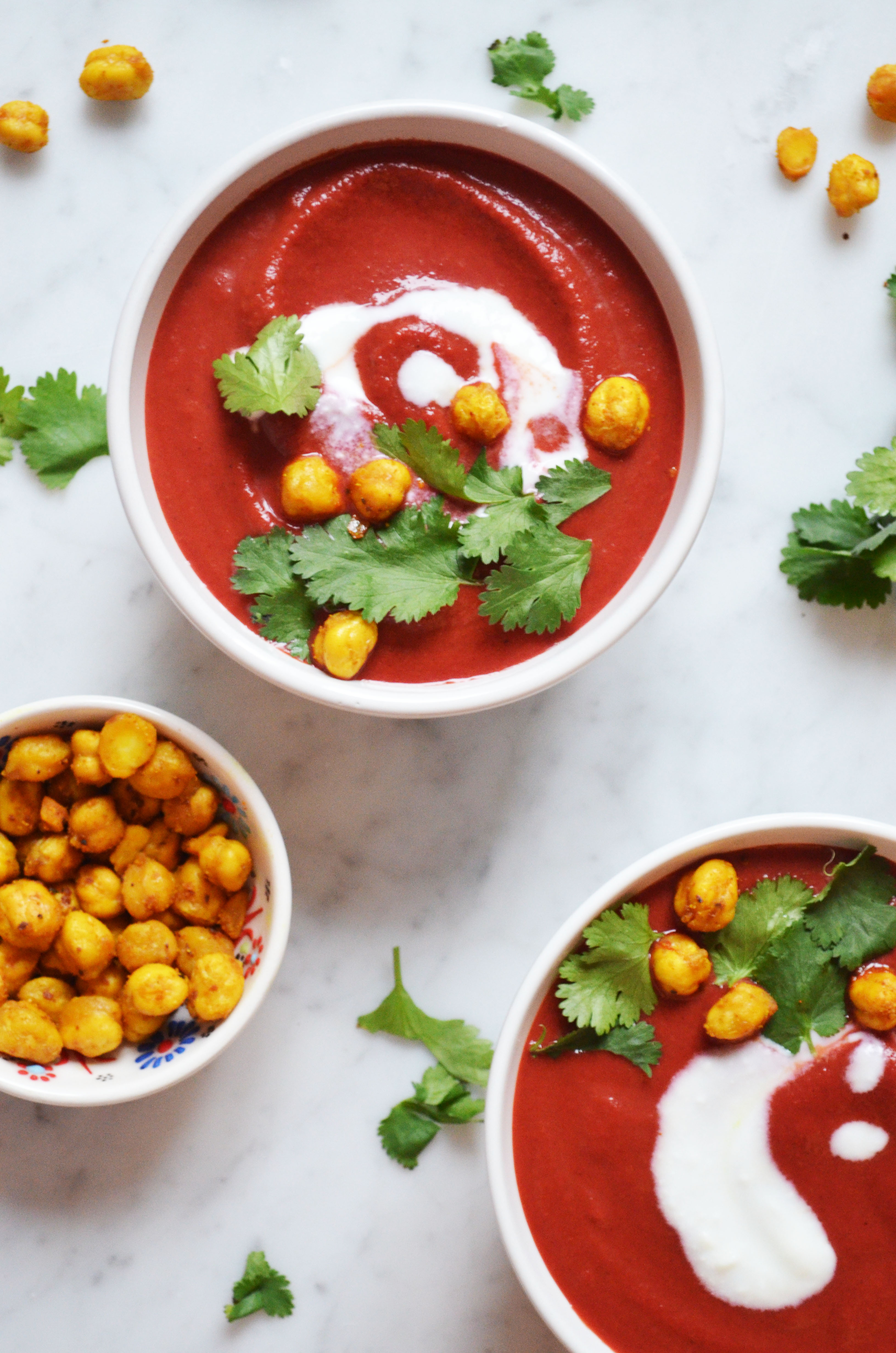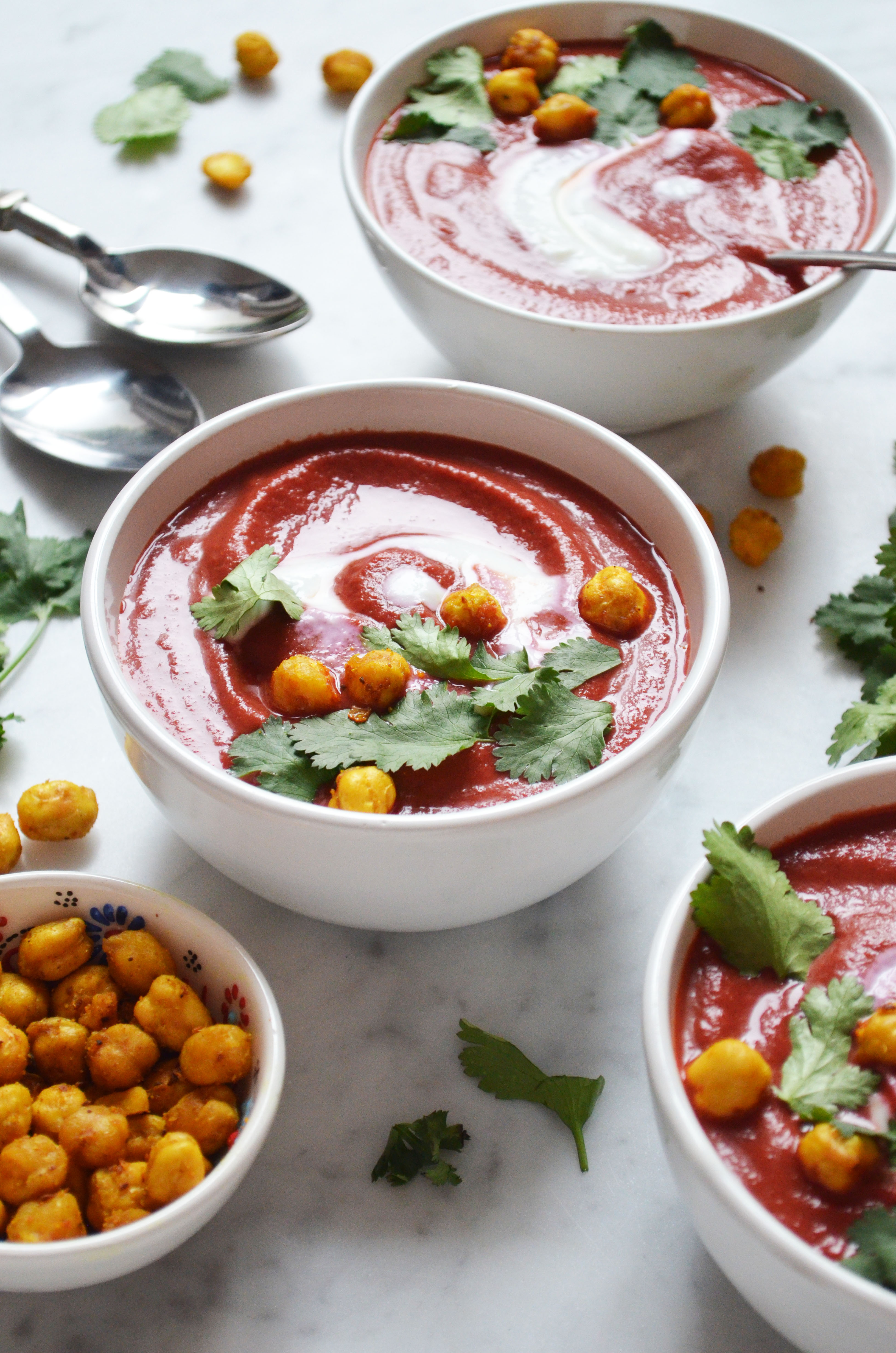 To make the soup even more interesting I topped them with curry madras roasted chickpeas (based on my smokey roasted chickpeas – they make a great snack!), some coconut cream and a boatload of fresh cilantro. Yum! This soup is super tasty, full of fibers and both refreshing and filling at the same time. I hope you give it a try, and if you do I would love it if you tag me on Instagram @thathealthykitchen or on Facebook!

Curried Beet Soup with Madras Roasted Chickpeas
Author:
That Healthy Kitchen
Prep time:
Cook time:
Total time:
Ingredients
one tablespoon olive oil or oil of your choice
half a small onion (~ 40 gram)
2 cloves garlic
10 gram fresh ginger
750 ml vegetable broth
530 gram beets, cubed or sliced (mine were jarred)
25 gram red curry paste
½ teaspoon ground cumin
½ teaspoon ground turmeric
½ teaspoon ground cinnamon
½ teaspoon ground chili
480 ml coconut milk
2-3 tablespoons (coconut) sugar
80 gram chickpeas
¼ teaspoon curry madras spice mix
⅛ teaspoon garlic powder
⅛ teaspoon salt
½ teaspoon olive oil
To serve: coconut cream and fresh cilantro (optional)
Instructions
Heat up a large soup pan with some olive oil over low-medium heat and preheat your oven to 220 degrees Celcius. Take out your chickpeas and dry them off with a towel as good as you can. Set aside in a bowl.
Dice the onion, garlic and fresh ginger and fry them in the olive oil until the onion becomes translucent. To avoid burning the garlic you can put it in the pan a bit later than the onion and ginger.
Add 750 ml of vegetable broth, 530 gram beets, red curry paste and the ground cumin, turmeric, cinnamon and chili to the soup.
Turn up the heat to medium and let the soup simmer until the beets are tender and cooked all the way through. This may take a while if you used fresh beets.
Take out your now dry chickpeas and mix them with the curry madras spice mix, the garlic powder, salt and olive oil and transfer to a large baking sheet. Make sure the chickpeas have lots of room and are spread out in a single layer. Bake them in the oven for 30 minutes, stirring them after 15 to make sure all sides will be crispy.
While the chickpeas are baking in the oven, finish the soup by adding the coconut milk and some (coconut) sugar.
Turn off the heat and let your soup cool for a few minutes before you transfer the soup to a blender or use an immersion blender to turn the soup silky smooth.
Serve the soup with some extra coconut cream, fresh cilantro leaves and the roasted chickpeas on top. Enjoy!