Do you remember that Creamy Pesto with Walnuts and Spinach?
Yes, that extremely delicious, full-of-goodness one 😍
Well, I made a little something special to go with it! Because we all know that the possibilities with pesto are basically endless, but sometimes you just need a little extra convincing to actually make a condiment recipe – I think Lindsay from Pinch of Yum expresses it perfectly here. So, that is why I created these Avocado Boats with Eggs and Creamy Pesto – okay partly, but we'll get back to that!
Back to the important things in life… Breakfast! Aren't these avo boats gorgeous?! I can imagine they would be a total show stopper at a family brunch or a luxurious breakfast.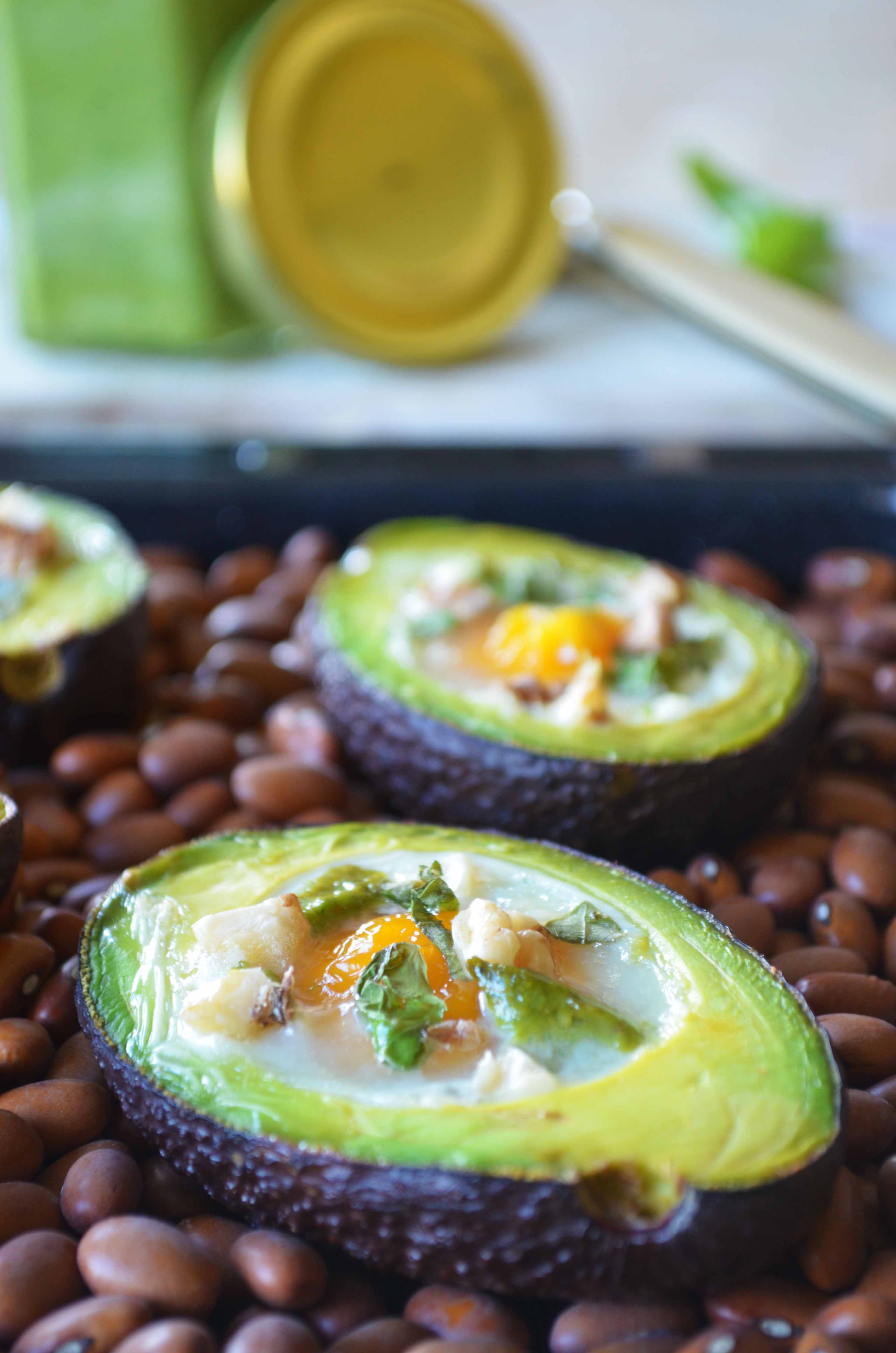 This is also a great breakfast for those of you who are trying to decrease their sugar intake – meeee 🙋 I already talked a bit about reducing my sugar intake here, if you're interested. My main point is that I tend to eat way too much fruit and sweet things in a day, even without eating candy, chocolate, cookies or things like that.
Therefore I started a little "sugar reduction experiment", and so far it goes quite well!  However, I still have major issues with eating a non-sweet breakfast. I love love love having oatmeal or a smoothie for breakfast, but most of the time those are quite heavy on fruit, and most of the time a little too much in my opinion.
I've already tried multiple all-veggies smoothies, savory oatmeal and stir fried veggies with rice, but those were not really winners for me. Or well, they were just too unbreakfasty, if that makes sense haha. So if anyone has some tried & tested, delicious, low-sugar breakfast ideas I would love to hear them!!
And until then I'll just be munchin' on these Avocado Boats with Eggs and Creamy Pesto every morning 😁
Avocado Boats with Eggs and Creamy Pesto
Prep time: 5 mins
Cook time: 20 mins
Total time: 25 mins
Yield: 4 avocado boats
Ingredients
2 large avocado's (the larger the better – otherwise there is a chance the eggs won't fit)
4 small, organic, free range eggs
4 tablespoons of my Creamy Pesto with Walnuts and Spinach or use any other pesto you like
4 walnuts, roughly chopped
a few basil leaves, torn
Instructions
1. Preheat your oven to 175 degrees Celcius.
2. Half the avocado's, take out the pits and a little of the avocado meat to create room for the eggs. Place them in a baking dish and use some sea salt, lentils or beans to stabilize them. This will prevent the egg from dripping out.
3. Put in about half a tablespoon worth of pesto in the hole of each avocado half.
4. Crack the eggs in a bowl and carefully transfer them into each avocado half. If you feel like you have too much egg for the size of the hole you created in the avocado's, you might want to use 3 eggs for 4 avocado's, or make your holes a bit larger.
5. Use the rest of the pesto to put on top of the avocado boats and garnish with the walnuts and basil leaves.
6. Place the tray in the oven for about 20 minutes, or until the eggs are cooked to your liking. Serve hot!
Nutritional information per avocado boat
285 kcal
26 gram fat
of which 5.1 gram saturated fat
7.8 gram carbs
of which 5.6 gram dietary fiber and 0.8 gram sugar
8.6 gram protein