I'm not gonna spend a lot of time talking about this salad, because it just simply is amazing, and you have to try it too!! You'll love it ☺
For the last couple of weeks, salads based on grains like these have been my lunch staple, as they are:
1. Portable
2. Grab-and-go
3. Delicious
4. Make-ahead
5. Filling
6. Customizable
7. Gluten-free (or not, if you want to!)
etcetera etcetera.
I could compile a whole list, of why exactly I love grain based "salads" like these so much. I say "salads" because in my pre-grain based salad mind, a salad is something super boring, with an iceberg lettuce base, some watery cucumbers and tomatoes on top, and if you were lucky you might get some mushy croutons.
Yeah… That doesn't really gets me excited for food. Buuut, this salad is completely different! There is no iceberg lettuce involved, no watery cucumber and definitely no mushy croutons. I was actually thinking about not calling this a salad, but then, what would it be? Thesaurus describes it as a dish of vegetables, and the synonyms are: potato salad; coleslaw; greens; fruit salad; mixed greens; tossed salad; and Waldorf salad. Not really much to work with right?! So for now I'll just stay with salad, just know that this is a special salad 😉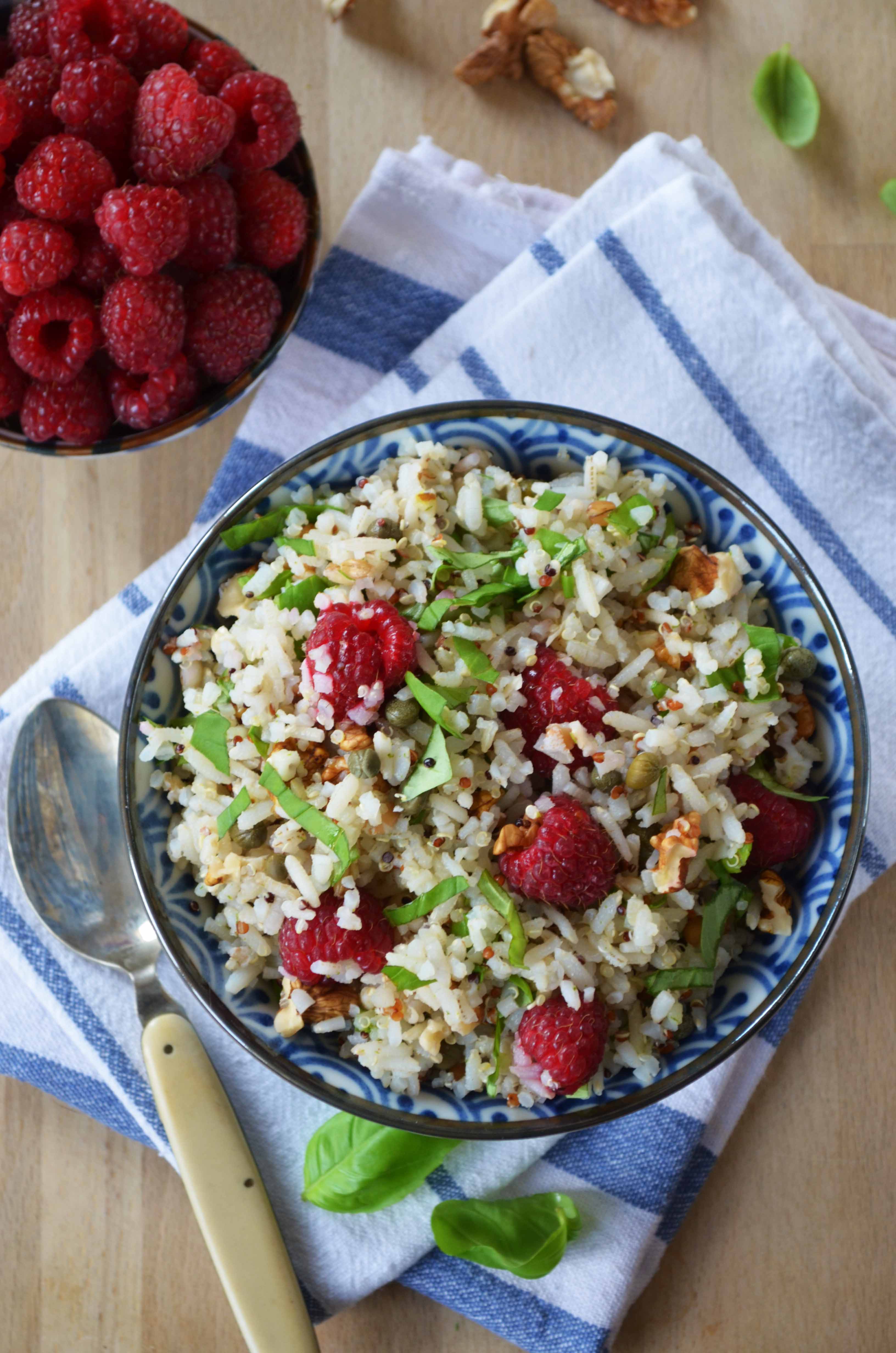 Actually, this recipe is so simple, as it does not require exact amounts at all. If you have some left over veggies, feel free to throw those in. Fruit will also work, as do any kind of herbs or nuts and seeds. And if you're a student like me and a little tight on cash, just add some cheap beans and grilled, chopped up seasonal veggies to the mix and you'll have yourself a delicious, nutritious meal for little!
Grain salad with raspberries, basil and walnuts
Prep time: 10 mins
Cook time: 15 mins
Total time: 25 mins
Yield: 1 large salad
Ingredients
75 gram grains of choice. I love using a combination of rice, quinoa, amarant and chia
1/2 cup (40 gram) walnuts
a few sprigs basil, leaves only
juice and zest of one lime
1 to 2 tablespoons capers
handful of raspberries
salt and pepper to taste
Instructions
1. Boil the grains in a large pot of salted water until cooked to your preference.
2. Drain the grains and let cool.
3. Meanwhile, chop up the walnuts and shred the basil leaves.
4. Juice and zest the lime and add it to the grains. Mix well.
5. Add the chopped up walnuts, shredded basil leaves, capers and raspberries too and mix until all ingredients are distributed evenly.
Nutritional information per serving
552 kcals
25.8 gram fat
of which 1.7 gram saturated fat
68.1 gram carbs
of which 7.8 gram fiber and 2.6 gram sugar
17.7 gram protein