Ever since I started being more mindful of what I'm eating, I've been making loads of things from scratch, such as pesto and hummus. The main reason for me is that by making it myself, I know exactly what goes in it, and I get to adjust it to my nutritional and taste preferences.
Have you ever read the nutrition label at the back of your ketchup bottle? It is quite likely that your favourite ketchup is actually 1/3 part sugar! If you then continue reading the ingredient list, you'll probably see high fructose corn syrup or something alike listed as the second or third ingredient, which means that it is the second or third most ingredient used. I'm not here to discuss the whole HFCS debate, but I do know that I don't like to eat a lot of sugar, but if I do, I want it to be in the form of a delicious cookie, cake or muffin, and not in the form of an average-tasting, salty, red "tomato" sauce.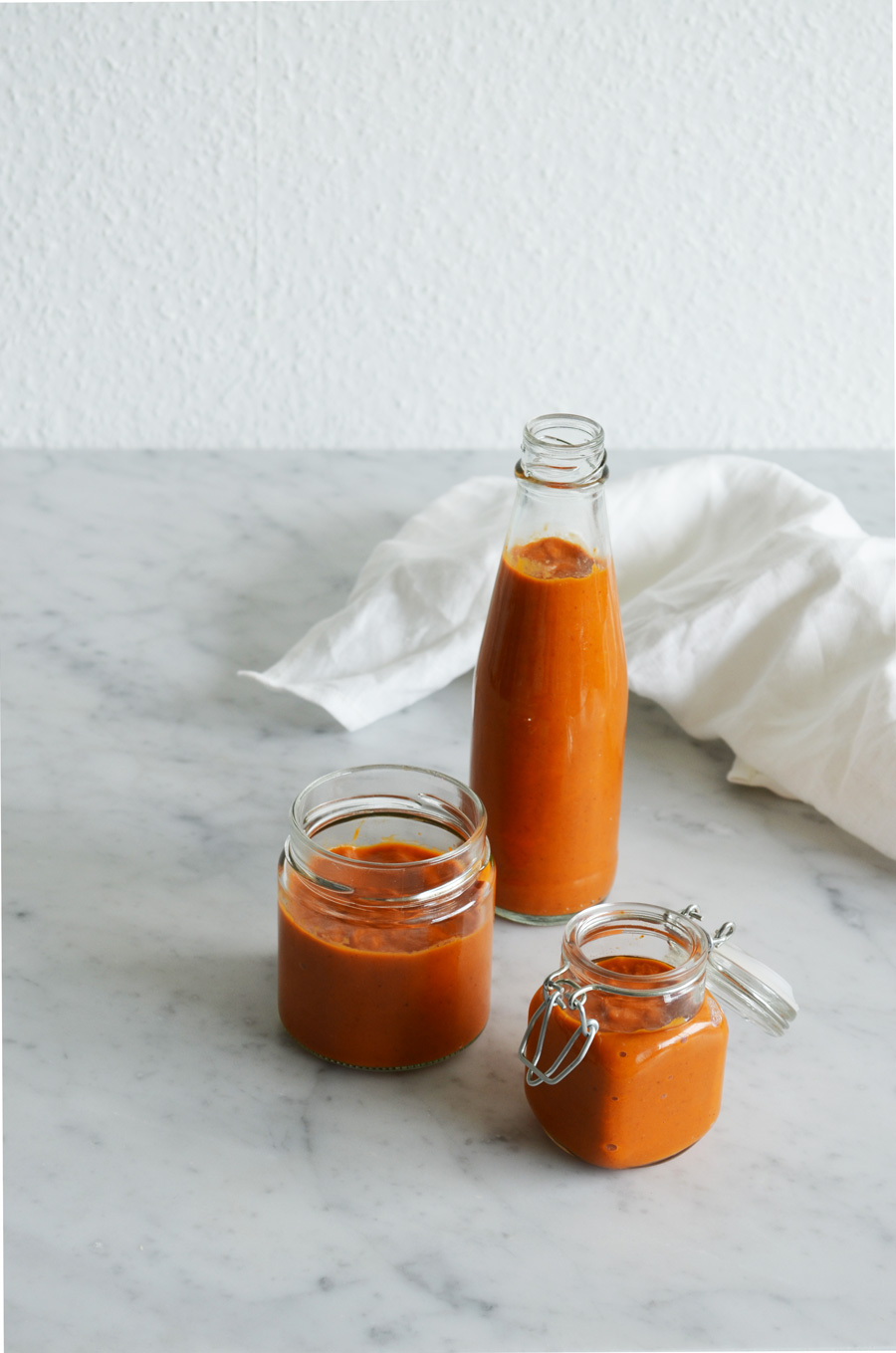 So, of course I decided to make my own! Over the years I've tried to make ketchup a couple of times, ranging from super simple, 3-ingredient versions to fermented, whole foods bla bla bla versions, but they all didn't quite do it for me. This version is kind of in the middle with regards to difficulty and time it will take to make, but in my opinion it is totally worth it!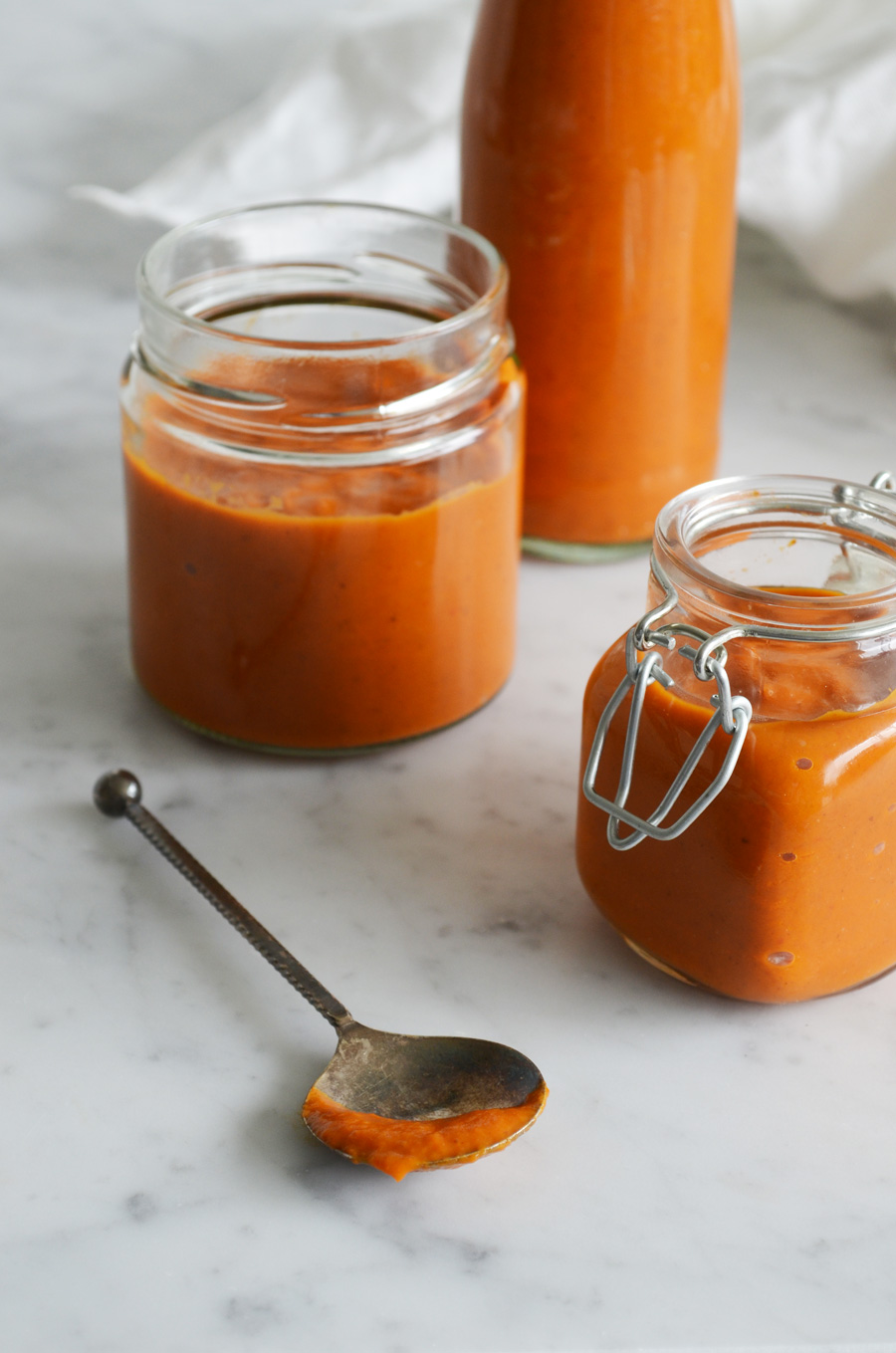 To make it a little more interesting, I used mainly red paprika's/capsicums in stead of tomatoes, and I added one red chili pepper, seeds included. If you're not into spicy ketchup, you could definitely halve the chili pepper or omit it completely.
I really hope you guys will give this recipe a try! It may be a little work, but it is delicious, ánd it will save you a lot of sugar-induced headaches later 😉

Roasted Red Pepper Ketchup
Author:
That Healthy Kitchen
Prep time:
Cook time:
Total time:
Ingredients
3 red paprika's/capsicums
1 tablespoon olive oil
1 red onion
2 cloves garlic
2 tomatoes
1 red chili pepper
3 cm ginger (16 gram)
1 teaspoon dried oregano
2 cloves
½ teaspoon ground cinnamon
1 teaspoon good quality Dijon mustard
2 tablespoons white wine vinegar + more if necessary
sugar and/or salt (optional)
Instructions
Preheat your oven to 180 degrees Celcius.
Cut the paprikas into chunks and put them in an oven-resistant pan (it has to have an accompanying lid - you'll need it later!). Drizzle the chunks with olive oil and roast them in the pan in the oven (without the lid) for one hour, or until the chunks become slightly charred at the sides.
Meanwhile, finely dice the onion, garlic, tomatoes, chili pepper and ginger.
Take the pan out of the oven and put it directly onto your stove over low heat. Add all the remaining ingredients, stir and cover with the lid.
Let the ketchup simmer for 30 minutes while stirring every 5 minutes or so. If it seems like too much liquid is evaporating, turn down the heat and/or add a little water. Also make sure that the lid is securely in place.
Take the pan off the heat, and let it cool off for a few minutes. Transfer the mixture to a blender and blend until smooth. Taste to see whether or not you would like to add some more vinegar, or perhaps even some salt or sugar? Personally, I did not find it necessary to add any sugar or salt, and since I like sour flavours, I decided to add one tablespoon white wine vinegar extra at this point. However, whether or not you would like to do so is totally up to you! That is the beauty of making condiments yourself, you can totally adjust them to your liking!
Nutrition Information
Serving size:
1 tablespoon
Calories:
13 kcals
Fat:
0.6 g
Saturated fat:
0 g
Unsaturated fat:
0 g
Trans fat:
0 g
Carbohydrates:
1.9 g
Sugar:
0.9 g
Sodium:
3 mg
Fiber:
0.6 g
Protein:
0.3 g